GATE 2019: GATE Admit Card has ben released on 4th January 2019. Candidates can download GATE 2019 Admit Card by the geven link below. Gate 2019 exam dates has been released now, GATE (Graduate Aptitude Test in Engineering) is a national level examination.GATE is the top level engineering entrance exam conducted by one of the IITs in rotational basis for admission in post graduate courses in engineering and technology. Through GATE  aspirants can get admission in the M.tech/ Ph.D Programs which is offered by IITs , IISc, IISERs and some other government and private institutions through GATE score. One of the IITs/IISC organized the exam in rotational basis. GATE scorecard is also the eligibility criteria for recruitment process to the government and top private organizations in technical domains.
GATE 2019 Admit Card Released.


GATE 2019 Admit Card has been released now, Click Here to   to Download GATE Admit Card.
Also Check:

GATE 2019 Rejected Candidates list has been released now, Click Here to Check Complete List.
GATE 2019 Exam Paper Change request has been started, Candidates can correct it till 23rd October 2018. Click Here for GATE 2019 Application form Correction.
Get latest news & updates about GATE 2019 via SMS and e-mail, by entering your details below:
GATE 2019 –
Important Information
| | |
| --- | --- |
| Exam Name | GATE (Graduate Aptitude Test in Engineering) |
| Conducting Body | IIT Madras |
| Official Website | www.gate.iitg.ac.in |
| Mode of Examination | Online – Computer Based Test |
| No. of Papers & Questions | 23 | 65 |
| Total Marks & Maximum Score | 100 | 1000 |
| Duration of GATE 2018 | 3 Hours |
| No. of Test Takers | Over 9 lac |
| Use of GATE Score Card for Employment | PSUs, Central Government and Government of India Organization |
| GATE Helpdesk | 0361-258-6500 | gate2018@iitg.ac.in |
GATE 2019 –

  Important Dates
Here we discuss the GATE 2019 Exam Dates, Check below:
| | | | |
| --- | --- | --- | --- |
| S.No | Events | Important Dates | GATE LINK |
| 1 | Release of GATE 2019 Notification | July 6, 2018 | |
| 2 | Start of GATE Registration through GOAPS | September 1, 2018 | |
| 3 | Last Date for Registration | October 1st , 2018 (extended) | |
| 4 | Extended Date for Registration (with late fee) | October 1, 2018 |           – |
| 5 | Availability of GATE 2019 Mock Test | Third week of November 2018 |           –  |
| 6 | Releasing GATE 2019 Admit Card | January 4, 2019 | |
| 7 | GATE 2019 Examination | February 2, 3, 9 and 10, 2019 | |
| 8 | Release of GATE 2019 Response Sheets | Second week of February 2019 |            – |
| 9 | GATE 2019 Answer Key | Third week of February 2019 | |
| 10 | Announcement of Result | March 16, 2019 | |
| 11 | Availability of Score Card | March 20 to May 31, 2019 |          –  |
 What's new in GATE 2019?
Gate 2019 introduce a new paper Code "ST" in GATE 2019.
The Late fee is Rs 500/- if candidates may apply 21st September 2018.
GATE 2019 will be conducted for total 24 papers.
GATE 2019 will be conducted by IIT Madras.
Candidates are no more required to upload their thumb impression while submitting the GATE online application form.
Candidates will be given the virtual calculator at the time of GATE exam. Candidates with Scientific Calculators are not allowed to enter the exam hall.
The exam will also be held for international candidates in Bangladesh, Ethiopia, Nepal, Singapore, Sri Lanka and United Arab Emirates (U.A.E).
GATE Exam consists 65 questions divided into 3 section –

General Aptitude
Engineering Mathematics
From Respective Subjects
GATE 2019 Helpline Details:
Organizing Chairman, GATE 2019
GATE Office,
Indian Institute of Technology Madras
Chennai-600036, Tamil Nadu
Contact Number: 044-22578200
E-mail ID: gate2019@iitm.ac.in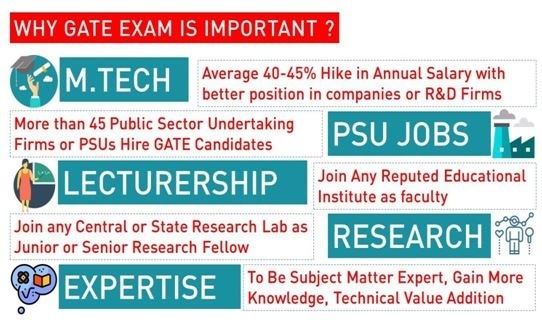 GATE 2019  Admit Card
Candidates can download the GATE  Admit card from the GOAPS website. IIT Madras will not be sent admit card via email/post. Those who have successfully registered for GATE  2019 and did not receive any message for duplicate and defective application form can download their Hall ticket from 4th January 2018. It is advised to candidates that please take a copy of ID proof along with your admit card.
ID proof may be any of these:
Passport, PAN Card, Voter ID, Aadhaar UID, Valid College ID, Employee identification card or Driving License. From international students, only valid Passport/ Government issued ID/College ID/ Employee ID will be accepted as ID proof.
Also Check:
GATE 2019

– Registration 2019
Candidates need to fill and follow the below given details under the GATE Registration:
Candidates can apply through online mode only from@gate.iitg.ac.in.
GATE Application Form will be available from 1st September to 21st September 2018.
The conducting authority provides an one month period of time for the GATE application process.
Candidates need to fill GATE 2019 application form via GATE Online Application Processing System (GOAPS).
Start from "New User" and if you are not a new user then click on login button.
Once you have registered successfully then you get an application number and password for registration, then will get the access to register in the GOAPS dashboard.
Due to last minute high rating of traffic, the verification process of email and mobile number (before submitting the GATE application form) was relaxed.
Candidates will be able to register for GATE Examination now without verifying their email address and mobile number.
They need to login through GOAPS Enrollment ID and GOAPS Password.
For application process, candidates need to upload scanned photograph, signature, degree certificate or category certificate.
Candidates need to pay application fee before the last date.
However, candidates can verify their email and mobile number later by login to GOAPS.
It is advised to the candidates that take a printout of the application for further use.
Documents to be uploaded while filling the GATE 2019 application form
Photograph
Signature
Certificate of qualifying degree
Category certificate, if applicable
GATE 2019

– Application Fee
Candidates can pay their registration fee via online (Net banking, debit card) or offline(e-challan) mode. GATE 2019 registration fee are listed below given table:
| | |
| --- | --- |
| Category | Application Fee |
| Women Candidates | Rs. 750/- |
| SC/ST/PwD Candidates | Rs. 750/- |
| All Other Candidates | Rs. 1500/- |
| GATE International Candidates | US Dollars 50 |
GATE 2019 –
Paper Codes
IN GATE 2019, a new paper has been added in the GATE Examination. in GATE there are already existing 23 papers. In 2019 the new paper with the Code "ST" has been added.  check the list of GATE Paper Codes below;
Paper
Code
Paper
Code
Architecture and Planning
AR
Mathematics
MA
Biotechnology
BT
Physics
PE
Aerospace Engineering
AE
Metallurgical Engineering
MT
Agricultural Engineering
AG
Engineering Sciences
XE
Chemical Engineering
CH
Life Sciences
XL
Civil Engineering
CE
Instrumentation Engineering
IN
Computer Science and Information Technology
CS
Mining Engineering
MN
Electronics and Communication Engineering
EC
Mechanical Engineering
ME
Electrical Engineering
EE
Textile Engineering and Fibre Science
TF
Chemistry
CY
Production and Industrial Engineering
PI
Ecology and Evolution
EY
Petroleum Engineering
PE
Geology and Geophysics
GG
Statistics
ST – New Addition
XE Paper and Codes
Engineering Mathematics
XE – A
Thermodynamics
XE – E
Fluid Mechanics
XE – B
Polymer Science and Engineering
XE – F
Materials Science
XE – C
Food Technology
XE – G
Solid Mechanics
XE – D
Atmospheric and Oceanic Sciences
XE – H
XL Paper and Codes
Chemistry
XL – P
Microbiology
XL – S
Biochemistry
XL – Q
Zoology
XL – T
Botany
XL – R
Food Technology
XL – U
GATE 2019

– Application Form Correction
GATE 2019 Application Form Correction will available from 1st September 2018 and last date of Make Correction in the GATE Application Form is 16th November 2018 Candidates are only eligible to edit/correct their particulars details not every details from the GATE 2019 application form. The process had been started once the registration process closed. If in case, candidates have to do some mistakes in their application form then, they has to sent an email subjecting "Correction in data (Enrollment Number)" with the document proof.
GATE Corrections/Modifications will be given in the particular fields:
Name of Candidate
DOB
Name of Parent/Guardian
Category (Gen to OBC and OBC to General)
Year of graduation
Year of Qualifying Degree.
GATE 2019 –

Eligibility Criteria
Those who want to appear in GATE 2019 needs to fulfills the Eligibility Criteria. So, here we are describing the GATE Eligibility Criteria:
| | | | |
| --- | --- | --- | --- |
| Qualification Required | Description about the Qualifying Degree | Status of the Degree | Year of Passing |
| B.E./B.Tech/B.Pharm | 4-years B.Tech (after 10+2) in any stream or 3-years B.Tech lateral entry (after B.Sc./Diploma in Engineering/Technology). Final year candidates may also apply. | Pursuing final year examination or completed | 2019 |
| B.Arch | 5-years bachelor's degree in Architecture | Pursuing final year examination or completed | 2019 |
| B.Sc. Research/B.S. | 4-years Bachelor's degree in Science (post-diploma or after 10+2) | Pursuing final year examination or completed | 2019 |
| M. Sc./M.A./MCA orequivalent | Master's degree in Science/Mathematics/Statistics/Computer Applications or equivalent | Currently in final year or completed | 2019 |
| Int. M.E/M.Tech(Post-B.Sc.) | 4-years Post-BSc Integrated Master's degree programs in Engineering / Technology | Presently in 2nd/3rd/4th year or completed | 2021 |
| Int. M.E./M.Tech or Dual Degree (after Diploma or 10+2) | 5-years Integrated Master's degree program or Dual Degree program in Engineering/Technology | Currently in 4th/5th year or completed | 2020 |
| Int. M.Sc/Int. B.S.-M.S. | Integrated M.Sc. or Five year integratedB. S./M. S. program | Pursuing final year examination or completed | 2019 |
| Professional Society Examination equivalent to B.Tech/B.E./B.Arch | B.E/B.Tech/B.Arch equivalent examinations of Professional Societies, recognized by MHRD/UPSC/AICTE (e.g., AMIE by Institution of Engineers-India, AMICE by the Institute of Civil Engineers India) | Completed section A or equivalent of such professionalcourses | NA |
NOTE:   For an international candidates, they need to complete their Bachelor's degree in Engineering/Technology or Post-graduate (M.Sc.) degree in any science subject. When they going to fill GATE application form, they need to upload their proof of qualification eligibility. Those who have passed the qualifying degree in 2018 or before are need to submit their degree certificate/provisional certificate while the other need to upload certificate from Principal/head of the institution.
GATE 2019 –

Exam Pattern
GATE 2019 Exam Pattern are listed below:
Course: IT is conducted by IIT in rotational basis for M.Tech./Ph.D. programme in IITs , IISc and various other institutions.
Number of Papers: GATE 2018 is held for total 23 papers. Candidates can appear for only one of the 23 papers.
Mode of Examination: The examination mode will be online only (CBT).
Exam Duration: The examination duration will be 3 hours.
Number of Questions: Total 65 questions of maximum 100 marks will be asked in GATE 2018.
Type of Questions: Multiple Choice Questions (MCQ) & Numerical Answer Type Questions (NAT) will appear in GATE examination. For MCQ, 4 choices will be provided while there will be no options provided for NAT. Students are required to enter the real number in Numerical Answer Type Questions with the help of virtual keypad.
Section Common in All GATE Papers: General Aptitude (GA) section is common for all papers. It will contain total 150 questions of maximum 15 marks (5 questions of 1 mark and 5 questions of 2 marks).x
New Section: In the paper of XE, new section (H) namely Atmospheric and Oceanic Sciences has been included from the year 2017.
Marking Scheme: MCQ and NAT questions will carry 1 or 2 marks in all papers.
Negative Marking: For every incorrect answer 1/3 marks deducted from the questions carrying 1 mark. Likewise, for questions carrying 2 marks, 2/3 marks will be deducted. No negative marking for Numerical Answer Type questions.
Exam Pattern For All Papers Except GG, XE, XL:
25 questions of 1 mark each.
30 questions of 2 marks each.
10 questions from GA.
Exam Pattern For Paper GG:
Part A – 25 questions of 1 mark each. This part is common for all candidates.
Part B – 30 questions of 2 marks each. This part has two sections, section-1 is of Geology and section-2 is of Geophysics.
10 questions from GA.
Exam Pattern For Paper XE:
Section A – Engineering Mathematics (Compulsory Section) – Total 11 questions will be asked. 7 questions of 1 mark each and 4 questions of 2 marks each. It is common to all candidates.
Any two of XE sections from B to H – 22 questions. 9 questions carrying 1 mark and 13 questions carrying 2 marks.
10 questions from GA.
Exam Pattern For Paper XL:
Section P – Chemistry (compulsory section) – It contains total 15 questions (5 questions of 1 marks and 10 questions of 2 marks).
Any two of XL sections Q to U – Total 20 questions (10 questions of 1 mark each and 10 questions of 2 marks).
10 questions from GA.
GATE 2019 –

Virtual Calculator
GATE virtual calculator is the online calculator which contains all the operations and functions for carrying out calculations. The virtual calculator will be provided during online examination. Physical calculator will not be allowed in the examination hall. Candidates need to use the virtual calculator for solving Numerical Answer Type Questions.
How is the GATE Score calculated?
To calculate the GATE Percentile, follow the below formula:
GATE Percentile=((N-R)/N) X 100
Where,
N = Total number of students appeared in the GATE 2019 exam (for particular stream)
R = Rank obtained by you
GATE 2019 –

Syllabus
GATE exam will conducted for 23 (Stream) Papers. For each discipline syllabus is different. For a good preparation, to know each and every topic from where the questions will be asked is important . Describing the complete syllabus of GATE in overview to difficult but Candidates can download the GATE 2019 syllabus for AE, AG, AR, BT, CE, CH, CS, CY, EC, EE, EY, XE, GG, IN, MA, ME, MN, MT, PE, PH, PI, TF and XL from the official site. GATE Paper and syllabus are listed below:
Statistics (ST): Calculus, Probability, Linear Algebra, Inference, Stochastic Processes, Multivariate Analysis, Design of Experiments & Regression Analysis.
General Aptitude (GA): Verbal Ability & Numerical Ability.
Aerospace Engineering (AE): Engineering Mathematics, Flight Mechanics, Space Dynamics, Aerodynamics, Structures, Propulsion.
Agricultural Engineering (AG): Engineering Mathematics, Farm Machinery, Farm Power, Soil and Water Conservation Engineering, Irrigation and Drainage Engineering, etc.
Architecture and Planning (AR): Architecture and Design, Building Materials, Construction and Management, Building and Structure, Environmental Planning and Design, etc.
Biotechnology (BT): Engineering Mathematics, General Biotechnology, Recombinant DNA Technology, Plant and Animal Biotechnology, etc.
Civil Engineering (CE): Engineering Mathematics, Structural Engineering, Structural Engineering, Geotechnical Engineering, etc.
Chemical Engineering (CH): Engineering Mathematics, Process Calculations and Thermodynamics, Fluid Mechanics and Mechanical Operations, etc.
Computer Science and Information Technology (CS): Engineering Mathematics, Digital Logic, Computer Organization and Architecture, Programming and Data Structures, etc.
Chemistry (CY): Physical Chemistry, Inorganic Chemistry & Organic Chemistry.
Electronics and Communication Engineering (EC): Engineering Mathematics, Networks, Signals and Systems, Electronic Devices, Analog Circuits, Digital Circuits, etc.
Electrical Engineering (EE): Engineering Mathematics, Electric Circuits, Electromagnetic Fields, Signals and Systems, Electrical Machines, etc.
Ecology and Evolution (EY): Ecology, Evolution, Mathematics and Quantitative Ecology, Behavioural Ecology, etc.
Geology and Geophysics (GG): Common Section (Earth and Planetary system, Weathering and soil formation, etc), Geology & Geophysics.
Instrumentation Engineering (IN): Engineering Mathematics, Electrical Circuits, Signals and Systems, Control Systems, etc.
Mathematics (MA): Linear Algebra, Complex Analysis, Real Analysis, Algebra, Functional Analysis, Numerical Analysis, etc.
Mechanical Engineering (ME): Engineering Mathematics, Applied Mechanics and Design, Fluid Mechanics and Thermal Sciences, etc.
Mining Engineering (MN): Engineering Mathematics, Mine Development and Surveying, Geomechanics and Ground Control, etc.
Metallurgical Engineering (MT): Engineering Mathematics, Thermodynamics and Rate Processes, Extractive Metallurgy, etc.
Petroleum Engineering (PE): Linear Algebra, Petroleum Formation Evaluation, Oil and Gas Well Testing, etc.
Physics (PH): Mathematical Physics, Classical Mechanics, Electromagnetic Theory, Thermodynamics and Statistical Physics, etc.
Production and Industrial Engineering (PI): Engineering Mathematics, General Engineering, Manufacturing Processes I, Quality and Reliability, etc.
Textile Engineering and Fibre Science (TF): Engineering Mathematics, Textile Fibers, Fabric manufacture, Structure and Properties, etc.
Engineering Mathematics (XE-A), Fluid Mechanics (XE-B), Materials Science (XE-C), Solid Mechanics (XE-D), Thermodynamics (XE-E), Polymer Science and Engineering (XE-F), Food Technology (XE-G), Atmospheric and Oceanic Sciences (XE-H).
Chemistry (XL-P), Biochemistry (XL-Q), Botany (XL-R), Microbiology (XL-S), Zoology (XL-T) & Food Technology (XL-U).
Click Here to Check GATE Previous years Question papers and Answer keys
GATE 2019 –

Answer Key
Once the exam will be conducted successfully by the authority then they will release GATE Answer Key . It is expected that the exam will be held in the month of February 2019. for each stream, authority will released the answer key separately. If candidates think that the answer given under the answer sheet by the authority is wrong then there is also a facility in they can appeal for objection with a least amount of fee and if authorities will found that the correction is right that mean your fee charge will be refunded in that case.
Final GATE 2019 Official Answer Keys To Be Released on March 14, 2019
GATE 2018 Answer keys
GATE 2019 –

Cut Off
GATE Cut off is the minimum marks to be eligible for admission to IITs and IISc. This is a factor deciding that either candidates is qualified in the exam or not. GATE 2019 cut off marks varies stream-wise and category-wise. The cut-off marks are less for reserved category candidates as compared to the unreserved category candidates.
GATE Cut Off 2018
| | | | |
| --- | --- | --- | --- |
| Branch | General | OBC | SC/ST/PH |
| Computer Science | 25.00 | 22.50 | 16.60 |
| Civil Engineering | 26.90 | 24.20 | 17.9 |
| Electrical Engineering | 29.1 | 26.1 | 19.4 |
| Mechanical Engineering | 34.7 | 31.2 | 23.1 |
| Electronics and Communication | 25.0 | 22.5 | 16.6 |
GATE 2019

– Result
GATE 2019 Result will be released on 16th March 2019. Candidates can check it from the GOAPS portal under the GATE official website. Once the result will be declared by the authority, candidates will also able to get their scorecard which is also attached with the result who secure marks equal or more than the cut-off marks.
GATE 2019 Result Declaration: March 16th, 2019
GATE 2019 –
Score Card
Those who qualified GATE successfully, authority provide them a GATE scorecard with three years validity from the date of announcement. The performance of an aspirants in entrance exam will reflects in GATE 2019 scorecard. The download facility for scorecard will be available from the last week of March 2019.
Previous Years GATE Statistics
| | | | | |
| --- | --- | --- | --- | --- |
| Year | Registered | Appeared | Qualified | Qualified (%) |
| 2016 | 971831 | 818850 | 135392 | 16.53 |
| 2015 | 927580 | 804463 | 121060 | 15.05 |
| 2014 | 1033625 | 889157 | 149694 | 16.84 |
| 2013 | 1200728 | 984855 | 136699 | 13.88 |
| 2012 | 777134 | 686614 | 108526 | 15.81 |
| 2011 | 612568 | 558480 | 96239 | 17.23 |
| 2010 | 460541 | 420596 | 59853 | 14.23 |
How to Prepare For GATE 2019?
With the hard and full dedication towards GATE Exam Preparation will give you the success. So, it is advised to the students that be keep and calm and cool and stay stress free. We are listing here few preparation tips for GATE 2018, follow them blindly:
Review your syllabus for which you are preparing.
Prepare your schedule as per the daily basis as well as for monthly basis.
Divide you study hours according to your subjects.
Try to finding your strength and weakness.
Practice a lot of Previous Years Question Papers.
Attempt online Mock Tests.
Select the best study material and book for covering GATE syllabus.
Take care of your health.
GATE 2019 –
Exam Centers
While filling the GATE 2019 Application Form, candidates can fill their preferred Exam Centers, In 2019 IIT Madras will conducts the GATE 2019 Examination & provides list of various Exam Centers, some are listed below:
| | |
| --- | --- |
| Zone | Name of Zonal Centres |
| 1 | IISc Bangalore |
| 2 | IIT Bombay |
| 3 | IIT Delhi |
| 4 | IIT Guwahati |
| 5 | IIT Kanpur |
| 6 | IIT Kharagpur |
| 7 | IIT Madras |
| 8 | |