IIT Madras released GATE Application Form Correction window for those candidates who seeking to edit their particulars from application form from 1st to 21st September 2018. Candidates who wants to change the exam centers from the GATE 2019 application form need to pay Rs. 400. The correction window appear for Gender/ Category/ PwD status correction in GATE application form 2018 will be available from 1st September and the last date of filling the application form is 21st September 2018
GATE Application Form –

Released

    GATE 2019 Last date for Application Form has been extended till 1st October 2018.

  GATE 2019 Examination Will be held on 2nd, 3rd, 9th and 10th February 2018.

  GATE 2019 will be Conducted by IIT Madras.
Get latest news & updates about GATE via SMS and e-mail, by entering your details below:
Click Here to View GATE 2019 Information Brochure
Click Here to View GATE 2019 Exam Poster.
GATE 2019 – Application Form 
Six Simple steps are there:
GATE 2019 Registration
Fill required details in the GATE 2019 application form
Upload scanned photograph and documents
Review your application form
Pay your application fee
Candidates need to send their GATE application form 2019 to the conducting authority or any of the 8 zonal GATE offices.
GATE Application Form
The authority give a facility to the candidates that they can choose three exam centers in the application form filling time which is familiar to them.
One is from other zone
Other two will be from the same zone.
Candidates can pay gate application form fee through online mode only. The national level exam will be conducted in the online mode on February 2nd, 3rd, 9th and 10th, 2019 for admission to M.E./M.Tech/Ph.D offered in IITs/NITs/CFITs and PSUs recruitment. Every year 9 lac students appear for the GATE Exam. In 2017, 9,22,167 registered for GATE approximately. Among of them only 7,87,148 appeared and 1,29,149 are cracked the GATE . For detailed information on GATE 2019 application form dates to apply, procedure, fee payment, documents required, image specification read the complete article which is given below.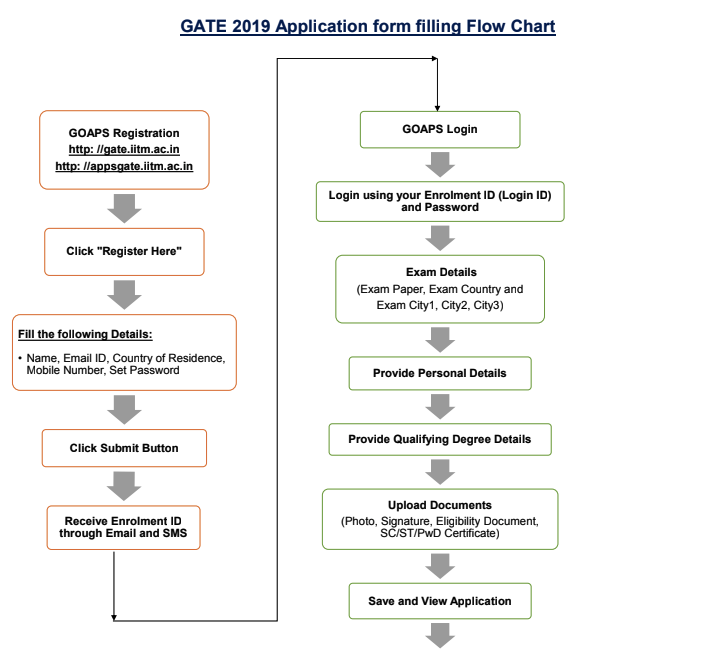 GATE Application Dates
| | |
| --- | --- |
| Events | Dates |
| GATE application form 2019 started on | September 1, 2018 |
| GATE 2018 application form ended on | September 21st, 2018 (8 pm) |
| Last date for change in the exam centres | October 1st, 2018 |
| GATE 2018 admit card | January 4, 2019 |
| GATE 2018 Exam date | February 2,3, 9 and 10, 2018 (Saturdays and Sundays) |
From where we can check the application status
Candidates those who has successfully registered for GATE 2019 can check their application status. Follow the below given steps and check your status
Click on the given link
Enter the required details in the form like enrollment number and password.
The status of the application form will be shown.
If any error exist then need to correct them from the correction window.
Also Check:
GATE 2018 Application Form Correction
Candidates those makes mistakes in their application form while filling has correct their particular or exam centers by logging in through GOAPS from 4th Week of October, 2018. For this candidates need to pay 400 Rs to correct it. Those who want to edit their Gender/Category/PwD from the GATE application form 2019 can correct it until October 1st, 2018. Those who want to make changes and to verify the email ID and mobile number candidates were need to log in to the GOAPS portal and then click on "Change Personal Data" link. Those who want to edit GATE 2019 application were asked to request through registered email ID to the respective zonal GATE office. While correcting details in GATE application form candidates had to send the email requesting 'Correction in data (enter enrollment number as well the type of correction)' given below along with the scanned copy of proof. For correcting the particulars candidates need to pay applicable fees.
Click Here  to Check GATE 2019 Application Form Correction
Below given details candidates can change from their GATE 2018 Application Form after submission. For this candidates need to submit below given proof:
Name of the Candidate: 10th class/SSLC certificate, Voter ID, Passport, Aadhaar ID Driving License
Date of Birth: Birth certificate, 10th class/SSLC certificate, Passport
Name of Parent/Guardian: Voter ID, Passport, Aadhaar ID, Driving License
Qualifying Degree/Year of Qualifying Degree/Have you Graduated in the above Degree?: Degree certificate or Final year/Semester mark sheet or Certificate with seal and signature of HoD/principal/competent authority
 Contact Details of Zonal GATE Offices
Below are the email Ids of eight GATE zonal centres
| | |
| --- | --- |
| GATE Zonal Centres 2018 Contact address | E-mail Id |
| Chairman, GATE, Indian Institute of Science, Bengaluru 560012 | gate@gate.iisc.ac.in |
| Chairman, GATE, Indian Institute of Technology Bombay, Powai, Mumbai 400076 | gateoffice@iitb.ac.in |
| Chairman, GATE, Indian Institute of Technology Delhi, Hauz Khas, New Delhi 110016 | chrgate@admin.iitd.ac.in |
| Chairman, GATE, Indian Institute of Technology Guwahati, Guwahati 781039 | gate2018@iitg.ac.in |
| Chairman, GATE, Indian Institute of Technology Kanpur, Kanpur 208016 | gate@iitk.ac.in |
| Chairman, GATE, Indian Institute of Technology Kharagpur, Kharagpur 721302 | gate@adm.iitkgp.ernet.in |
| Chairman, GATE, Indian Institute of Technology Madras, Chennai 600036 | gate@iitm.ac.in |
| Chairman, GATE, Indian Institute of Technology Roorkee, Roorkee 247667 | gate@iitr.ac.in |
GATE Application Form 2019: Certificates and Documents required
A candidates who want to appear for GATE Exam need to prepare following document before filling the online GATE  form 2019. When they are going to fill application form need to enter details as given in their photo identity card. Reserved category and physically challenged candidates need to upload their required category certificates. Below given all documents are required for completing the application form of GATE 2019 are different for Indian and International candidates:
Certificates to be uploaded in GATE 2019 application form:
Documents required for GATE Application Form 2019
Final year students: Provisional Certificate Letter issued by the Head of Institute/ Dean/ Registrar/ Head of Department as per format.
Graduates: Graduates can upload their Degree Certificate/ Provisional Certificate/ Course Completion Certificate.
Semester students: Upload copy of the semester marks sheets depending on the programme currently pursuing. For more information read GATE Eligibility Criteria 2019.
Final year of AMIE – Upload a certificate from the Head of the Department/Institute in the format given or a copy of mark sheet with signature and seal.
Masters' students: Candidates who are pursuing higher degree or masters must submit the qualifying degree certificate or provisional one
Candidates with backlogs: Upload copy of any of the mark sheet of the final year issued by their institute
Caste Certificate: If applicable in the prescribed format
Disability or PwD Certificate: If applicable in the prescribed format
Dyslexic Certificate: To avail the services of a scribe, dyslexic candidates should attach a proper dyslexic certificate issued by any Dyslexia Association in the prescribed format
Important Note: Marks sheet downloaded from the Internet shall not be accpeted.
Details to be kept ready before filling GATE Application Form 2019
Email id
Identity proof
Indian candidates: Passport, PAN Card, Voter ID, Aadhaar-UID, College ID, Employee ID and Driving License
International candidates: Only valid Passport/Government issued ID/College ID/Employee ID will be accepted as the recognized identification
Photograph
Personal details: Date of birth, mobile number, parents' name
Contact details: Communication address, College address
Bank details: Net Banking details of the respective banks if fee is paid online
Identity proof accepted for GATE application form 2019
Driving License
Passport
PAN Card
Voter ID
Aadhaar UID
College ID
Employee Identification Card
Notarized Affidavit with Photo, Signature, Date of Birth and Residential Address
Passport (international candidates)
How to fill GATE 2019 Application Form?
Candidates can fill their application form via online mode only. Candidates needs to follow given process for processing their application form.
Step 1: GATE Registration
Step 2: Fill  GATE application form
Step 3: Upload scanned images
Step 4: Review your GATE application form
Step 5: Pay your  GATE application fees
Step 6: Submit your GATE online application form
In detail:
Step 1. GATE 2019 Registration Process
Those who check and find they are eligible for GATE Registration need to apply for GATE 2019. For registration, candidates should have entered valid email ID, mobile number and create a GOAPS password. Once candidates received all the registration details on their registered email ID can login in GOAPS dashboard.
GOAPS Enrollment ID – Those who registered for GATE 2019 will get GOAPS Enrollment ID for future login.
Step 2. GATE 2019 application form:
Below given details are required to fill in GATE Application Form and these are also included in the GATE registration:
Personal Details
Academic Details
Contact Information
GATE Exam Centres
GATE Photo Identity
GATE 2019 Application: Specification for Photograph and Signature
These are involved in the third steps of GATE Application form where you need to upload scanned photographs like passport size photograph and scanned signature . Below are the guidelines for uploading photographs and signature.
GATE Application 2019: Photograph requirement
| | |
| --- | --- |
| Particulars | Details |
| Dimension | Width x Height: 3.5 cm × 4.5 cm print. JPEG format: 480 × 640 (0.3 Mega pixel) |
| Colour | Clearly visible colour photograph taken after 1st August 2017 |
| Background | Background must be white or a very light color. |
| Face of the candidate | Candidates face should be infront of camera and should be cleared and visible. |
GATE 2019 Application Form: Signature requirement
| | |
| --- | --- |
| Particulars | Details |
| Dimension | Maximum image size of signature: 160×560 pixels.Minimum image size of signature: 80×280 pixels. |
| Format | JPEG |
| Size | Draw a rectangular box of size 2 cm × 7 cm (Height x Width) in the A4 white paper. |
| Clarity | Sign with black ink pen within this box. |
| Sign of the candidate | Signature should be done by the candidates only by black pen |
Step 4. GATE Application Form 2019 – Edit/Preview Process
Once you have completed the first three process then you need to check your application form or review it whether you fill all details in the correct format or not.
Step 5. GATE Application Form 2019 – Payment of Fees
Once candidates check their application or review it and find that their all details are in correct form then need to pay application fee which are given below according to the category.
Indian Candidates
| | | |
| --- | --- | --- |
| S.No | Candidate Category | Application Fee |
| 1. | Male Category (General/ OBC) and others | Rs. 1500 |
| 2. | SC/ST/PwD categories | Rs. 750 |
| 3. | Women (All Categories) | Rs. 750 |
International Candidates
For international candidates the conducting authority gives a facility for making payment in US currency and can pay their application fee in Dollar.
| | |
| --- | --- |
| Kathmandu, Dhaka, Colombo, Adis Ababa | US$ 50 |
| Dubai and Singapore | US$ 100 |
Step 6.Submit your GATE Application form 2019
Once you going to enter in final submit, it is advised to the candidates that please ensure that the details you entered in the application should be correct format. Once you confirm and sure that the details you fill in the application form are in correct then click on Final Submit Button.
What if you lose/forgot GATE 2019 Enrollment ID or Password?
If in case any candidates forget their application form then can request for forget enrollment id or forget password button and re-fetch their application form
Steps to recover GATE 2019 Enrollment ID or Password
Forgot enrollment id or not received their enrollment id via email – For this candidates need to select forget enrollment id option and then need to fill their registered email id or registered by mobile number by which they can retrieve their enrollment number. The enrollment id will be sent to your registered mobile number via SMS or via email which is registered.
Forgot Password – Candidates can retrieve their password by entering below given details in the form which is occurred clicking in the Forget password button.
Candidate's Name (Spelling only)
Date of birth (change in birth year)
Name of Parent/Guardian (change in spelling)
Category status: General to OBC and OBC to General
Year of Qualifying Degree (change in year)
Forgot both Enrollment ID and Password –In this case, the candidate who has paid the fees must contact their respective zonal office. If the candidate has not paid then they will have to register themselves.
Year-wise statistics (2012-2017) of GATE candidates
| | | | |
| --- | --- | --- | --- |
| Year | Registered candidates | Number of candidates who appeared | Number of qualified candidates |
| 2017 | 9,22,167 | 7,87,148 | 1,29,149 |
| 2016 | 9,71,831 | 8,18,850 | 1,60,643 |
| 2015 | 9,27,580 | 8,04,463 | 1,21,060 |
| 2014 | 10,33,625 | 8,89,156 | 1,49,694 |
| 2013 | 12,00,728 | 9,84,855 | 1,36,699 |
| 2012 | 7,77,134 | 6,86,614 | 1,08,526 |
for more information & query regarding GATE, leave a query in below comment box
We wish you all the best for your Bright Future.
Best Wishes!!!!!!!!!
Team