UKPCS One Time Registration: UKPSC will soon release the notification for filling various vacant position of civil services in various department in Uttarakhand Government. UKPSC(Uttarakhand Public Service Commission) has released the notification regarding the One Time Registration for all UKPSC Examination. According to this notification candidates can register themselves and have a common window for all UKPSC examination

    UKPCS /UKPSC OTR Link Activated, Click Here to fill UKPCS OTR (One Time Registration)

UKPSC/UKPCS Introduce One Time registration for all UKPSC Examination. Click Here for Official Manual.

    UKPSC Release the FAQ for One time Registration, Click here for more info. 
Get latest news & updates about UKPCS via SMS and e-mail, by entering your details below:
The UKPSC and the Government of Uttarakhand trying to make a single registration window for all UKPSC level examination. these examinations are Uttarakhand PCS/PSC, Lower PCS, RO/ARO, AE, JE, and other posts, now UKPSC made a Signal window for all all these examination, It is mandatory for all the UKPSC Aspirant to register themselves.
To Read this Article in Hindi

Click Here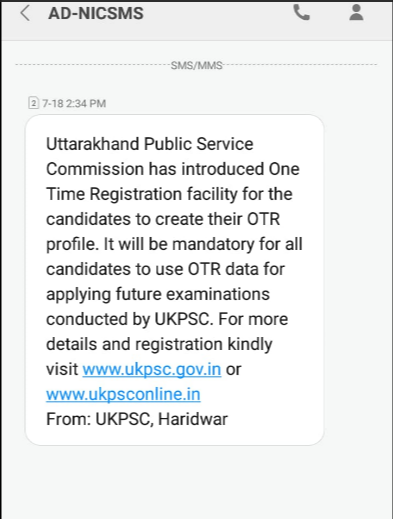 How to Register One Time in
UKPCS/UKPSC?
Here we discuss the One Time registration process for UKPCS/UKPSC Examination, Check Below for registration process.
Visit the Official  Website of UKPCS/UKPCS (http://www.ukpsconline.in/RPS/Home.aspx).
Link will be open in a new tab, Fill all the required details carefully.
For New user registration, Click on "New User Registration"  button. (Below the Login Button).
Fill the required details carefully such as "User Name, E-Mail, Mobile Number, Date of Birth (DOB) & Password".
After Entering the Email ID and Mobile Number candidates get OTP(One Time Password) and click Create user button.
After clicking create user button, a pop up will open and show "Your account registered successfully". after this click OK button.
Candidates should note "User Name" and "Password" for the future use.
Next step is Profile Creation, which is created only once so fill all the details carefully.
Login into the System with registered User Name & Password. 
A pop up Instruction window will open, read the instruction carefully.
Check "I have read the instruction" & Click on GO button.
A New page will open, click on "Profile Creation" button, here candidates fill their all basic information such as "Personal Details, Address Details, Educational Qualification, Work Experience, Upload Scanned photograph and Signature".
for more information & query regarding UKPCS OTR, leave a query in below comment box
We wish you all the best for your Bright Future.
Best Wishes!!!!!!!!!
Team