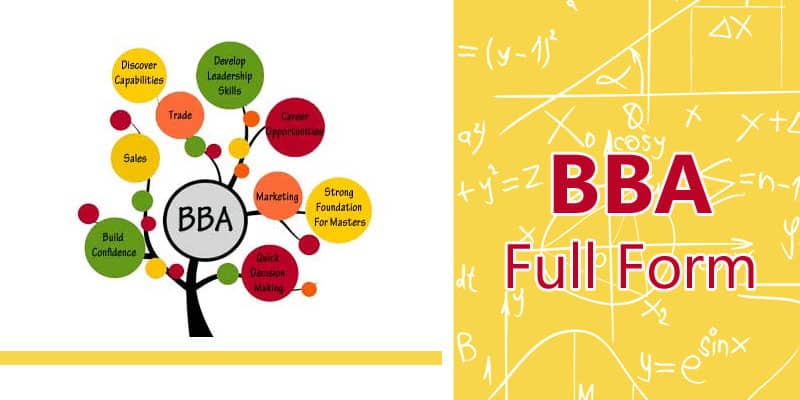 BBA Full Form: The full form of BBA refers to Bachelor of Business Administration. This is an undergraduate academic degree that helps a student to find a gateway to enter the managerial position of an organization. The course enables a student to develop practical, interpersonal, administrative, communication, leadership, and decision-making skills making him/her competent enough to survive in the competitive environment.
BBA Full Form
Along with the full form of BBA, this article deals with the briefings of eligibility criteria required to get admission in the course, subjects in the class, and famous institutes offering the degree, career, and salary after completion of the course.
Eligibility criteria 
A student applying for the course must have completed at least 10+2 from any recognized university. Some colleges may have other criteria for a student to be qualified to get admission, such as entrance exam, minimum required score in the higher secondary exam, etc.
Course Duration
BBA is a 3-year academic course with six semesters. Nowadays, some colleges provide five years of Integrated Programme in Management (BBA+MBA)
Syllabus
The course structure involves theoretical as well as practical knowledge of managerial and business activities. The theoretical knowledge is imparted by subjects like business economics, Business mathematics, financial accounting, principles of management, computer fundamentals, cost accounting, database management, operational research, business organization, marketing management, organizational behavior, and Human resource management. Marketing research, taxation laws, business environment/ business laws, production & operation s management, Financial Management, Management Information systems, values and ethics in Business. These subjects are divided into five semesters.
In the 6th semester, subjects required for the specific specialization, Project planning, and evaluation, business [policy and strategy, Entrepreneurship development, and environmental development are taught. Specialization subjects (marketing, functioning, legal studies, accounting, Management. Entrepreneurship) are taught near the end of the course
To build up the communication, interpersonal skills, decision making and, managerial skills, practical knowledge including, presentation, internships going out on excursions, exhibitions, factory/industry visits, etc.
Fee structure
The tuition fee ranges between 1 lakh to 3 lakhs per head and varies between institutions. One may pursue either as a Full-Time Graduate Course or Part-Time Graduate Course, as suitable for a student.
Career
 A student may start his/her career in the field he specializes in finance, human resource, production management, marketing, hospitality Etc. He may choose to become an entrepreneur after being awarded the degree. Or else the course MBA can be pursued for a better job by enhancing one's skills and knowledge.
Salary
 The average monthly salary would vary between Rs10000 – Rs 15000 depending on the company. 
Some of the famous institutions providing the course are- IIM Indore, Christ College in Bangalore, Jain Hind College, Mumbai, Symbiosis Centre for Management Studies, Pune, St Xavier's College, etc
Conclusion
The BBA Full Form is Bachelor of Business Administration. It is an undergraduate academic degree that helps a student to find a gateway to enter the managerial position of an organization.
Read more from here.
People Also Reading: