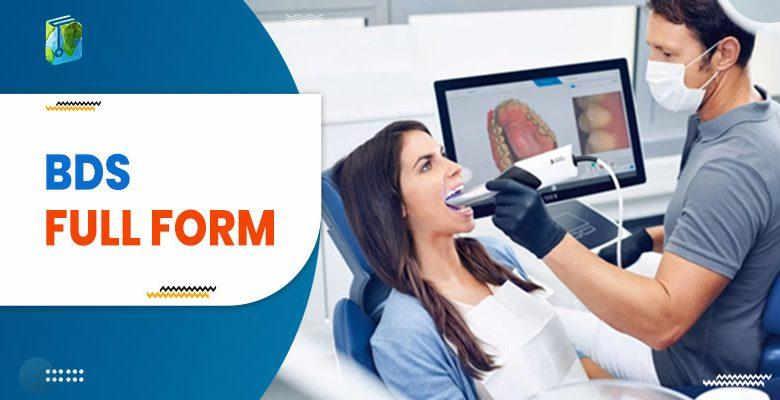 BDS Full Form: BDS is the educational and professional program of dental surgery in India. The full form of BDS refers to a Bachelor of Dental Surgery. It includes the study of a denture, dental problems, and surgery. A person holding a degree of BDS is addressed as a dentist and owes the title 'Dr' before his/her name.
This article includes a detailed summary of the full form of BDS.
BDS Course
BDS is a five-year undergraduate course that includes four years of academic education and one year of mandatory internship. This course offers theoretical and practical knowledge in the medical field of surgery related to ailments of teeth, jaw, and gums. I can be pursued either full-time or part-time. the dental programs under every institute must be accredited by The Dental Council of India 
Eligibility criteria-
 BDS is sought after scoring at least 50% marks in higher secondary examinations in the science stream (Physics, Chemistry, Biology, and English).
Admission process–
The process of admission to the BDS program begins with an entrance test at the national or university level. NEET (National Eligibility cum Entrance Test) is the most common one. After passing the entrance exam, students have to sit for the counseling round organized by the respective institutes. Seats will be allotted to candidates based on rank, filled choices, and availability of seats.
Admission fee-
The average fee required for pursuing the course ranges between Rs 50000 – Rs 12 lakhs.
Course structure-
 The course is divided into semesters involving the study of basic subjects such as-Human Anatomy, Physiology, Biochemistry, Dental Anatomy, Dental Embryology, Oral Histology, Oral Pathology and Microbiology, Dental Materials, General Pathology and Microbiology, General Surgery and medicine, Oral Medicine, Radiology, etc.
Scope-
 A student awarded a BDS degree may avail or create job opportunities in Dental clinics, hospitals, and research labs as an oral pathologist, dentist, surgeon, Dental health consultant, and lecturer.
Salary–
A dentist may earn a salary between Rs 15000- Rs 30000 per month
If eligible to take the license of own clinic, one can earn around Rs. 40,000 to Rs. 1, 00,000 per month.
All dentists should be registered under the Dental Council of India to start their practice.  Also, BDS degree holders may pursue advanced courses after BDS, such as M.Sc. in Primary Dental Care or MSD (Master of Dental Surgery).
A few famous colleges for pursuing BDS are-
Moulana Azad Institute of Dental Sciences- New Delhi

Manipal College of Dental Science- Mangalore

Government Dental College and Hospital- Mumbai

King George's Medical University- Lucknow

A B Shetty Memorial Institute of Dental Sciences- Mangalore, etc
Conclusion
BDS Full Form is Bachelor of Dental Surgery. It is an educational and professional program of dental surgery in India. It includes the study of a denture, dental problems, and surgery. The professional is known as Dentist.
Read more about BDS from here.
People Also Reading: