Success Story
How to become a Chief Minister from a common man: Arvind Kejriwal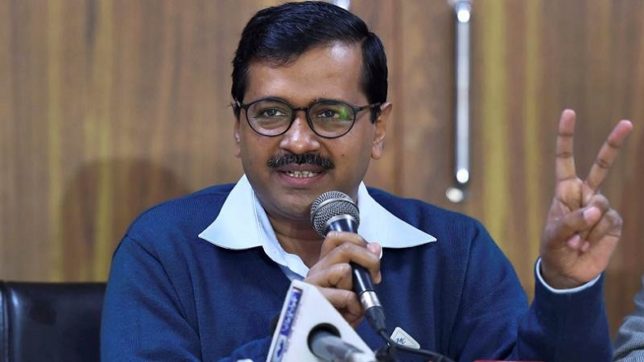 The name of this leader of India is on the tongue of everyone today. Since childhood, Arvind Kejriwal, who has participated in social work, never thought that he would become the chief minister of India's capital Delhi. From childhood, the feeling of service to the country has made him today. Arvind Kejriwal is a social worker and current Chief Minister of Delhi, together with the common man party organizer.
Biography of Arvind Kejriwal
Brief Introduction
Full name : Arvind Govind Ram Kejriwal
Birth: 16 August 1968
Age: 49 years (2018)
Birthplace: Hisar, Haryana
Father: Govind Ram Kejriwal
Mother: Geeta Devi
Brother: Manoj (software engineer in IBM, Pune) <
Sister: Ranjana (Doctor in Bharat Heavy Electrical Ltd, Haridwar
Wife: Sunita kejriwal
Children: Harshita Kejriwal and Pulkit Kejriwal
Hobbies:  Reading, Yoga and Vipassana
Property: 71 million (approx.)
Political Party:  Aam Aadmi Party
Childhood and Education
On August 16, 1968, Kejriwal was born on Janmashtami in Sion village in Bhiwani district of Haryana state. Being born on the day of Janmashtami, he was called Home Kan Kanha. They follow pure vegetarianism and vipassana.
But you would be surprised to know that they do not celebrate their birthday.
His father was a Electrical Engineer, who was a graduate of the Birla Institute of Technology, Mesra, and because of this work many times his family had to change his home.
Most of Kejriwal's childhood was passed in the villages of northern India such as Sonipat, Ghaziabad and Hisar.
In Hissar, he received education from the Campus School and the Christian Missionary School, Sonipat. From the days of school & nbsp; Kejriwal was very quick to his work. He was very interested in Drama and Debate. Once he participated in the debate, suddenly his health worsened, then he wrapped the blanket and went to school and attended the debate. In 1989 he received Degree in Mechanical Engineering from IIT Kharagpur.
Social Work
In college, Arvind Kejriwal used to participate in many dramas. Through the Drama, they used to tell people about the state of the time.
During college holidays, he used to go to slum colonies to teach poor children. As an interview, his classmates told that Arvind used to go to slums to teach children in the chores and while his classmates used to watch movies and play well.
After this he joined the Tata Steel Company in 1989 and went to Jamshedpur. Kejriwal was not happy with his work, and he wanted to go to Tata Group's head in some social work and talk about working in his social Welfare Department, but the head of Tata Group declined him. Arvind Kejriwal quit Tata on his refusal
But this increased their social feeling more and they started preparing for Civil Service. He cleared in First Attempt, from which he became an IRS.
Arvind Kejriwal met with his wife Sunita during the civil service training at Mussooran in Uttarakhand. As an IRS officer, Arvind Kejriwal had refused to hold anyone as a peon.
According to his colleagues, whenever he gets angry, then do not talk to anyone for a while. He quickly overcomes his anger.
Influenced by Mother Teresa, Kejriwal went to Calcutta in a desire to work with them. They expressed their wish to meet Mother Teresa. Then Mother Teresa asked her to go and work in the Kalighat Ashram. He has worked for 2 months.
Kejriwal says meeting with Mother Teresa was the turning point of her life. During this time he also joined Ramakrishna Mission.
Kejriwal always wanted to do something for the country. When his fellow in college was going abroad for career and higher studies, he could also go, but the desire to show some tax for the country did not allow him to go out of the country.
In 1995, Arvind Kejriwal married Sunita, who was her colleague in National Administration Institute, Mussoorie and National District Taxation Agency, Nagpur. Kejriwal and Sunita have two children.
In 1995, Kejriwal became Joint Commissioner in Income Tax Department. Arvind ji said & nbsp; that Income Tax Department is very honest there, but if you are working with truth then all will support you, but corruption has strengthened its roots, those who need transparency in order to overcome them.
Kejirwal had started a war against corruption by this, he used to do all the work that came in his post very honestly.
In November 2000, Arvind Kejriwal was discharged from the income tax department for two years, on condition that he had completed his higher education in those two years and left the job, he would join and work for at least 3 years.
If they fail to do so, they will have to return the salary they get during the holidays.
In November 2002, they joined again. According to Kejriwal, he did not get any post for a year, but he got paid without doing any work. So after 18 months, he applied for a non-paid leave, his application was approved. During this time he founded the NGO named "Transformation".
This organization used to do all the work of the common man in the income tax and power department in Delhi for free. In Delhi, he got the prescription that if you ask for a bribe from the Income Tax and Power Department, then you tell us we will do your work for free.
Arvind Kejriwal did the work of about 1000 people for free in 1 year. Kejriwal was never the face of the organization of change, he always used to work from the back, face of the face was Manish Sisodiya and others.
People Also Read:
Arvind Kejriwal joined the income tax department back in 2004 and after resigning for 18 months he resigned from office in February 2006. It is said that Kejriwal broke the promise of continuous work for three years written in the authority letter. But according to Evil, 18 months spent by them should have been included without the paychecked exorbitant, which makes them complete 3 years.
But the Income Tax Department did not do that, Kejriwal opposed, but for many years the differences continued and in the end, Kejriwal deposited Rs 9,27,787 in debt as a loan to his friend.
Kejriwal was equated with Raman Magsaysay Award for outstanding leadership in 2006. Because & nbsp; he had made changes to many sections and laws related to income tax and had also issued the right to get information against corruption.
This year, he donated the full amount of his Magsaysay Award to an NGO to serve the people.
Kejriwal Opposes Corruption
Arvind Kejriwal wanted the system to change but he could not change it by staying in the system. He did not want to limit his work to Delhi, wanted to end corruption in the whole country. For this reason, Kejriwal resigned to the income tax department and started working closely with the organization of change.
In 2006, Kejriwal launched an awareness campaign about RTI across the country. Through the RTI, the common man can answer questions about his work from his government.
Arvind Kejriwal joined Anna Hazare in 2011 with the mission of passing the Jan Lokpal Bill. In the IAC movement led by Anna Hazare, they also sat on the hunger strike. In this way, he made continuous efforts to improve the system.
Kejriwal's Political Journey
Despite the tireless efforts of Arvind Kejriwal, the government did not make any changes, then Kejriwal decided to change the government. Because of this, Kejriwal and Members of the IAC Team on the occasion of Mahatma Gandhi's birthday on October 2, 2012 & nbsp; Formally announced to contest elections.
Kejriwal and IAC Team at Jantar Mantar on the 63rd anniversary of Indian Constitution on November 26, 2012. The Aam Aadmi Party formed the political party "Aam Aadmi Party".
While Anna Hazare, Kiran Bedi and many other IAC team members were against entry into the political system, though Kiran Bedi later joined BJP.
In 2013 this party contested in the Delhi Assembly In this election, he defeated Sheila Dikshit of Congress, who was in power for 15 years, with the difference of 25864 votes.
On December 28, 2013, he became the Chief Minister of Delhi. On March 25, 2014, he announced the election to contest Lok Sabha elections from Narendra Modi from Varanasi's constituency, but he defeated the margin of 370000 votes.
On 14 February 2015, after getting a huge majority in 67 of the 70 seats, he became the Chief Minister of Delhi for the second time. After being chief minister for a second time, Kejriwal returned the security of the Z Plus. At the time of his tenure, he announced a 50% discount in electricity prices, later Kejriwal also staged a protest against the Delhi Police and the Home Ministry.
Kejriwal made his fierce fight against many big companies, even for the transparent rule in the office of Deputy Governor Najib Jung, Lokpal Bill was an issue for him during social service.
Arvind Kejriwal's awards
 2004 – Ashok Fellows, Civic Engagement
2005 – Satyendra Dubey Memorial Award, IIT Kanpur, for his work to bring the government into transparency.
2006 – CNN IBN, "Indian of the Year" in Public Service
2006 – Raman Magsaysay Award for Outstanding Leadership
2009 – Specialized alumnus award, IIT Kharagpur for excellent leadership.
2010 – The agent of the year who took the change in policy, Economic Times, with Aruna Roy.
2011 – NDTV has given Indian of the Year awards with Anna Hazare.
2013 – In the 100 "Top Global Thinkers" of 2013 by the American magazine "Foreign Policy"
2014 – Involved by the famous "Time Magazine" as "the most influential person in the world".