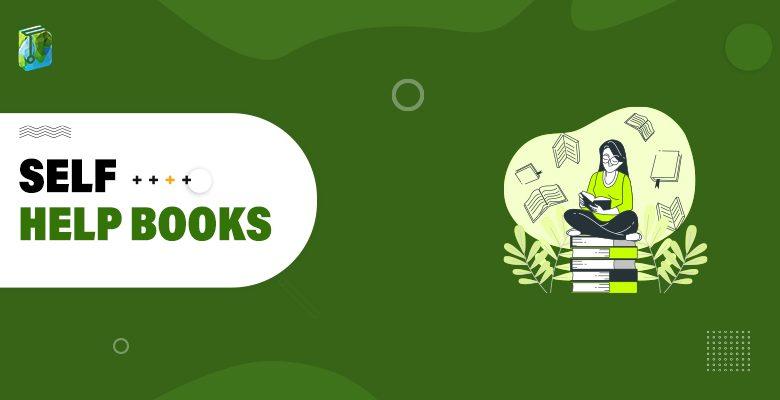 Whether you want to feel courageous, change your daily routine for the good, become more productive, then self-help books will help you rediscover yourself and make you feel healthier and happier.
Here we have listed the 10 best books on self-help that will help you understand your self-worth and make you fall in love with yourself more. These books will also help you improve yourself and open doors to making changes in your life you have been resisting to make.
So let us get started!
Reasons To Read Self Help Books
You might be wondering why it is important to invest your time, money, and energy into buying a book for yourself. Here are some of the reasons why you should buy a self-help book right away.
1. Stop allowing your weakness to hold yourself back
If you are the one who procrastinates a lot or are very less productive then how will you achieve your goals? If you are not able to achieve your goals, then you are probably doing something wrong and need to find the right approach. However, a well-written self-help book can help you get started.
2. Makes you believe in yourself
Self-help books will help you analyze your problems, come up with a solution, and implement them. When you start doing so, it will boost your self-confidence and make you believe in yourself.
3. Helps you open doors for new opportunities and approaches
If you are the one who has tried all different ways to solve your problems and are almost giving up, self-help books offer a new approach to help you solve your problems and go ahead in your life. These books also assist you to change yourself and open doors for new opportunities.
10 Best self-help Books to Become a Better Person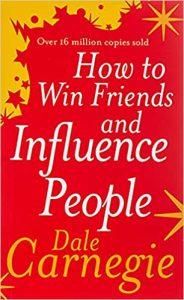 Author: Dale Carnegie
Latest Edition: 1 October 2004
Publisher: RHUK
How to win friends and influence people is another most popular self-help management book by Dale Carnegie. It has sold over 30 million copies. It was published in the year 1936 and has been updated and reprinted many times. This book was listed as one of the top 100 most influential books in the Times Magazine.
How to win friends and influence people focuses on improving a person's aura in the world. The author also tells that you can change how the world will treat you by changing your own behavior. It means, if you change the energy you emit, the energy that comes back to you will be different.
This book is one of the most influential guides to improve your business and communication skills. The author teaches the different ways to market yourself and generate more clients. The main aim is to help you get out of the mental hell and figure out your life goals and ambitions.
After reading this book, you will become a person who shows a positive attitude, gain trust from people. Additionally, reading this book will help you become a stronger person.
You can buy this book here.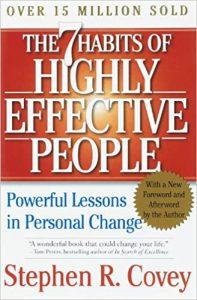 Author: Stephen R. Covey
Last Edition: November 9, 2004 (Revised Edition)
Publisher: Free Press
The 7 habits of highly effective people present a holistic approach for finding solutions to personal and professional issues. The author tried to reveal the path of living a life full of integrity, human dignity, fairness, and more. He also explains the principles that offer security to adapt the change, wisdom, and power to take advantage of the opportunities that can change the way we grow.
When the book was first published, it was a groundbreaker. This book is still a bestseller, and over 10 million copies have been sold. The facts mentioned in this book are usually from family situations and business challenges. Adopting these seven habits will help you in effective time management, develop proactive muscles, positive thinking, and more.
You can buy this book here.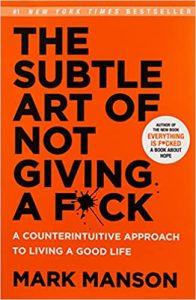 Author: Mark Manson
Latest Edition: 19 January 2017
Publisher: Harper Collins
The Subtle Art Of Not Giving A F*ck is a best-selling self-help book of all time. It is an incredible guide that is written by a Blogger who offers advice on taking a different approach to life. He agrees with the fact that it is not easy to stay positive all the time. People state that to have a happy life, you need to stay positive all the time. However, Mark says that it is not easy to have a positive mind all the time.
The entire book is written in a very straightforward way without any sugar coating. Moreover, the text and the information are also very simple to understand.
This book is for the mind adhering to some impractical beliefs. Before writing this book, the author has done elaborate research that proves how simple changes in lifestyles can bring wonders to your life.
The author has also advised how to understand our limitations, fears fall, and accept them. Once an individual stops running away from the painful truths of life, they can embrace courage, honesty, and perseverance.
You can buy this book here.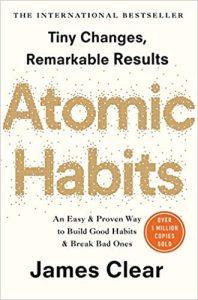 Author: James Clear
Latest Edition: 30 October 2018
Publisher: Random House Business Books
Atomic Habits by James Clear is one of the most powerful and useful self-help books that offer information about improving your habits which will help you accomplish more by focusing on the less. It is one of the most engaging hands-on books that guides everyone to get rid of bad habits and routines and indulge in the good ones.
Atomic Habits is also regarded as a step-by-step guide to change routines. This book offers additional material like cheat sheets and templates that can help in planning your own habit profile and continuously improve.
If you are the one who wants to build a new habit and improve yourself, then this book is for you. Before you start reading this book, start writing some good habits you want to build and some bad habits you want to get rid of. The book is more of a practical guide than just a book full of theory.
Some of the key takeaways of the books are:
Compound effect: It means making very small changes over time will have a huge impact on your life.
Habit-building techniques: Adding good habits into your routine, using positive reinforcements, and other effective techniques.
Monitor and measure: Keep a track of your progress and improvements with the help of cheat sheets.
You can buy this book here.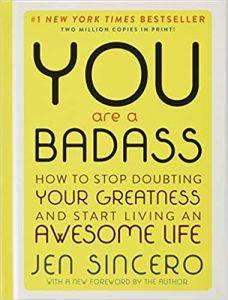 Author: Jen Sincero
Latest Edition: 31 October 2017
Publisher: Running Press
You are a badass by Jen Sincero has sold over 1 million printed copies. It has become the best and latest self-help classic. Once you start reading the book, you will believe in the power and the need to create positive changes in your lives.
This book is written in a very conversational tone and at the same time, also includes the element of humor. Reading the book will teach you how to fall in love with your life and the ways to handle things that are not in your control.
This book is the most recommended for everyone who is finding it difficult to love themselves.
You can buy this book here.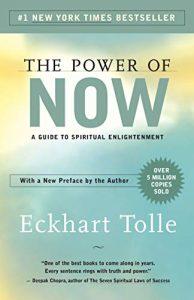 Author: Eckhart Tolle
Latest Edition: 6 October 2010
Publisher: New World Library
The Power of Now is a life-altering must-read self-help book of all time. Most of us struggle to live in the present moment and worry more about our past and future. This approach is never beneficial. However, we still get caged in such a thought process. This book is miraculous as it helps to handle such thoughts and motivates you to live in the 'now'.
This book helps to maintain a spiritual balance and understand the importance of being. Several chapters assist you to control your mind and lead a better life. Many people have experienced a positive change in their life and mindset.
After a lot of research, the writer has curated all his learning and knowledge into this book. Although, the concept of living in the 'now' takes time to understand and put into perspective. However, constant efforts and the strategies mentioned in the book can help you in this journey.
You can buy this book here.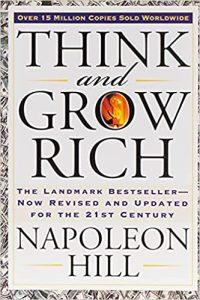 Author: Napoleon Hill
Latest Edition: 18 August 2005
Publisher: Tarcher Perigee
Think and grow rich by Napoleon Hill is a remarkable book and is the 'granddaddy' of all motivational literature. This book explains the law of success.
If you are a dreamer and wish to be successful in life, this book will help you to stay inspired and invest your best efforts in the business. There are several motivational tales and principles of success. You will also find several ideas which will help you fulfill your goals.
It is one of the most wonderful self-help books that you will ever come across. Whenever you face any sort of criticism in life, this book will help you with the ways to cope with it. There are various steps that you must and must not follow in your journey to build up your business.
You can buy this book here.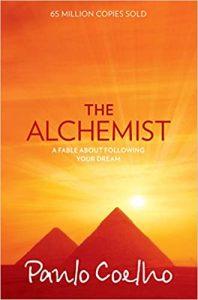 Author: Paulo Coelho
Last Edition: 17 October 2005
Publisher: Harper Collins India
Genre: Fiction, Fantasy, Philosophy, Spirituality, Classics, Self Help, Literature, Inspirational
The Alchemist by Paulo Coelho is an inspirational novel that has inspired many people across the world. This novel revolves around a shepherd boy called Santiago who travels to the Egyptian desert looking for treasure buried near the pyramids.
This story is an eternal testament that helps to transform the power of dreams and focuses on the importance of listening to our hearts.
You can buy this book here.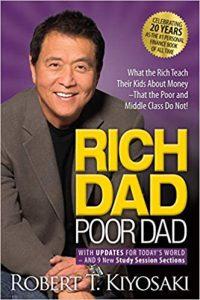 Author: Robert T. Kiyosaki
Last Edited: 11 April 2017 (Second Edition)
Publisher: Plata Publishing
Robert Kiyosaki's book Rich Dad and Poor Dad has been one of the best personal finance books from the past 25 years. With time, it has become the #1 personal finance book and has been translated into 12+ languages worldwide.
This book talks about growing up with his real father and his best friend's father, the rich dad. The author also explains the point of view both these fathers have about money and investing. He talks about the difference between working for money and having money work for you.
The Rich Dad Poor Dad explains the myths to know to earn more money and become rich, challenges the fact that your house is an asset, explains why parents should not rely on the school system to teach their kids about money, defines assets and liability, and much more.
You can buy this book here.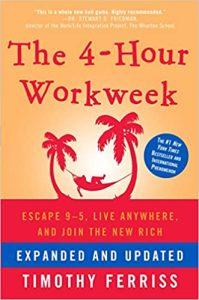 Author: Timothy Ferriss
Last Edition: 15 December 2009 (Updated Edition)
Publisher: Harmony
The 4-hour workweek is a blueprint to forgetting the concepts of retirement and deferred life plans. This book is a guide to fulfilling your dreams, going on luxurious travels, earning a five-figure income, and much more.
This book for entrepreneurs tells the following:
How the author earned $40,000/month by working only for 4 hours per week.
Ways to outsource your work to virtual assistants online for $5 per hour and enjoy your life.
How to complete 50% of your work in 48 hours with the help of the principles of a forgotten Italian economist.
How to trade career for short work getaways and holidays.
The new and expanded edition of The 4-Hour Workweek includes:
50+ practical tips and case studies from people who have doubled their income after reading this book.
How lifestyle design principles can be suited to unpredictable economic times.
Different templates to eliminate writing emails, negotiating with boss and clients, and much more.
The different tools and shortcuts for living the life of a diplomat or a millionaire.
You can buy this book here.
Conclusion
Self-help books are the key to staying positive, focused, productive, and improving yourself for the good.
When you read a book on self-help, you will keep progressing and getting better with time. It teaches you to pay attention to the skills you are lacking and do everything you can to improve yourself.
Since these books are written by experts, they include all the tried and tested formulas that will help you in every way. Here we mentioned some of the best self-help books for you.
Happy Reading!
People are also reading: