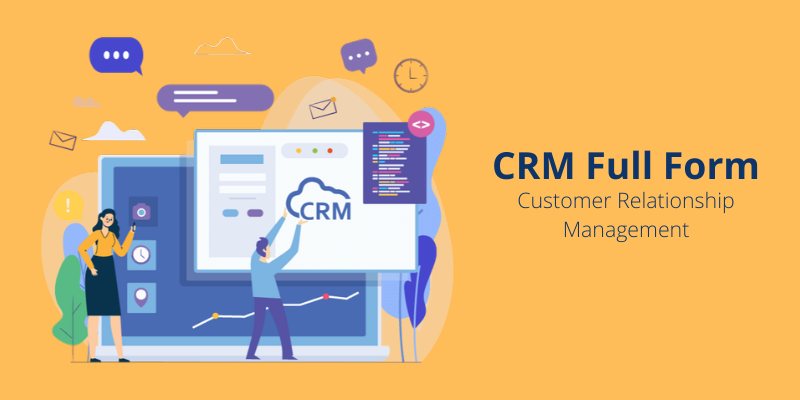 CRM Full Form: The full form of CRM is Customer Relationship Management. CRM is defined as a process of managing and retaining the relationship with the existing customers and prospects of an organisation to drive its growth and increase profitability.
CRM Full Form
 Features
CRM is a strategy involving the decision of how the relationship with existing and future customers should be managed.

CRM is a process which a company adopts to develop and maintain those relations

CRM is a cloud-based technology used by a company to record, report and analyse the communication with its customers.
CRM value chain explains the process which enables a company to grow by increasing its marketing productivity by using its customer. 
Following is the necessary steps to implement the CRM strategy successfully- 
Customer portfolio analysis
At first, an organization's must analyse and classify its customer base to determine the segments of the most profitable customers. This will help in providing major attention to the target customer base.
Interaction with customers
This process helps a company in building relationships with individual customers within its target customer base by collecting information about their buying habits, dates of anniversary or birthday or both, feedback. This information will be  stored in by compiling customer database across different channels, or points of contact between the customer and the company
This step involves identifying and developing strong relationships with the stakeholders of the company, such as suppliers, investors, and employees.
Value proposition development
This step involves working on the information collected from the customers and creating a tailored value proposition for those customers, thereby adding to the value of the organisation.
Customer life cycle management
The customer life cycle refers to the journey of a customer journey: from potential client to product/service advocate. Its focus on the matters related to acquiring, developing, retaining relationships with the customer and also measuring the performance of the CRM process.
CRM Software
CRM software is a system that collects and manages all the information and documents related to the customers into a single CRM database, providing an organized perspective of customer's and employee's relationship. Data related to customer contact information such as email, telephone, website social media profile and personal preferences; are stored in the software. CRM software improves customer relationship management by recording their interactions with the company carried over email, telephone, website social media profile
Components of CRM 
The components of the CRM include automation of various workflows to transform leads into a full-fledged customer. It assists in problem-solving and information dissemination, giving managers the ability to track performance and productivity based on the logged information. These are as follows-
Marketing automation

Salesforce automation

Contact centre automation

Geolocation technology

Workflow automation 

Lead management

Human resource management (HRM

Analytics

Artificial intelligence (AI) technologies
Types of CRM Technology
The types of CRM technology available are as follows:
On-premises CRM: This system enables the company using the CRM system to manage, control, administer, and maintain its database and information under the company's servers and the user assumes the cost of any upgrades. 
Cloud-based CRM:  Cloud-based CRM, also known as SaaS (software as a service) or on-demand CRM enables the company to store data on an external, remote network that employees can access anytime, anywhere through an internet connection. The installation and maintenance may be provided by a third-party service provider. 
Benefits
A business can create followers or fan page for the company on a social media platform. It is joined by the people who like the products, thus creating a productive destination for communication, marketing and networking.

Data analytics and reporting helps in tracking and analysing the buying habits of the customers. Thus periodic sales can be easily traced out.

It improves cohesiveness among sales, marketing and customer service departments as they share a common CRM platform.

Automation of tasks makes Employees focus their efforts towards managing the leads and closing the deal instead of putting their time in completing smaller tasks like form filling, generating a receipt, sending reports to seniors while selling a product. These tasks can easily be performed by the CRM system. 

CRM system can manage the relationship with the supplier and partners, thus enabling efficient supply chain management.
People Also Reading: