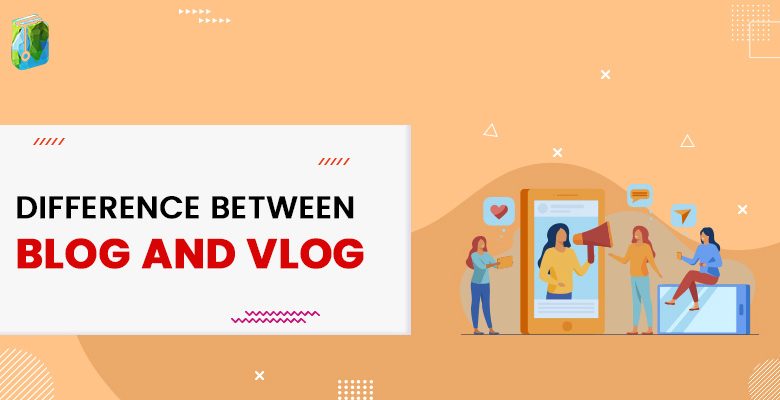 A blog and vlog are considered the most important marketing strategies for many large-scale and small-scale companies. It is the most common and popular way to earn money. Blogging refers to writing articles for your website, while vlogging refers to publishing videos on different websites.
To help you understand both the terms, we have mentioned a detailed difference between blog and vlog.
Difference Between Blog And Vlog
Blog
A blog is a web page that is hosted on the internet. A blog is the most common way to communicate a message to the audience and is the greatest marketing tool. Individuals run it, a group of people or large companies who use it as a medium to market their goods and services or share information. A blog consists of text, images, and GIFs. A person who writes and owns a blog is called a blogger and the act of writing blogs is known as blogging.
Types Of Blog
Personal Blogs: These blogs are owned by individuals who write blogs out of passion or want to get into the industry.
Collaborative blogs: These blogs are owned by a group of professionals who are trying to market their brand.
Corporate blogs: These blogs are for the employers in an organization who publish information and advertise their brand.
Vlog
Vlog, on the other hand, stands for Video log. The term "vlog" was derived from the blog. It refers to shooting videos for business promotions, current affairs, technology products, and more. These videos are shot using high-end cameras, microphones, and all the camera equipment. Moreover, they should be edited before uploading these videos, and the final output must look engaging.
Tabular Comparison: Blog And Vlog
| | | |
| --- | --- | --- |
| Basis | Blog | Vlog |
| Meaning | A blog is published on a website. Moreover, it is written in a friendly, informal, and conversational tone. | A vlog refers to a personal website or social media profile where people regularly post short or long videos. |
| Content Form | Blogs consist of text and images | Vlogs are mainly video content. |
| Platforms | The blogs are hosted on platforms such as WordPress, Joomla, Drupal, and other free and paid content management systems. | Vlogs are video contents that are published on video streaming platforms and popular social media platforms like Facebook, YouTube, DailyMotion, and more. |
| Cost | Starting up a blog is very budget-friendly | The initial cost for starting a vlog is more because you need high-end cameras, microphones, and all the camera equipment. |
Summary
A blog is regularly updated on the website and is written in a more informal and conversational tone. On the other hand, vlogs are created for business promotions, current affairs, technology products, etc.
We hope that this article resolved your ambiguities regarding the difference between a vlog and a blog.