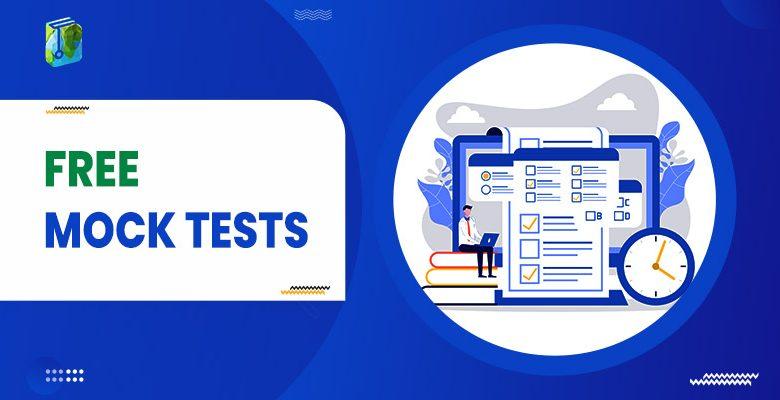 Free Mock Tests: Mock tests have been in the market since a long time and they have emerged as the first and the most efficient choice of students to prepare for any examination, may it be the final exam of their academic year, any scholarship exam, and competitive exam for getting admitted in a college or getting the job of their dreams. You will get a mock test for each and every exam. However, the question arises "Why are mock tests considered so effective". Well, the most straightforward answer to this is that mock tests helps you know the pattern of the paper and introduces you to the type of questions that may occur in the actual exam. A mock test gives you an insight into your own strengths and weaknesses so that you can figure out where you are lacking and work harder in those areas.
Free Mock Tests
There is no doubt in the fact that mock tests are a boon for students preparing for any exam. There are a variety of mock tests which are available online and myriads of websites which provide them. However, it is really difficult to know which website is reliable and provides good quality mock tests. Therefore, to help you out, we have prepared a list of the Best Free Mock Tests which can help you level up your preparations:
1: TestBook: TestBook is one of the most famous online mock test providers. Its mock tests are considered to be the best in class. It provides mock tests for exams like SSC, Railway, Banking, Insurance, Engineering, Defence, Police, Teaching, Government, Non-Government, Medical and other such exams. They have a very interactive dashboard which can help students to see which test have they enrolled for, which have been completed by the students and which ones are still remaining.

2: Gradeup: Gradeup provides a comprehensive package of test series for various exams like Bank PO, Clerk, SSC, Teaching, Engineering, Defence, Law, Medical and all others you can think of. Their mock tests are based on the latest patterns and the test questions are fresh and created by expert faculties. Along with this, they provide detailed solutions to the questions and performance analysis of the student which helps them identify their weak and strong regions. It also provides an All India Rank and Scorecard for the students so that they can analyze where they stand in the competition.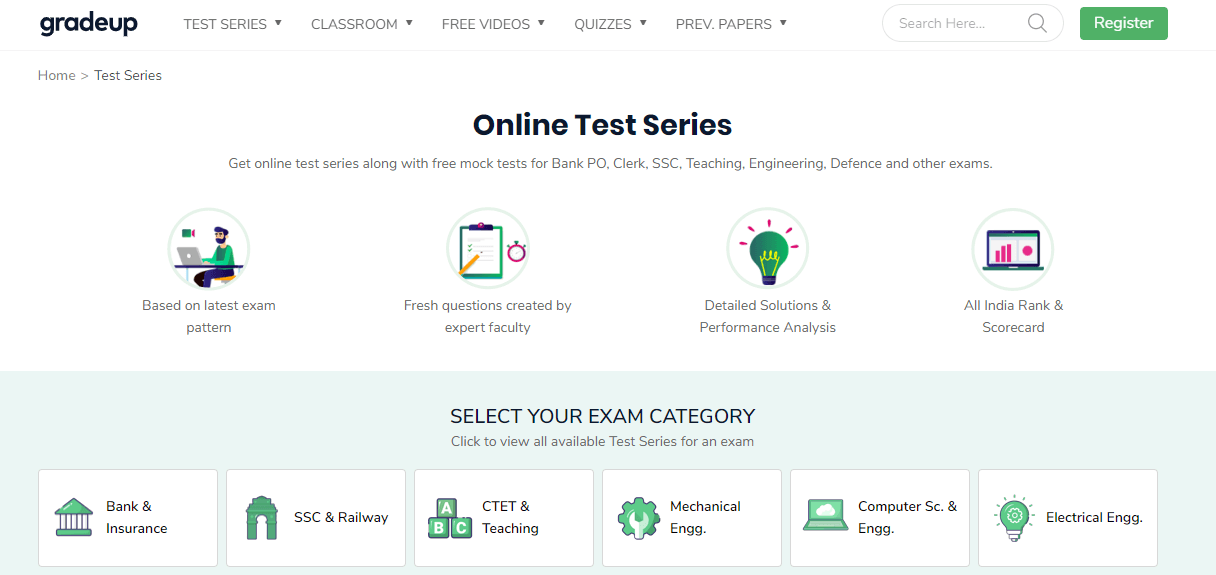 3: PracticeMock: This is one of the best and most affordable online platforms which are specially curated for the preparation of banking and government exams. Their questions are thoroughly researched and provide you with the best quality content. They follow an adaptive learning approach which helps you at the level where you currently are and then scales up with you. They also provide features like All India Ranking, Detailed Solutions and Insightful Personalized Analytics.

4: Byju's: Byju's is a name known by all. You can find free mock tests for any and every exam on this website. All their mock tests come with a detailed solution which can help you revise once you are done with the test. All their papers follow the latest exam trends and have the reputation of being very close to the actual exam.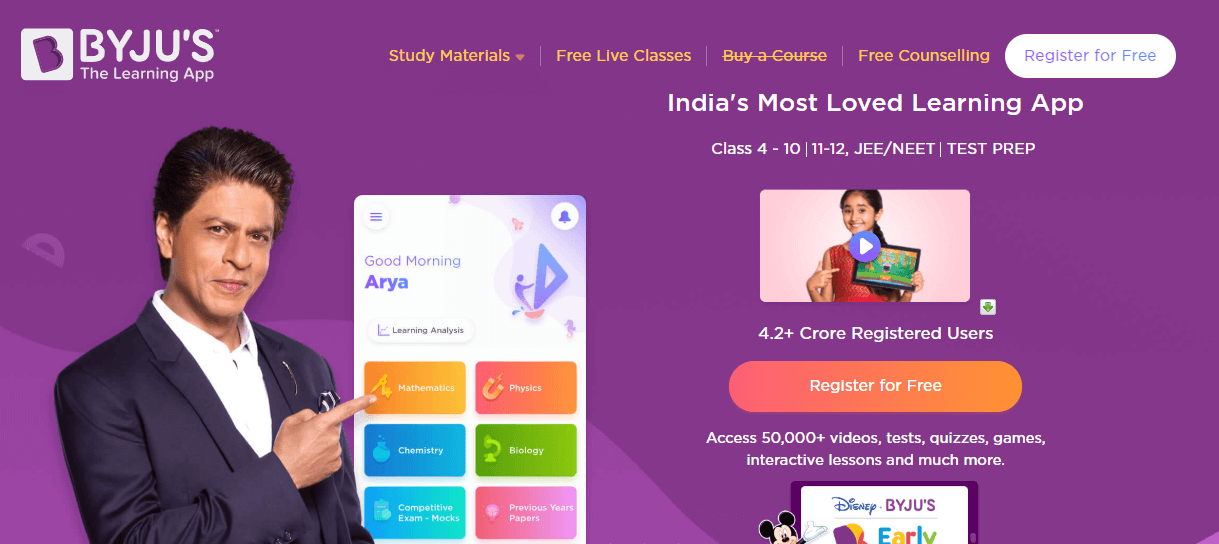 5: IxamBee: The motive of the website is to ensure that every student gets the education they want regardless of their economic background. They provide all their mock tests free of cost so that students from all walks of life can benefit from them. They provide mock tests for all exams like SSC CGL, IBPS Clerk, Bank PO, UPSC, MAT, CAT, JEE, LIC, and the list is endless.

6: AglaSem: AglaSem stands for "Agla Semester" which means "Next Semester". They provide free mock tests for all popular exams. They have several mock tests in categories like Engineering, Medical, Class X, Class XII, Teaching, Law, Railway, UPSC etc.  They have a total of 876 mock tests on their website. All the tests on this website follow the latest exam pattern.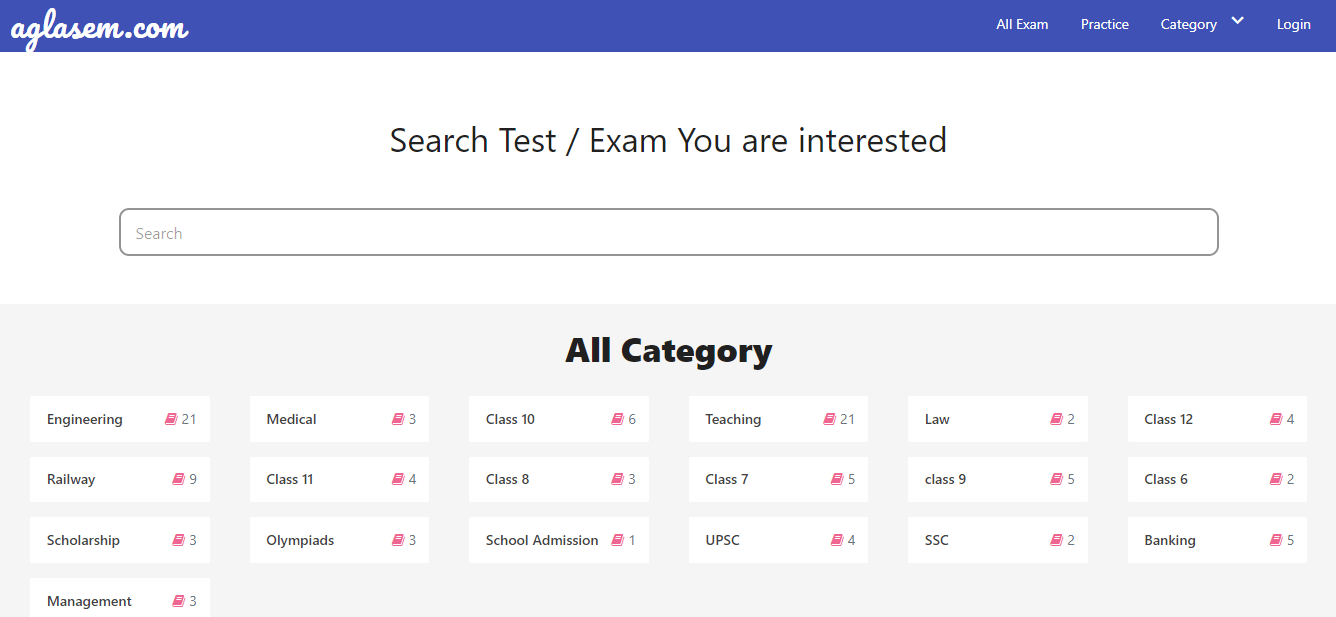 7: ToppersExam:  This website calls itself as the practice ground for students who are looking forward to appearing in a competitive exam. They provide various mock tests on their website using which you can evaluate your preparation. They provide mock tests for both Hindi and English medium which is a great advantage for students.  Their mock test s follow the latest pattern of examination so that you get to know the reality of the question paper you are about to face.

8: Embibe: Embibe is the most trusted name when it comes to online mock tests. All the mock tests available on this website are absolutely free. They give you the real feel of examination with the UI exactly similar to that of a Computer-Based Test. Their question bank contains the questions from the latest pattern and covers the entire syllabus. These tests are great if you are looking forward to revising your course by giving a mock test.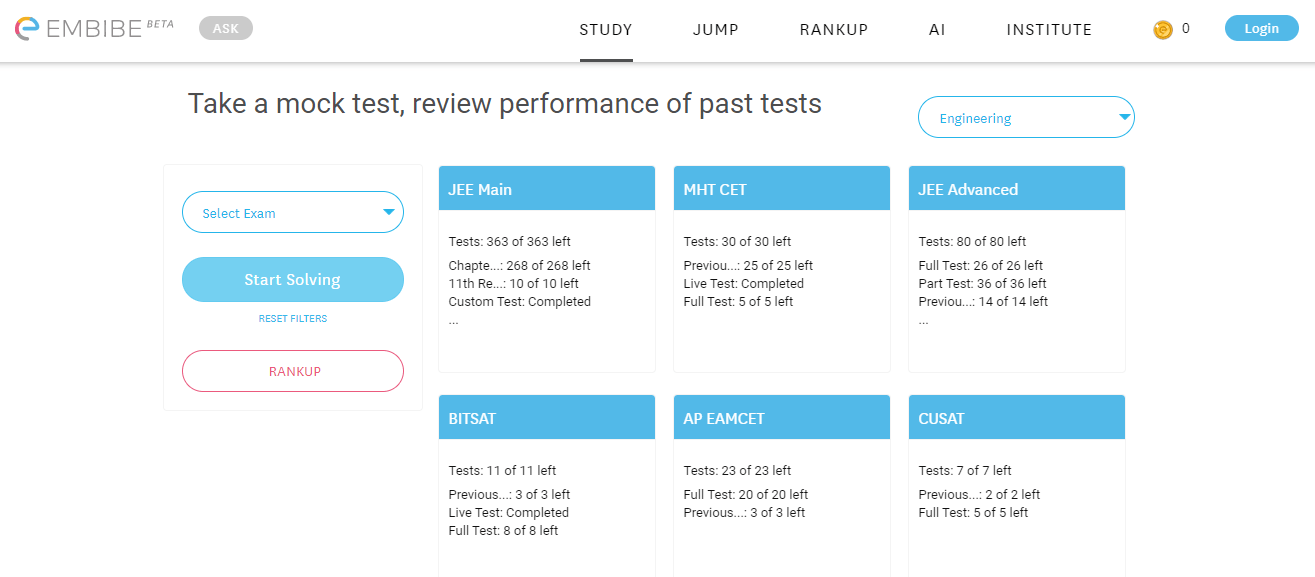 9: The Indian Express: It is one of India's leading portals for online mock tests which provide the all the latest mock tests and helps the students prepare for government jobs, college entrance exams and other competitive exams. They have a variety of mock tests ranging from Engineering and Medical to Law and Teaching.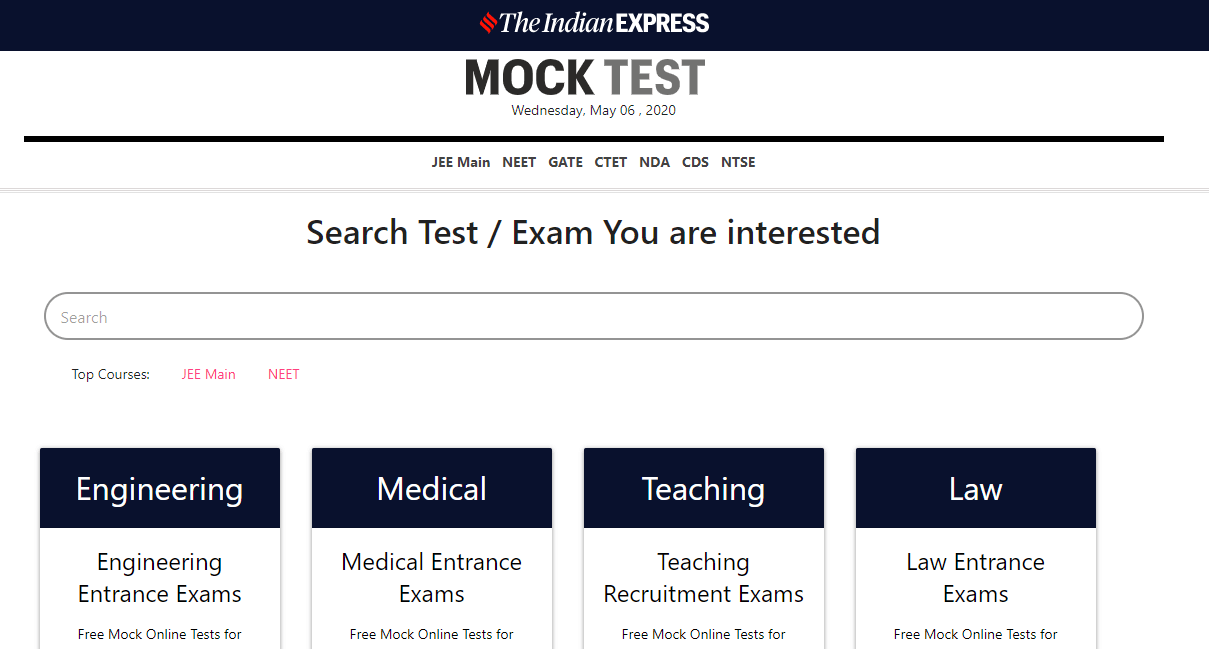 10: FreshersLive: This website provides mock tests for various Govt Exams in India. SBI, IBPS, SSC, LIC, RBI, IPPB, etc. Their mock tests imitate the pattern of the actual exam so that the students can get the real experience of the exam hall and then prepare for it accordingly.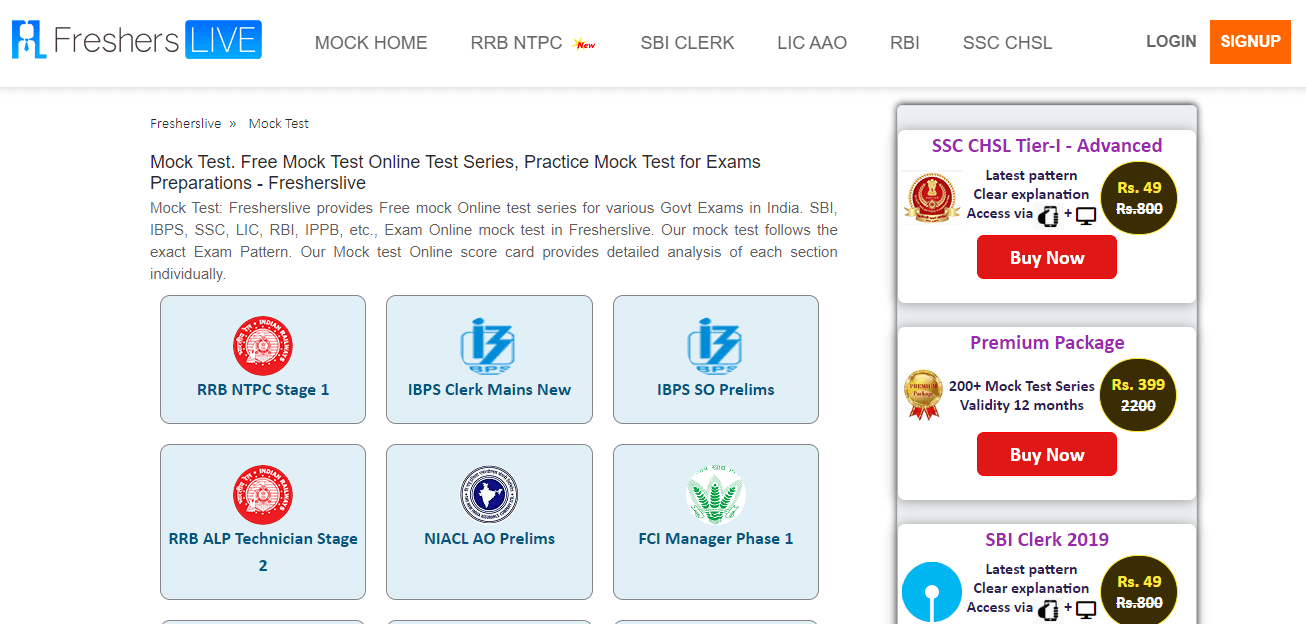 The above-listed websites can provide you with the best mock tests available in each and every category. These websites are free to use and you can practice solving questions through their mock tests and ace the exam. The mock tests available on these websites are closest to real exams, have questions handpicked by the experts and designed as per the pattern of the actual exam. Mock tests can greatly increase your chances of scoring well in the exam as you are fully prepared once you finish practising enough mock tests.
People Also Reading: