Job Board
Gunsmith Job Description, Career as a Gunsmith, Salary, Employment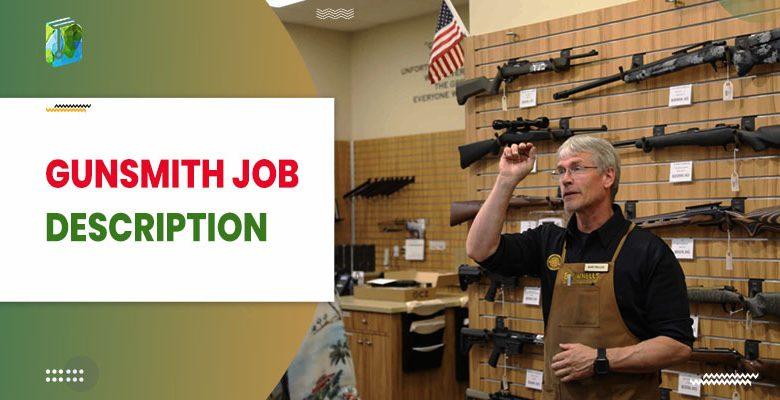 If you are looking to develop your career as a gunsmith, you are lucky.
Gunsmiths modify and repair firearms according to the blueprint and customers' specifications and are highly sought by firearms manufacturers and collectors for their vast knowledge in gun designing and mechanics. They possess refined skills in designing, building, and repairing rifles used in military and hunting, pistols, shotguns, and other types of firearms.
Gunsmith Job Description
Gunsmiths use hand tools and machines, such as grinders, millers, and planners, to restore antique guns, convert old rifles to updated firearms, and adapt factory-made rifles according to the customers' requirements. They offer modifications and changes to a firearm that require a high level of craftsmanship, including the skills of a top-level mechanism, an engineer, and a highly skilled woodworker.
A historical gun or one that possesses emotional value requires custom-made components for its action. After constructing these parts, a gunsmith assembles the parts and conducts a fire test. Often a gun requires improvement between metal action and wood stock. The gunsmith uses a glass-bedding process, where the liquid fiberglass lines the carved-out store. After the application of the glass-bedding process, he assembles the metal pieces.
Gunsmiths generally work for firearm manufacturers and sport goods stores. Some gunsmiths work as self-employed and offer services to individuals or businesses.
Gunsmith Job Requirements
Like other professions, there are certain formalities even within the field that a gunsmith requires to fulfill.
The Basic Requirements
The most basic requirements for a gunsmith's job are checking the criminal record and in-depth educational and psychological evaluation that determines your fitness for the job. Moreover, you need to complete your high school or general educational development (GED) to apply for a gunsmith's job.
You need to pass a skills test, a written exam, and complete ethical reviews. Besides, you need to have a sound knowledge of technical skills, highly relevant work experience, being friendly with the clients and co-workers, and satisfying the customers' requirements.
You must pass a background check, obtain a Federal Arms License, which must comply with the Federal Arms Act of 1938 before you begin the work. Besides, it would help if you gained the trust of your clients by showing them proof of your qualification in the area.
Educational and Technical Requirements
If you are a high-school student and desire to take gunsmith as your future career, you must adapt to skills like woodworking, metalwork, and technical drawing courses at school. Look for trade and technical schools that offer gunsmith's courses. Some schools grant a diploma, while others offer a couple of years of the degree program.
Drafting, algebra, technical report writing, ballistics, physics, mathematics, machine tool processes, and metallurgy forms the introductory course for a gunsmith's job. Apart from these, you need to focus on practical shop work that includes designing the parts, barrel fitting, soldering, welding, and custom stock making.
Training options for gunsmiths vary and include online certifications along with career development. You are required to have a safe and comprehensive understanding of various firearms, including being familiar with their loading mechanisms, gun loading, safety, attaching accessories, and safety inspections. Knowing the history of firearms and statutes related to guns is an added benefit.
Experience Requirements
Furthermore, as a student, you need to have hands-on training; hence you must seek an internship in a fireman shop and learn everything about various firearms from the seasoned gunsmith associated with the shop. Through these apprenticeships, you have the opportunity to get hands-on experience while you learn from the experts. You can apply for internships through The Association of Gunsmiths and Related Trades (TAGGART).
Federal License Requirements
You need to obtain a Federal License from the Bureau of Alcohol, Tobacco, Firearms, and Explosives (ATF), the primary federal agency dealing with all legitimate businesses dealing with firearms. However, the agency does not deal with firearms manufacturers before January 1, 1899, or muzzleloading guns. The issuance of the Federal Firearms License involves a thorough background investigation along with inspection of the gunsmith's premises carried by an agent associated with ATF.
After completing the gunsmith certification course, you can apply for the license. It is a four-page long application requiring information, including your name, tax ID number, contact information, business name and partners associated with the business, and zoning information. You will get the 'Type 1' license, which allows you to work shotguns, pistols, rifles, and revolvers.
Other Requirements
A gunsmith needs to know the gun control laws and gun safety associated with the land. It would be best to safely use all the tools related to the work and effectively interpret the blueprints and customers' requirements for developing or modifying the gun.
Duties and Responsibilities of Gunsmith
Like most jobs, it is essential and beneficial to learn about the responsibilities of a gunsmith, which keeps you prepared for any emergencies. Although the job duties might vary from one location to the other, most require the services of a skilled gunsmith familiar with diverse ranges of firearms. Primarily, gunsmiths work with the manufacturer of firearms, sports goods or serve individual clients privately.
Foremost Responsibilities
A gunsmith's day is always exciting. From checking the working conditions of firearms to making them operate safely according to the specifications, a gunsmith's job is highly challenging. Irrespective of the specific process of the firearms, a gunsmith must observe safe gun-handling procedures and ensure that the customers, assistants, and other co-workers follow the same responsibilities. They thoroughly inspect the mechanisms of the guns for safety and fix any deficiencies present in the firearms before the commencement of the function of the firearms.
If a gun or any other firearm is functioning improperly, you need to check the reason behind the same. Often you will find that a firearm is unsafe even if handled with extra care. Incorrect assembly, missing parts, cracks, timing problems, improper alignment, obstructions, presence of other damages, and deformities in firing pins are some of the most common reasons behind improper and unsafe functioning of firearms.
More About Gunsmith's Duties
As a gunsmith, you need to carry out some other common tasks. These include:
Repairing the damaged guns
Assemble and disassemble firearms
Remove corrosion from the metal parts of guns and other firearms
Modify pull weight and other trigger mechanisms
Removal of dents
Fitting the barrels
Touchup engravings and other marks
Adding custom or aftermarket parts, including swivels, scopes, recoil pads, sights, and grips and stocks
Repairing and finishing wood handles, grips, and stocks
Inspecting, cleaning, and lubricating firearms
Other responsibilities include the modification of firearms for competitive purposes. However, if you possess an artistic eye, the manufacturer might want you to make a decorative engraving for embellishment.
Skills Required to Become a Gunsmith
Foremost Skills
As a gunsmith, you are required to be well-versed with the makes and models of certain manufacturers, which helps in better and proper repairs and restoration of a particular type of firearm. It is better to specialize in makes and models of specific brands, such as Smith & Wesson, Winchester, Colt, or Beretta. If you have an interest and sound knowledge in antique models, restoring firearms to their original form and finish might be your calling.
Similar to any other field, you need to possess excellent skills in customer service. Gun owners appreciate specialists who have an ear for listening to their requirements and requests. You are required to be patient, clear their doubts, address their problems, and offer excellent service. The main goal of customer service is to build a strong relationship with the customers to keep coming back. Remember, some guns pass down from one generation to another, which requires handling with extra care and ease.
Other Skills
You need to have sound knowledge and skill in computer numerical control of CNC. It is a subtractive manufacturing technique that uses computerized controls and machine tool strip layers of materials obtained from a stock piece. You can also have specialized skills such as custom builder or designer, finisher, checker, stock-maker, pistolsmith, and gun graver.
Importance of Having Experience as a Gunsmith
Having experience in understanding and dealing with firearms is one of the first things a recruiter considers in a gunsmith. It makes a massive difference in understanding and delivering the work. Even today, firearms continue to be one of the most lucrative and prospering industries in the United States. With more and more Americans investing in firearms and observing it as their Second Amendment right, the requirement for gunsmiths keeps on increasing, as the manufacturers are developing and engaged in producing new models of firearms to meet the requests and demands of their customers.
The apprenticeships help you in understanding firearms. Through extensive training, you can learn the most subtle implications of diverse firearms, understand the functioning of the guns at each level and develop skills to ensure that the guns and other firearms continue functioning as per the required designs.
The job of a gunsmith can be gratifying, but with some experience, especially if you are looking to enjoy high-pressure jobs requiring sound technical abilities.
Conclusion
Thereupon, you must take up the responsibility of offering gunsmith services to manufacturers, sports goods stores, and individual clients, as you believe your job responsibility. You dedicate yourself to providing top-quality service and ensure proper functioning after cleaning and modification of guns and other firearms. You promise to offer all types of services to help address the issue and queries of the clients. You must take up the job as you are worth it.