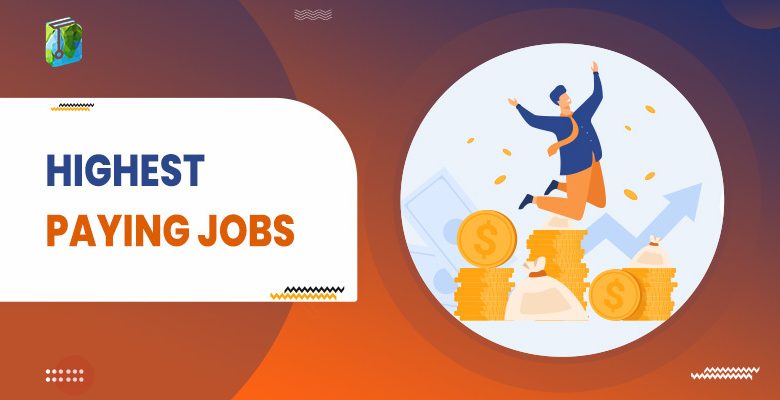 There are plenty of career choices available. It is always a hard decision to take. Moreover, there are various doubts and queries to resolve. If you are a student or a professional, choosing or switching a career path is challenging. There is a certain level of risk involved.
For every individual, one of the most important aspects to consider while applying for a job is the 'pay scale.'
In the end, we land a job to earn well and build a safe and secure future. In this article, we will present you with a list of the highest-paying jobs in the world with detailed information related to them. With this, you can get an idea of the jobs that guarantee stunning growth trajectories.
Let's begin!
When it comes to choosing a career path, there are a lot of factors involved. Some questions that you must ask yourself while making your decision are:
Does this field interest me and helps to boost my career?
Will it provide me with knowledge and experience to shape me into a better individual?
Does the job provide security?
Is it reliable?
How much is the pay?
Here, we have just entailed a few factors that enhance the scope of making an informed decision. However, the pay scale stays the most vital factor for most individuals.
So let us inform you about the list of the highest-paying jobs in the world.
Highest Paying Jobs in the World
Investment Banker
Data Scientist
Surgeon
Chief Executive Officer
Anaesthesiologist
Senior Software Engineer
Physician
1. Investment Banker
An investment banker is a financial advisor who provides his expertise to governments or organizations. The ultimate objective is to help raise money.
There are various responsibilities of an Investment Banker, such as; building a bond offering, private placements of bonds, creating strategies for acquiring a rival, etc.
An individual seeking to pursue this as a career must possess the following skills:
Have an impeccable understanding of finances and financial markets.
Excellent communication skills.
Ability to handle pressure and manage time.
Ways to Become an Investment Banker
To build a career in investment banking, you must hold a degree in either:
Finance
Marketing
Economics
As there is a dire need to have excellent calculative and logical skills, it will be beneficial to attain an advanced degree in maths.
You should also join a firm as an intern and gain experience that will help to land better clients.
Pay Scale of an Investment Banker
2. Data Scientist
Every organization requires a team of professionals to take care of the humongous data. There are two kinds of data, structured and unstructured, to analyze the patterns of the information and implement them for the company's betterment.
The gathered insights help to solve the problems and result in effective management of the data. In addition, Data scientists are required in every field, such as healthcare, transportation, media, entertainment, etc.
The individuals must inherit the knowledge regarding analytics, statistics, modeling, etc., to help resolve the obstacles and make informed decisions.
Ways to Become a Data Scientist
There is not a single path to follow in order to be a data scientist. However, an individual can pursue a bachelor's degree in:
Computer Science
Mathematics
Engineering
Moreover, it is always a plus point to pursue a master's degree in data science to find a reputable job in tech giants or big organizations.
Pay Scale of a Data Scientist
Beginner level – 10 Lakh Per Annum
Experienced – up to 50 Lakhs per Annum
3. Surgeon
Surgeons are exceptionally well-reputed medical professionals. They are needed to perform surgeries and intricate procedures. In addition, individuals have to put in years of hard work and dedication in their studies to obtain a degree. After that, it is recommended to practice for years before operating on actual patients.
Moreover, there are a lot of other responsibilities of a surgeon, such as negotiating with the patients before performing surgeries and explaining the process. After the procedure, they must understand the progress and present the same to the patients.
Most importantly, a surgeon needs to work for long hours standing and operating intricately.
Ways to Become a Surgeon
An individual has to gain a medical degree and then attain a license to practice.
The time it takes to become a professional surgeon is 10-12 years.
In addition, there are different areas of specialty for a surgeon, such as:
Neurology
Oral
Pediatrics
Urology
Cardiothoracic
As a surgeon, you must know how to manage time and stress. Moreover, it is of great importance to have excellent communication skills and know-how to work in a team and pay attention to minor details.
Pay Scale of a Surgeon
Around or more than INR 28,00,000.
4. Chief Executive Officer
Chief Executive Officer or a CEO is the highest-paid individual in a company. It is the duty of a CEO to handle all the crucial aspects of a company's daily operations and implement essential decisions. In addition, the chief executive officer also manages to coordinate and plan the activities for the betterment of the company.
Basically, they are the face of the company.
Ways to Become a CEO
There are huge responsibilities on the shoulders of a CEO. From managing work, finances, and taxation to implementing decisions, it is necessary to hold a bachelor's degree followed by a master's. This adds value to the company you work for.
You must hold good knowledge of marketing and finance as well.
As a CEO, it is vital to have leadership skills, excellent communication skills, organizational skills, and decision-making confidence.
Pay Scale of a CEO
On average, INR 30,00,000. Furthermore, it depends on a company's financial value.
5. Anaesthesiologist
Anaesthesiologists play an essential role in surgical procedures. They are responsible for providing an accurate amount of dosage to the patients who have to undergo surgery.
It is their responsibility to take care of the vitals and handle the patient's recovery throughout. In short, from the beginning to the end, it is the duty of an Anesthesiologist to take care of a patient.
Ways to Become an Anaesthesiologist
An individual must possess a bachelor's degree in medicine or biology.
However, to be a professional, it is crucial to practice after completing the residency and working under the supervision of anesthesiologists to understand the skills.
In addition, you must know that it takes a period of 12-13 years to become a trained Anaesthesiologist.
Pay Scale of an Anaesthesiologist
6. Senior Software Engineer
There are various responsibilities that a Senior Software Engineer has.
In an organization, they need to manage testing, handling software, business requirements, technicalities, and much more. It is essential for them to manage time and stress simultaneously. The need for a software engineer is everywhere. Be it healthcare, research, business, defense, banking, etc.
At times, a software engineer is expected to work for long hours and even contribute overtime working hours.
Ways to Become a Software Engineer
An individual must possess a degree in engineering, computer science, or even web development. It is highly beneficial to hold a Master's degree after attaining a bachelor's degree in the above-mentioned areas.
As there are various areas to master, there is also an option to have certification in trending technologies such as machine learning, artificial intelligence, data science, business analytics, blockchain, machine learning, etc. it gives you an edge over other candidates and adds value to your knowledge.
Moreover, it is essential to hold expertise in logical thinking, programming, and problem-solving skills.
Pay Scale of a Software Engineer
On average, INR 30,00,000. Furthermore, it depends on a company's financial value.
7. Physician
Physicians treat patients with severe or mild physical ailments and provide treatments for the same.
There are two kinds of physicians:
General Practitioners
Specialist Physicians
General Physicians talk to people and understand their problems. They have excellent knowledge of the human body's internal organs, that's why they are able to provide the best treatment procedures.
Moreover, there are many areas of specialization, such as:
Cardiology
Geriatrics
Medicine
Infections
Ways to Become a Physician
To become a physician, it is necessary to hold a degree in the medical sector and do an internship for years to work as a professional.
Added specialization and training is a plus. Besides, it takes a reasonable amount of time to become a physician; however, all the hard work and dedication are worth it.
Pay Scale of a Physician
On average, around 20 Lakhs. Furthermore, it depends on the level of experience of an individual in the field.
Conclusion
There are plenty of different jobs available for individuals. However, every person has their requirements and choices while making an informed decision that suits them the best. One of the essential aspects remains the pay scale and other associated factors.
In this article, we provided you with detailed information related to the highest-paying jobs in the world, along with the eligibility criteria and their pay scales.
We hope that this information helps you understand the topic better and adds value to your knowledge.
Do tell us which is your dream job in the comment section below.
Good luck!
People are also reading: