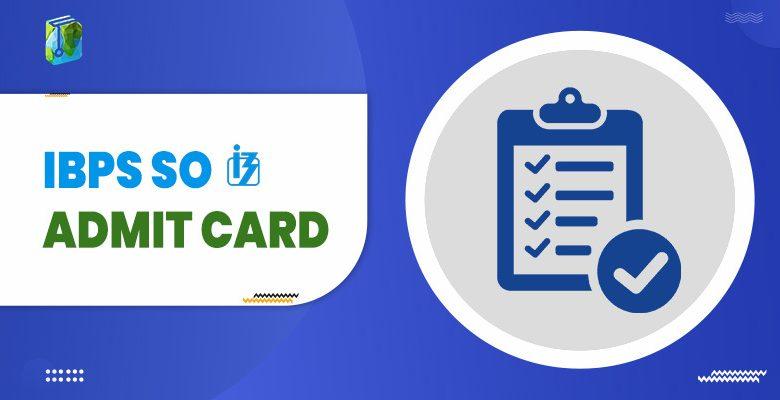 IBPS SO Admit Card 2022: The authority IBPS will release the separate admit card for prelims and mains examination, the authority will release the admit card for prelims on December 2022, and the Admit Card for mains examination on February 2023. The official notification will released on November 2022. the Prelims examination will be conducted on December 2022. IBPS Conducts the SO examination for selecting the candidates for Specialist Officers for the different public sectors banks. Eligible Candidates can selected for the various posts like Agriculture Field Officer, Marketing Officer (Scale I), HR/Personnel Officer, IT Officer Scale I, Law Officer and Rajbhasha Adhikari Scale I.
IBPS SO Admit Card
The IBPS SO 2022-23 Admit Card will be release the separate admit card for Prelims and mains examination, check IBPS SO Admit Card Dates below;
Events
Important Dates
IBPS SO Admit Card
Release the Admit Card for Prelims Exam
December 2022
Release the Admit Card for Mains Exam
March 2023
Final Result IBPS SO
April 2023
The Admit Card for Prelims examination will be release on December 2022 and the Examination will be held on December 2022, after the few days of the examination the authority will release the IBPS SO Result, and those candidates who clear the Prelims examination can appear in the Mains examination. the authority will also release the separate admit card for Mains examination. and after the Mains examination successful candidates can download the Interview Admit Card, the Interview will be scheduled on March 2023. and the final result of the Interview will be released on April 2023.
Details available in the IBPS SO Admit Card
The following details available in the IBPS SO Admit Card;
Candidate Name.
Exam Date
Exam Centers
Registration No.
Candidate Roll No.
Password for Login.
How to Download IBPS SO Admit Card?
Candidates can follow the below steps to download the IBPS SO Admit Card;
Visit the official website of authority(Link will provide above).
Click on the download IBPS SO Admit Card Link.
A New page will be open.
Enter Registration No, Date of Birth and Security Captcha code and press enter.
The IBPS SO Admit Card will be open in your Screen.
Check and download the Admit Card.
IBPS SO Exam Centers
IBPS SO examination will be held on different cities in India. Check the IBPS SO Exam Centers list below;
State
IBPS PO Preliminary Exam Centre
IBPS PO Main Exam Center
Andaman & Nicobar
Port Blair
Port Blair
Andhra Pradesh
Chirala, Chittoor, Eluru, Guntur, Kadapa, Kakinada, Kurnool, Nellore, Ongole, Rajahmundry, Srikakulam, Tirupati, Vijaywada, Vishakhapatnam, Vizianagaram
Guntur, Kurnool, Vijaywada, Vishakhapatnam
Arunachal Pradesh
Naharlagun
Naharlagun
Assam
Dibrugarh, Guwahati, Jorhat, Silchar, Tezpur
Guwahati, Silchar
Bihar
Arrah, Aurangabad, Bhagalpur, Darbhanga, Gaya, Muzaffarpur, Patna, Purnea
Bhagalpur, Darbhanga, Muzzafarpur, Patna,
Chandigarh
Chandigarh/Mohali
Chandigarh/Mohali
Chhattisgarh
Bhilai Nagar, Bilaspur, Raipur
Raipur
Dadra & Nagar Haveli
Surat, Jamnagar
Surat
Daman & Diu
Delhi
Delhi/New Delhi, Faridabad, Ghaziabad, Greater Noida, Gurugram
Delhi/New Delhi, Faridabad, Ghaziabad, Greater Noida, Gurugram
Goa
Panaji
Panji
Gujarat
Ahmedabad, Anand, Gandhinagar, Himatnagar, Jamnagar, Mehsana, Rajkot, Surat, Vadodara
Ahmedabad, Vadodra
Haryana
Ambala, Faridabad, Gurugram, Hissar, Karnal, Kurukshetra, Panipat, Yamuna Nagar
Ambala, Hissar
Himachal Pradesh
Bilaspur, Hamirpur, Kangra, Kullu, Mandi, Shimla, Solan, Una
Hamirpur, Shimla
Jammu & Kashmir
Jammu, Samba, Srinagar
Jammu, Srinagar
Jharkhand
Bokaro Steel City, Dhanbad, Hazaribagh, Jamshedpur, Ranchi
Dhanbad, Jamshedpur, Ranchi
Karnataka
Bengaluru, Belgaum, Bidar, Davangere, Dharwad, Gulbarga, Hassan, Hubli, Mandya, Mangalore, Mysore, Shimoga, Udupi
Bengaluru, Hubli, Mangalore
Kerala
Alappuzha, Kannur, Kochi, Kollam, Kottayam, Kozhikode, Malappuram, Palakkad, Thiruvananthapuram, Thrichur
Kochi, Thiruvananthapuram
Lakshadweep
Kavarrati
Kavaratti
Madhya Pradesh
Bhopal, Gwalior, Indore, Jabalpur, Sagar, Satna, Ujjain
Bhopal, Indore
Maharashtra
Amravati, Aurangabad, Chandrapur, Dhule, Jalgaon, Kolhapur, Latur, Mumbai/ Thane/ Navi Mumbai, Nagpur, Nanded, Nashik, Pune, Ratnagiri, Solapur
Aurangabad, Mumbai/ Thane/ Navi Mumbai, Nagpur, Pune
Manipur
Imphal
Imphal
Meghalaya
Shillong
Shillong
Mizoram
Aizawl
Aizawl
Nagaland
Kohima
Kohima
Odisha
Balasore, Berhampur(Ganjam), Bhubaneshwar, Cuttack, Dhenkanal, Rourkela, Sambalpur
Bhubaneshwar
Puducherry
Puducherry
Puducherry
Punjab
Amritsar, Bhatinda, Fategarh Sahib, Jalandhar, Ludhiana, Mohali, Pathankot, Patiala, Sangrur
Jalandhar, Ludhiana, Mohali, Patiala
Rajasthan
Ajmer, Alwar, Bikaner, Jaipur, Jodhpur, Kota, Sikar, Udaipur
Jaipur, Udaipur
Sikkim
Bardang/ Gangtok
Bardang/ Gangtok
Tamil Nadu
Chennai, Coimbatore, Erode, Madurai, Nagercoil, Salem, Thanjavur, Thiruchirapalli, Tirunelvelli, Vellore, Virudhunagar
Chennai, Madurai, Tirunelveli
Telangana
Hyderabad, Karimnagar, Khammam, Warangal
Hyderabad
Tripura
Agartala
Agartala
Uttar Pradesh
Agra, Aligarh, Allahabad, Banda, Bareilly, Faizabad, Ghaziabad, Gonda, Gorakhpur, Jhansi, Kanpur, Lucknow, Mathura, Meerut, Moradabad, Muzaffarnagar, Noida/ Greater Noida, Sitapur, Varanasi
Allahabad, Kanpur, Lucknow, Meerut, Varanasi
Uttarakhand
Dehradun, Haldwani, Roorkee
Dehradun
West Bengal
Asansol, Durgapur, Greater Kolkata, Hooghly, Kalyani, Siliguri
Asansol, Greater Kolkata, Kalyani, Siliguri
IBPS SO Preparation Tips
Check Below the IBPS SO Preparation Tips;
Create a suitable time table:
Create  a study plan for your preparations.
Collect information about the complete IBPS SO Syllabus and divide them equally as per your time so that every minor topic should get covered in your study plans.
Make short notes for preparations
Collect the Mock papers and Sample papers.
All the subjects are very important and students should give them equal importance.
Self-belief is most important as it generates a lot of positivity and gives boost to your confidence
Study Material
Selecting best study material for preparation will give you a chance to score well in the IBPS SO Examination.
Try to follow only those topics which are trending and asked frequently previously years.
Always try keep safe these topics near to you.
Previous year question papers, sample papers and mock test are also important part of study material.
Time Management
The most important aspects while preparing for any entrance examination.
Person who win this completion also score very well marks in the competitive examination.
Revision
This is also important concept where candidate should understand that completing syllabus in given time frame will give them complete chance to revise their topics and finding out the topics which they need hard work.
Once you prepare all the things, students need to evaluate their study that how they are good enough in their prepared topics.
Either they have the good knowledge of the topics or not.
So candidates need to start revision before three month of the examination because this is enough amount time to revise again if in case they forget any topics.
Solve Previous Year Question Paper
Solving previous year question paper will give you the idea about the question papers, difficulty level.
Candidates will also familiar with the exam pattern of the IBPS SO Exam.