Management
IBPS SO Preparation Tips 2018: How to Crack IBPS Easily?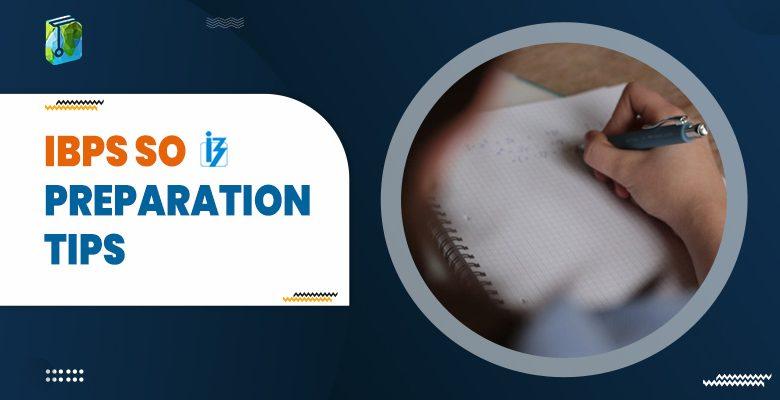 The exam conducting authority has been released IBPS SO Notification for 2018-19 Session. IBPS released SO Notification for recruitment of various officers in Public Sector Banks. A huge number of applicants will be going to apply for IBPS SEO Examination 2018, so the level of competition goes too high. Cracking SO exam is not the easy one, So candidates need to go with the structured plan, for IBPS SO Exam Preparation. Before going to participate in the IBPS SO Examination, Candidates need to know that what is the eligibility criteria or are you eligible to apply for IBPS SO Exam? If you are eligible then you can apply for the IBPS SO Examination or then you need to go for IBPS SO Exam preparation or need to make a scheduled preparation plan. Through this article, You will get complete information about IBPS SO Preparation Tips, How to Prepare, What topics you need to prepare more, Important topics which you need to prepare for IBPS SO Examination.
IBPS SO Preparation Tips 2018
Here we will provide you with the complete tips and tricks/ Structured preparation plan through you can crack IBPS SO Exam Easily with the planned preparation.
[wpshortcodead id="fyuma5bb4cbc0bb071″]
Before going to prepare topics, candidates need to know about IBPS SO Exam.
What is IBPS SO (What is Specialist Officer Exam)?
IBPS conducts a Specialist Officers (SO) exam to recruit officers such as IT Officer, Agriculture Field Officer (AFO), Law Officer, Rajbhasha Adhikari, HR / Personnel Officer, Marketing Officer, Certified Public Accountants, and Financial Executives, etc. Sector and private sector banks.
If you find that you are eligible or meet to the eligibility criteria then you can apply for any of the posts which is available under the recruitment. IBPS SO exam is organized in two stages i.e.
Common written exam (CWE)
Interview
Those who successfully cleared the Common Written Exam will be called for the interview process by the IBPS SO participating banks.
IBPS So Question Paper Consist of four subjects:
Reasoning
English
Quantitative Aptitude
Professional Knowledge
Note: Those who are applying for Rajbhasha Adhikari and Law officer have General Awareness Subjects in place of Quantitative Subjects.
Specialist Officer Scale I
IT Officer (आईटी ऑफिसर)
Agricultural Field Officer (एग्रीकल्चर फील्ड ऑफिसर)
Law Officer (लॉ ऑफिसर)
Rajbhasha Adhikari (राजभाषा अधिकारी)
HR/Personnel Officer (ह्यूमन रिसोर्स / पर्सनल ऑफिसर)
Marketing Officer (मार्केटिंग ऑफिसर)
Before going to prepare for IBPS SO Exam Preparation, Candidates need to go through with the IBPS SO Exam Pattern and Syllabus.
IBPS SO Exam Pattern for Preliminary Examination:
Here we have listed IBPS SO Exam Pattern for various Post
IBPS Preliminary Exam Pattern for IT Officer, Agricultural Field Officer, HR/ Personnel Officer, Marketing Officer (Scale I)
Sr No.
Test Name
Qns.
Marks
Duration
1
Reasoning (रीजनिंग)
50
50
02 hour
2
English Language (अंग्रेज़ी)
50
25
3
Quantitative Aptitude (मात्रात्मक रूझान)
50
50
 Total
150
125
IBPS Prelims Paper Pattern For Law Officer & Rajbhasha Adhikari
Sr No.
Test Name
Qns.
Marks
Duration
1
Reasoning (रीजनिंग)
50
50
02 hour
2
English Language (अंग्रेज़ी)
50
25
3
General Awareness (सामान्य ज्ञान)
50
50
 Total
150
125
IBPS SO Mains Exam Pattern For the Post of Law Officer, IT Officer, Agriculture Field Officer, HR/Personnel Officer and Marketing Officer
Sr No.
Test Name
Qns.
Marks
Duration
1
Professional knowledge (व्यावसायिक ज्ञान)
60
60
45 Minutes
 Total
60
60
For the Post of Rajbhasha Adhikari Mains Exam Pattern
Sr No.
Test Name
Qns.
Marks
Duration
1
Professional knowledge (Objective)
45
60
30 Min.
 2
Professional knowledge (Descriptive)
2
30 Min.
How to Prepare for IBPS SO (Specialist Officer)
Specialist officer exam is organized via multiple choice questions. In the common written examination, all the question are of the objective type or multiple choice of questions. Here we will tell you how to prepare for all four subjects of the IBPS SO Examination.
Reasoning Section Preparation
As if a candidate has appeared for any examination then the reasoning is one of the parts of the questions papers or it is also the common subjects. In SO Examination, 50 marks questions asked out of the 125 marks question in specialist officer exam. Then candidates need to prepare for IBPS SO section. Here authority will want to check candidates analytical skills and mental ability skills. Reasoning section is the most vital section as per the time management because most of the candidates waste their lots of time for solving reasoning question by doing this approach, their lots of question leave remaining unsolved. Candidates whose basics are clear, they can score very good marks in the examination as well their chances go higher in order of selection.
Tips – Candidates need to cover the complete syllabus of the reasoning section in the given time frame a need to attempt a lot of mock test and test series, by doing this they can check their accuracy and speed.
Resoning section contains:
Data Sufficiency
Input-Output
Coding-Decoding
Blood Relation
Number Series questions
Alphabet & Alpha Numeric Sequence Test
Syllogism
Puzzle Test
Direction Sense
Series test
Odd figures
Miscellaneous test
English Section Preparation
This section remains similar as reasoning is the common subjects for all the competitive examination, For banking examination, English is the common section. Candidates who are good at reading and having strong knowledge of English can easily score higher marks in this section scoring high marks in this section will impact at the time of the interview as well. The authority wants to check candidates knowledge in basic English as well in the grammatical sections.
Tips – The only one option for each candidate to be master in this section i.e. reading the newspaper and reading a magazine and listening to English movies and watching English movies. Candidates need to keep their eye on the Hindu newspaper.
General Awareness Section Preparation
Most of the candidates are failed to cracking this section, as this section totally depends upon the current affairs. It is also the one of the most common section for IBPS SO preparation. This section contains:
Indian economy
Politics
Banking sector
RBI policies
Budget
Current affairs tips
Economics
Indian constitution
Agriculture
Sports
Government schemes
Currency
Tips –Getting about the general awareness section candidates must need to read Newspapers, magazines, books, previous papers. Make a habit of reading daily newspapers. Test yourself through the lots of test series which are available in the market as well test yourself through the help of online resources.
Quantitative Aptitude Section Preparation
Through the Quant section examiner wants to check candidates calculation speed and how candidates can quickly solve and the question papers and can easily understand the concept of the calculation. It is similar to the reasoning section which consumes a lot of time of the students, will consume their time. Through this section, examiner wants to confuse the student in various ways.
The section contains question from the concept based upon the class 6th to 10th. The section contains question like:
Profit and Loss
Time and Work
Average
Number System
Data Interpretation
Ratio
Percentage
Tips – The only one solution to win in this concept i.e.  Practice, Practice and Practice is the key to get success in this examination. Try to learn all the basic formula in your fingertips. Try to solve a lot of previous year question papers, Mock test, and Test series and try to make and prepare yourself for the examination as well. To be familiar with the IBPS SO Quant Section Examination. Candidates need to attempt a lot of mock tests in the same environment as they found in the examination. Candidates can find after attempting the mock test, what are the areas where they are strong.
Professional Knowledge Section Preparation
The Professional Exam paper is the highest marks paper in the SO Exam and has 75 marks from 200. So take it seriously. You are a specified article. It includes most of the issues from that area that you put in place. Like IT, Law, Agriculture, Marketing or HR. So, basic things must be explained in this area.
The most important subjects are:
Database Management System (DBMS)
Networking
Computer Hardware and Software
Operating System
Web Technologies
Registration Languages (BASIC)
Human Resource Development: Strategies and Systems
Training and Development
Recruitment & Selection
Recognition and Recognition
Industrial relations
Check the IBPS Specialized Information Service syllabus details here.
Tips – Design this paper to test your knowledge in your area that prepares the jobs you submit to them well. Better to review your course books to clarify concepts and other data. Check the IBPS SO paper Solved in recent years to get a better understanding of the paper pattern on how to prepare Professional information for a IBPS consultant?
How to prepare for an IBPS Specialist officer interview?
Specialist Officer's interview section is an important part of the IBPS SO Examination. Interview tips for the examinations of an ibps specialist officer – The average interview with 40 scores is 40 marks. The ratio of CWE and Interview is 80:20.
Participants must qualify in both exams as the final score will be calculated on behalf of performance in both examinations Common written examination and interview. Check this amazing guide for IBPS Specialist officer interviewing questions and tips answers to deeper details about the IBPS SO interview.
Punishment for Wrong Answers
Negative marking for a Specialist officer's examination, all wrong answers are answered. There will be a penalty for checking incorrect answers in the Purpose Tests. Fourth or 0.25 of the prisons intended for that question were deducted as a penalty.
Preparing tips for IBPS SO exam (specialist officer)
स्पेशलिस्ट ऑफिसर एग्जाम तैयारी की टिप्स – Specialized preparation must be great if you follow these tips and tricks. With the help of these methods, you can easily erase it to the official exam in a few steps.
Study Plan: – You should carry out a research plan for an expert specialist exam. According to the specialist syllabus, check your weakness and give it more time and start preparing as soon as possible, it will give you more time to better understand the content of the syllabus IBPS. Make an appropriate structure for study material wisely will help you.
Highlights of wise study: – You should focus on one issue at a time. Do not mix all the items every single problem, try to pay small notes from each subject after a last time review.
Upgrade your version: – Regularly update methods from world activities and events. Unknowing to the latest current affairs. Enhance four core skills (Reading, writing, listening and speaking) Newspapers, magazines and other notes will read regularly for general general information.
Time Management: – You should take appropriate time management for each section of the specialist officer's examination. All chapter questions must be given real-time students due to the effort of the examiner to spend most of the time through many types of questions. The time separation in the ibps exam is also a crucial part of how much you are at the same time as you score well in this IBPS Bank Exam. Here are some time management tips for a specialist exam exam expert ibps.
More Exercise: – You should practice more and more with an online IBPS mock official online specialist or IBPS SO model papers to get the right idea of a specialist exam. You can also check the question papers of the previous year's ibps solution. Practice questions with imitation exams for the specialist (IBPS SO).
Making Notes for Reviews: – You should create outstanding notes when preparing for specialist specialists ibps. In the end, you do not have to search here and then for useful notes, shortcuts and formulas. It will help you prepare over time for an ibps exam. And review all the notes on topics again to include the purpose of the question.
Feel Free Technique: – Finally, you will not find a tense in sm
What to do in last week for improving score in IBPS SO Exam?
Here are some last minute tips that you should consider in your study plan. It will help you improve your score up to 15 – 24%.
Take small notes: – While the preparation of IBPS for the IBPS specialist officer makes some main notes, formulas, shortcuts tricks, it will help you a lot at the last moment. Review them a lot of time especially for the IBPS exam.
Do not worry about incompleteness: avoid the rest of everything you have not covered in your IBPS exam preparations. But properly review all the topics that you have completed.
Lose time on a single topic: always remember that this advice is for all bank exams and other competitive exams that do not spend more time on a single topic. Leave it and take the next one and first make all the answers you know very well.
Remember the negative mark: – Do not just mark any of the answers, trust your answer, since the negative mark is also applicable. Think before choosing an answer, we are not in a hurry.
Review the previous year's documents: – Before the exam, check the IBPS specialist officer's documents from the previous year to become familiar with the IBPS specialist officer's examination. This step will give you more confidence that you can face it sooner. You can also try some IBPS simulation test papers online.
Practice with simulated tests –
What types of Questions asked in IBPS Exam?
According to the analysis of previous years questions sheets of the exam specialist IBPS mostly we found that the identification of items post function plays an important role in the test. If you apply for an IT administrator, you can find questions from your class such as a computer, networking, operating system, programming, web technologies, software – hardware, etc.
In the meantime, I recommend that you set up a good broadcast level category. Check out the tips of preparing a banking IT administrator and course material. Also, focusing on the GK section means public awareness around the world.
Books to prepare for IBPS specialist officer exam
The IBPS books are also the main source of preparation. You can buy the best book to prepare for a specialist officer exam. Where to find the appropriate IBP exam model, the curriculum for the IBPS specialist and the most important questions for next year. You can find post-wise books for multiple topics. Here are some examples.