Full Form
IRDA Full Form | What is the Full Form of IRDA?
IRDA - Insurance Regulatory and Development Authority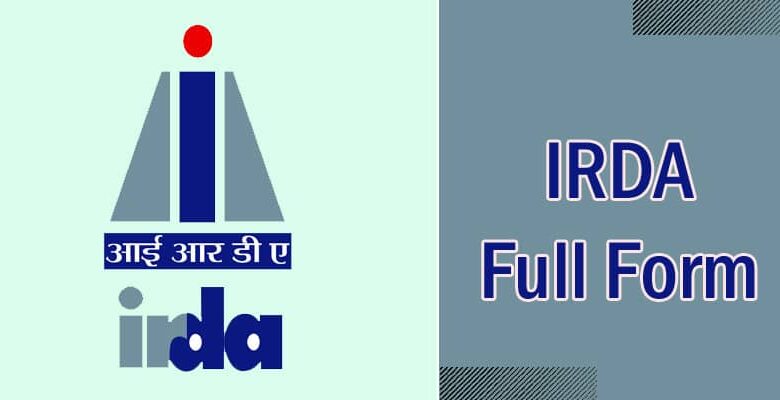 The Insurance Regulatory and Development Authority is the full name of IRDA. It regulates, promotes, and ensures that India's insurance and reinsurance industries grow steadily. The company's headquarters are in Hyderabad. The IRDA authority is made up of ten members: one chairman, five full-time members, and four part-time members, all of whom are appointed by the Indian government. IRDA's current chairman is Subhash Chandra Khuntia.
IRDA Full-Form | Insurance Regulatory and Development Authority
This article contains information about the brief history of IRDA, its power, functions, and operations led by it.
IRDA History
The IRDA was constituted in 1999 following the recommendation of the Malhotra Committee report to bring reforms in the insurance industry of India. It was formed as an autonomous body to regulate and develop the insurance industry.

Section 114A of the Insurance Act, 1938, provides the IRDA with the authority to frame regulations under it.

In 2014, IRDA was renamed IRDAI (Insurance Regulatory and Development Authority of India).

IRDA Power and Functions
Company registration and related matters for the purpose of conducting insurance business.

Promotion of fairness, transparency, and orderly conduct in insurance products.

Building a reliable management information system

protection of policyholders' interests

Regulation of the insurance industry's day-to-day operations

Regulation of the management of funds by insurance companies

Adjudication of disputes between insurers and intermediaries

Supervision of the functions of the Tariff Advisory Committee
Products offered
Life insurance
General insurance
Health insurance
Insurance intermediaries
Agents help in selling and distributing the policy products offered by an insurer.

Surveyors and Loss Assessors: they assess the loss or damage when a certain claim is notified by a policyholder or his/her prospects.

Brokers provide the service of comparing the policies offered by different insurers with expertise.

Third-Party Administrators act as the middlemen in the health care delivery chain, linking physicians, hospitals, clinics, and pharmacies.

Bancassurance facilitates connections with banks to sell insurance products.
Operations of IRDAI
IRDAI specifies the minimum educational qualifications for the intermediaries and conducts examinations, training, and issues licenses to validate an individual agent's ability to sell insurance policies to the public and provide after-sales service, including assistance at the time of claim.
Complaint channels like the Insurance Ombudsman Scheme and the Integrated Grievance Management System have been established for individual policyholders to settle their problems in a cost-effective, efficient, and impartial way.
It has recognized the Actuary Society of India and the Insurance Institute of India, which are responsible for actuarial and insurance education.
IRDAI has initiated the scheme of the Insurance Advertisement and Disclosure Regulations to mandate insurance companies to conduct fair trade practices and transparent disclosure norms while dealing with policyholders or their nominees.
IRDAI has launched microinsurance products as an insurance policy with a small sum insured and a low premium to make the insurance industry penetrate every section of society.
Conclusion
You should contact your insurance company if you have any questions or want to file a complaint. If you believe your problem has not been resolved, you can contact the Insurance Ombudsman, who serves as a grievance redressal forum for policyholders.