Full Form
ISRO Full Form | What is the Full Form of ISRO?
ISRO - Indian Space Research Organization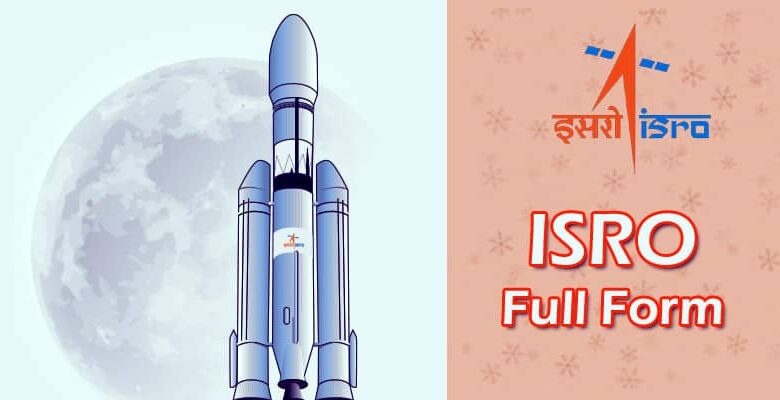 The Full form of ISRO is Indian Space Research Organization. It is the space agency of India's government and is considered one of the largest space agencies in the world. Its headquarter is located in Bangalore, Karnataka. It is managed by the Department of Space which comes under the administration of the Prime Minister of India. The organization has set up 30 centers across the country. The current Chairman of ISRO is Shri A.S Kiran Kumar.
ISRO Vision
ISRO envisions harnessing space technology for national development while pursuing planetary exploration and space science research.
ISRO Mission
It aims to design and development of-
Launch vehicles and related technologies to provide access to space.
Satellites and related technologies for communication, navigation, earth observation, meteorology, and space science.
Indian National Satellite (INSAT) program for telecommunication, television broadcasting, and other applications.
Indian Remote Sensing Satellite (IRS) program for monitoring environment using space-based imagery and management of natural resources.
Research and Development in planetary exploration and space science.
ISRO Objectives
.Developing and testing Polar Satellite Launch Vehicle (PSLV) and Geosynchronous Satellite Launch Vehicle (GSLV- Mk II).
Design, Development, and Realization of Earth Observation Satellites and Applications.
Training, Capacity Building, and Education.
Promotion of Space technology.
Infrastructure / Facility Development for space research.
International Cooperation.
ISRO History
In 1962, The Indian National Committee for Space Research (INCOSPAR) was established under the leadership of Dr. Sarabhai and Dr. Ramanathan under the Department of Atomic Energy. INCOSPAR was well organized with three distinct elements- satellites for communication and remote sensing, the space transportation system, and application programs. In 1969, ISRO was formed under DAE. The government of India set up a Space Commission and the Department of Space (DOS), bringing ISRO under the DOS in 1972.
Dr. Vikram Sarabhai is known as the father of India's Space Program.
ISRO Timeline
Before taking a big step to develop full-fledged satellites, ISRO launched a TV program on agricultural information to farmers 'Krishi Darshan', which received a good response.
Eventually, the Satellite Instructional Television Experiment (SITE), hailed as 'the largest sociological experiment in the world' during 1975-76.
In 1975, ISRO launched India's first Satellite, Aryabhata.
The Satellite Telecommunication Experiments Project (STEP) is a joint project of ISRO-and Post and Telegraphs Department (P&T) during 1977-79.
In 1979 Bhaskara-I, an experimental satellite for earth observation was launched.
The first launch of vehicle SLV-3 was conducted in Low Earth Orbit (LEO) in 1979, but the satellite was not successfully placed in orbit.
The second Experimental launch of SLV-3, Rohini Satellite, was successfully placed in orbit in 1980.
'Ariane Passenger Payload Experiment (APPLE),' an experimental geostationary communication satellite, was launched successfully.
Bhaskara-II was launched in 1981.
In the 1990s, the Indian National Satellite System (INSAT) and the Indian Remote Sensing Satellite (IRS) system were created.
The development and operation of the Polar Satellite Launch Vehicle (PSLV) and the Geosynchronous Satellite Launch Vehicle (GSLV) development were significant achievements during this phase.
In 2002, the KALPANA-1 satellite was launched by PSLV-C4. Other satellites like RESOURCESAT-1, EDUSAT, HAMSAT, CARTOSAT-2 are among the others launched during this period.
In 2010, advanced communication satellite HYLAS, built by ISRO, was launched.
In 2013, PSLV-C20 launched SARAL, and six commercial payloads and Mars Orbiter Mission Spacecraft were also launched.
Reusable Launch Vehicle- Technology Demonstrator (RLV-TD) was launched in the year 2016.
In 2018, NovaSAR and S1-4 were successfully launched by PSLV-C42. GSAT-11 launched India's heaviest Communication Satellite.
In 2019, satellites like Microsat-R, EMISAT, RISAT-2B were launched.
A few major achievements-
Chandrayaan 2, India's second lunar expedition, will shed light on a completely unexplored section of the Moon —in its South Polar region. This mission aims to better understand the origin and evolution of the Moon by conducting comprehensive mineralogical analysis, topographical studies, and a host of other experiments on the lunar surface. Chandrayaan-2 will be launched by GSLV Mk-III on 15th July 2019 from Satish Dhawan Space Center at Sriharikota.
Chandrayaan 1 is another successful lunar mission by ISRO conducted in 2008, recognized for its discovery of water molecules on the Moon and new rock types with unique chemical composition.