JEE Main
JEE Main Previous Year Question Papers | Download Now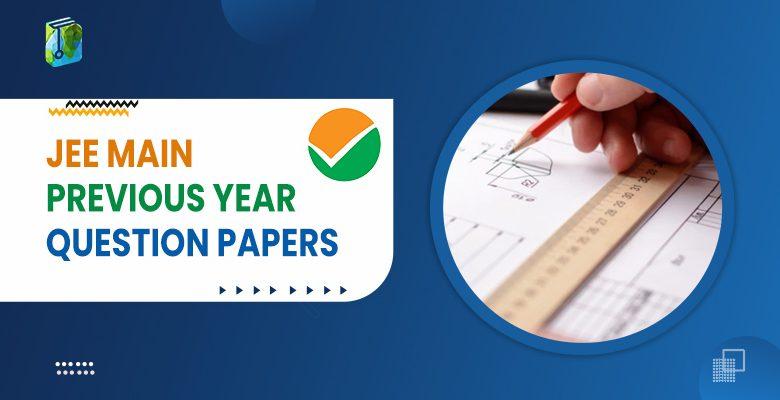 JEE Main is a national-level entrance exam organized by NTA every year. After qualifying for this exam, candidates can get admission in B.Tech/ B.E/ B.Arch/ B.Plan courses in prestigious engineering institutions like IITs, NITs, CFTIs, etc. As per the official notifications, this exam will be conducted in June 2022:
June 20, 21, 22, 23, 24, 25, 26, 27, 28, and 29, 2022.
JEE is one of the toughest and most competitive exams in India. The candidates who wish to qualify for this exam must be very well prepared for it. The best way to prepare for this exam is by practicing previous year's questions papers. You can download the JEE Main Previous Year Question Papers here.
Let's begin!
Get the latest news & updates about JEE Main 2022 via SMS and e-mail, by entering your details below:
[ninja_form id=6]
JEE Main Exam Dates 2022
JEE Main Exam dates are tabulated below:
Events
Important Dates 2022 (Rescheduled)
June Session
Release of Notification
March 1st, 2022
Starting of the Registration process
March 1st, 2022
End of application filling
April 25th, 2022
Last date of fee payment
April 25th, 2022
Exam City announcement
1st week of June 2022
Release of Admit card
2nd week of June 2022
JEE Main 2022 Exam
June 20, 21, 22, 23, 24, 25, 26, 27, 28, and 29, 2022.
Answer key
June 2022
Declaration of Result
June 2022
Counseling process starts
July/ August 2022
Benefits of Solving Previous Year Question Papers
JEE Exam Question Papers provide a fair idea regarding the nature of the questions asked in the upcoming exams. It also acclimates you to the exam's atmosphere. The major advantage for the students is time management which is a crucial aspect in any preparation.
Candidates can know the exam pattern and the different kinds of questions formed in the JEE Main examination. These papers help the students to practice well and boost their speed and maintain accuracy accordingly. . Regular practice helps the students stay away from exam fears.
Practicing previous year's question papers will increase the concentration levels and will also make you understand which question to attempt first and which later.

It also makes the candidate comfortable with the exam's nature and builds stamina as to how to sit in the exam hall for three hours and manage the precious time.

Previous year's question papers provide a fair idea about exam patterns and the nature of the questions.

The time-bound nature of the exam helps to improve the level of thinking amongst the students.

It further helps them to understand their weaker areas that require more concentration.
JEE Main Previous Year Questions Papers
Solving previous year's papers is a great and one of the best methods to prepare for JEE Main 2022. These papers help you to understand the exam pattern and identify your weak points so that you can focus on them and fix them by the time your exam date arrives.
We have enlisted the previous year's papers of JEE Main, which are free to download. Download the JEE Main Previous Year Question Papers from the below-given link and solve them.
JEE Main May-August (Session 4) Question Paper 2021 – Shift 1 and Shift 2
Candidates can download JEE Main question papers 2021 shift-wise (Physics, Chemistry & Maths) from the table given below as released by Resonance.
JEE Main July Session Question Paper 2021 – Shift 1 and Shift 2
JEE Main January Session Question Paper 2019 – Shift 1 and Shift 2
JEE Main April Session Question Paper 2018
JEE Main April Session Question Paper 2017
JEE Main Exam Pattern and Marking Scheme 2022
To prepare for JEE Main 2022, candidates must have a fair idea of the exam pattern and marking scheme. Candidates can understand the distribution of questions in these subjects – Physics, Chemistry, and Mathematics. For every correct answer, four marks are allotted and for every wrong question, -1 mark is deducted. No marks are deducted for unattempted questions.
JEE Main Subjects
Number of questions
Marks allotted
B.Tech: Physics, Chemistry, and Mathematics
90 questions

Objective Type – Multiple Choice Questions (MCQs) and numerical questions

300
B.Arch: Drawing, Mathematics, and Aptitude
82 questions

Mathematics: 25

Aptitude: 50

Drawing: 2

400
B.Plan: Mathematics, Aptitude, and Planning Based Questions
105 questions

Mathematics: 25

Aptitude: 50

Planning Based Questions: 25

400
Conclusion
JEE Main is one of the most challenging and prestigious exams in the country. Lakhs of students prepare every year for this exam.
This article helps you to understand more about the previous year's question papers for JEE Main 2022 examination.
We hope that this information helped you in the best way possible.
Good luck with your future endeavors!
People are also reading: