Full Form
KYC Full Form: Meaning, Objective, Norms & More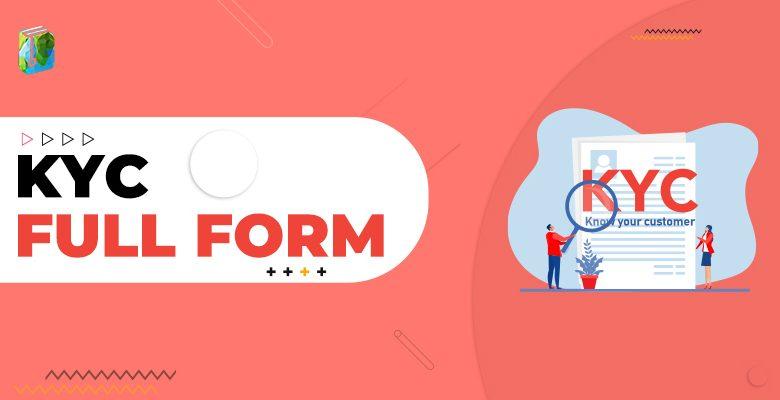 KYC Full Form is Know Your Customer. It refers to the process of verifying the identity of a customer before or at the time when a person starts to do business with a company. Here in this post, we have explained KYC in detail.
What is KYC?
KYC or Know Your Customer refers to the verification of the identity of customers either before or during the time any person/organization commences to do business with them.
Banks and Companies of all sizes have accepted to comply with the norms of KYC to ensure that their customers are not involved with corruption, Bribery, terror financing, or money laundering.
The RBI introduced KYC guidelines for all banks in 2002. RBI directed all banks to comply with the KYC provisions by the end of 2005 fully.
Objective Of KYC
The objective of KYC guidelines is to form a layer of security over the banks and financial institutions from money laundering activities by criminal elements.
KYC policies are usually framed by incorporating the following four key elements:
Customer Identification Procedures
Customer Acceptance Policy
Risk management, and
Monitoring of Transactions
Documents Required For KYC
The Government of India considers documents specifying the details of proof of identity and proof of address as "Officially Valid Documents". These include-
Passport
Aadhaar Card
PAN card
Voters' Identity Card
Driving License
NREGA Card.
If the submitted document does not contain proof of address, then other officially valid documents need to be submitted, such as
Bank account statement along with signature verification by the banker
Ration card
Utility bills like electricity bill, telephone bill, gas bill.
KYC Norms
Along with banks, other institutes like digital payment banks, insurance, mutual funds, and other financial institutions have been directed to abide by the procedure of customer identification for the opening of accounts and to monitor doubtful transactions to report the same to the concerned authority. The KYC norms vary depending upon the account- Individual bank account opening, Partnership Bank account opening Proprietorship bank account opening.
Significance Of KYC
Assessing money laundering risks associated with the customer by determining monetary activities.
Protecting from fraud and losses due to illegal fund transfer.
Establishing Customer Identity,
Helping in understanding the nature of the customer's activities.
e-KYC
It refers to Electronic KYC assessable for customers having an Aadhaar Card.
For using e-KYC service, the customer has to authorize UIDAI (Unique Identification Authority of India) to release identity proof through biometric authentication to the bank branches.
UIDAI, after receiving authorization, transfers data of the customers, including their name, gender, age, and photograph electronically to the bank.
This information received through the e-KYC process is thereby treated as an "Officially Valid Document".
Conclusion
KYC full form is Know Your Customers. It refers to the process of verifying the identity of a customer before or at the time they start doing business with your company. In 2002, RBI released guidelines for all financial institutions. Here in this post, we mentioned everything you need to know about KYC in detail.
People are also reading: