Success Story
From a Tea Vendor to Becoming India's Prime Minister – Narendra Modi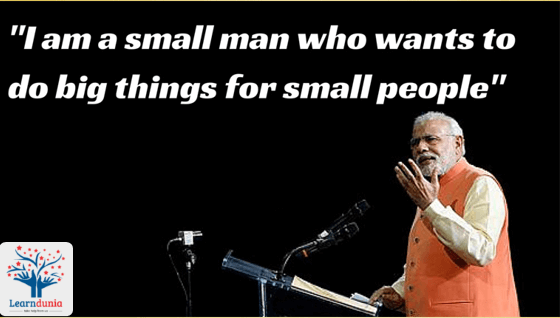 Narendra Damodardas Modi (Narendra Modi) started his journey from a tea vendor to becoming the Prime Minister of the largest democratic country of the world, India. He has indeed scripted a success story that can inspire each one of us. He is the first PM of India who was born after India's Independence. What is remarkable about his success story is that at every difficult juncture in his life, he had the courage and conviction to chart out a positive outcome for himself.Narendra Modi is an Indian Politician, and India's 16th Prime Minister since May 2014. Modi is the first Prime Minister of India who was born after India's Independence. He was also the Chief Minister of Gujarat from 2001 to 2014, and is the Member of Parliament from Varanasi.
Success Story of Prime minister of India (Narendra Modi)
Earlier Life
Narendra Modi was born on 17th September 1950 to a middle class family in Gujarat. He was the third of six children born to Damodardas Mulchand Modi and Hiraben Modi. As a child, Modi spend his earlier years helping his father in selling tea along with his brothers. Modi completed his higher education in Vadnagar, a small town of Gujarat. When he was eight years old, Modi discovered RSS (Rashtriya Swayamsevak Sangh) and began attending its local sessions. The first glimpse of Modi as a great orator was seen in his schooling years.
In recent interviews, his school teachers have recounted that while he was an average student, he was always a great debater who could sway the audiences. In 1978, Modi received a Bachelor of Art degree from University of Delhi, and in 1982 he received a Master of Art degree from Gujarat University in Political Science.
In 1971, just after the Indo-Pak war Modi joined the RSS, and became a full time campaigner of RSS. His oratorical skills came in handy and it was at this time, that he made a conscious decision to devote himself to politics. Recognizing his contribution in the RSS and his active participation in the anti-emergency movement during 1977, he was given additional responsibilities. Growing step-by-step, he was soon made in-charge of the student wing of the Akhil Bharatiya Vidyarthi Parishad in Gujarat.
Seeing the potential in him and acknowledging what an advantage he would be, the RSS moved him to the Bharatiya Janata Party (BJP) in 1985. At each progression and with whatever obligation endowed to him, Narendra Modi demonstrated his fortitude and soon made himself crucial to the gathering. In 1988, he became the Organizing Secretary of BJP's Gujarat wing, and drove the gathering to triumph in the 1995 state elections. He was from that point exchanged to New Delhi as the National Secretary of BJP.
Read The success story of Dr. A.P.J Abdul Kalam
Political Career
In 2001, when Keshubhai Patel, the then Chief Minister of Gujarat moved to one side, the senior pioneers in BJP picked Modi as their Chief Ministerial candidate. He became the Chief Minister of Gujarat in 2001 and was voted into power as the CM of Gujarat for four continuous terms. Actually, his momentous and obvious execution in Gujarat constrained the head honchos of BJP sitting in New Delhi, to clear a path for him and stance him as the Prime Ministerial candidate of the gathering in the 2014 Lok Sabha elections.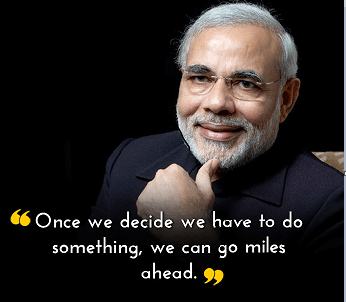 Achievements
Charting an unparalleled and unprecedented victory in Indian democratic elections, Modi was able to garner an overwhelming number of votes for himself and an absolute majority for his party. A rank outsider to the power portals of New Delhi which have mostly been zealously passed on from one generation to another in a dynastical political scenario, Modi was able to overcome all obstacles and sweep the nation with a single-mindedness of purpose.
The Modi wave sweeped the country in 2014, and projected him as a practitioner than a talker. Utilizing innovation and online networking to organize locales more than ever, Modi could without much of a stretch associate himself with a changed cross segment of the society.
His stylistic aptitudes, his demonstrated reputation, his never amazing and his 'normal man' picture, had voters from all ranks, faiths, and religions turn out and vote in favor of him. He was able to cut over all the boundaries, be it, religious, provincial or state and set up himself as a man who hopes against hope, and who attempts to understand those fantasies.
The best ever quotations of Narendra Modi are:
Once we decide we have to do something, we can go miles ahead.
I will make such a wonderful India that all Americans will stand in line to get a visa for India.
IT+IT=IT;  Indian talent + Information technology = India Tomorrow.
Mind is never a problem. Mindset is.
Hard work never brings fatigue. It brings satisfaction.
Desire + Stability = Resolution, Resolution + Hard work = Success
Modi was named the best Chief Minister in a 2007 across the nation overview by India Today. In March 2012, he showed up on the front of the Asian edition of the Time magazine. He was awarded Indian of the Year by CNN-IBN news arrange in 2014.
In 2014, 2015 and 2017, he was named one of Time magazine's 100 Most Influential People in the World. He was likewise proclaimed victor of the Time magazine peruser's survey for Person of the Year in 2014, and also in 2016. The Forbes magazine ranked him the fifteenth Most Powerful Person in the World in 2014 and the 9th Most Powerful Person in the World in 2015 and 2016.
In 2015, Modi was positioned as the 13th Most Influential Person in the World by Bloomberg Markets magazine. In that year he was named one of Time's "30 Most Influential People on the Internet" as the second-most followed lawmaker on Twitter and Facebook. Modi was positioned fifth on Fortune Magazine's first yearly rundown of the "World's Greatest Leaders" in 2015. In 2016, a wax statue of Modi was unveiled at the Madame Tussaud Wax Museum in London.
Best Wishes!!!
Team LearnDunia