Full Form
OEM Full Form | What is the Full Form of OEM?
OEM - Original Equipment Manufacturer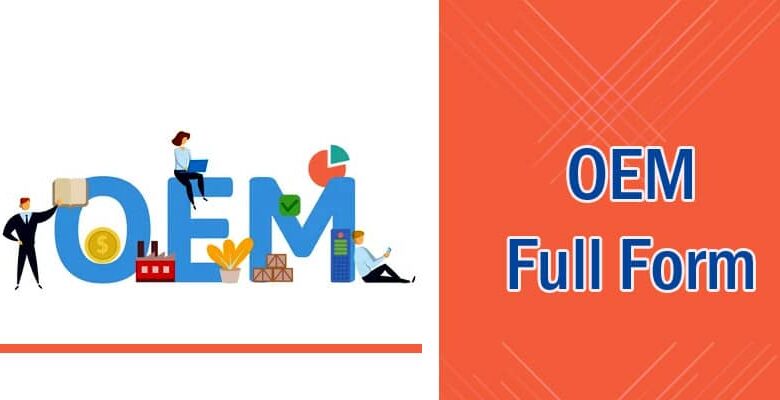 The full form of OEM is referred to as Original Equipment Manufacturer.
Introduction
OEM (full form Original Equipment Manufacturer) is traditionally defined as a company that manufactures items that are used as components in the product made by another company to make their products complete and sell them to the end-users.
The second firm that procures components from the OEM is referred to as a value-added reseller (VAR) because it is adding value to its original item by incorporating features or services. For example, auto parts such as exhaust systems or brake cylinders are manufactured by a wide variety of OEMs. The OEM sells those parts to an auto manufacturer, which then assembles them into a car. The fully finished car is then marketed to auto dealers to be sold to individual customers.
The newer definition of OEM refers to the company that usually selects the supplier to manufacture product components, parts, or a subsystem according to the client's desired design specifications. These product components are then delivered to the client for assembly. For example, Microsoft supplies its Windows software to Dell Technologies, which is used to build its personal computers and sell a complete PC system directly to the consumers. In the traditional sense of the term, Microsoft is the OEM, and Dell the VAR. However, according to the new definition, Dell is considered as the OEM.
Manufacturers must set the quality standards for components that would be used in their products. Some components may be customized which demands much teamwork between the engineering departments of the buyer and the seller as well as the involvement of management in negotiating prices and other terms.
Proper quality assessment measures must be established because components become part of an organization's product. Quality is extremely important as the buyer's name and the entire marketing mix are at stake. Thus a buyer tries to buy from sources that help ensure a good product. The producer may develop a replacement market and make more profit by the continuous co-branding and awareness of OEM manufacturers. For example, car tires and batteries are sold in the OEM market and eventually become consumer products in the aftermarket. Selling OEM parts directly to consumers may require different marketing and overall strategies.
Aftermarket refers to the market where equipment made by another company may be used by a consumer as a replacement. Usually, consumers buy an aftermarket product because it's cheaper or more convenient to obtain.
Common categories of product in the OEM industry consists of those with differentiation in the product line and high volume outputs as toys, garments, automotive industry electronics, and information communication technology (ICT) equipment.
OEM Benefits
The services offered by OEM allow both companies to benefit from each other's strengths.
By rebranding the finished products, the client sells them in the market under its name, often at competitive prices due to the cost-effectiveness incurred in OEM manufacturing.
OEM manufacturing solutions also offer cost-effective benefits to multinational corporations (MNCs) with large-scale order requirements.
OEM solutions are ideal for start-ups that may lack the means or expertise to establish their factory production domestically or overseas.
OEM Drawbacks
There may exist a risk of having intellectual property rights (IPRs) stolen in an OEM service as the design of the item is getting shared between the parties involved.
The selection of the right supplier for special items may take time, taking away a good opportunity from the client to launch its product.
Since most OEM firms only like to deal with companies who can place a bulk order, a client company cannot opt for OEM services that can't sell enough products.
Conclusion
So now you understood the full form of OEM, and the benefits and drawbacks of OEM. If you still have any doubts or queries related to OEM, do write to us in the comments section. We would try to answer your queries at the earliest.