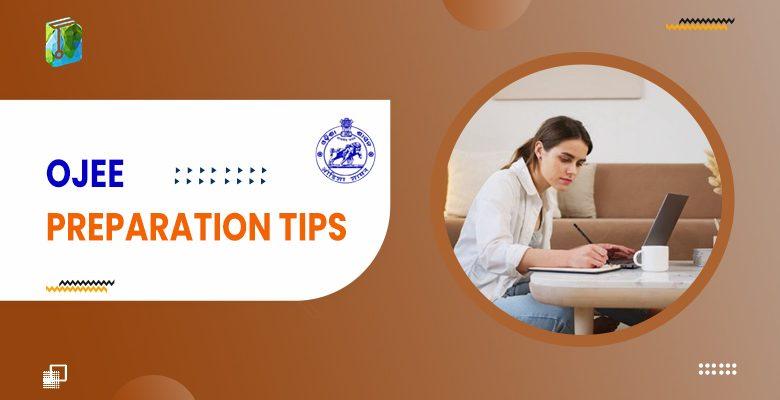 Going through with OJEE preparation tips will give you a fair idea of how to prepare and crack OJEE Exam. OJEE (Odisha Joint Entrance Examination) is a state-level entrance examination also known as Odisha JEE. Candidates can get admission in engineering/technology/pharmacy/MCA and 1st year of master courses in MCA, M.Tech, MBA, M.Pharm, M.Arch/M.Plan/M.Arch (Exe).
Through the article, get some beneficial preparation tips for the OJEE exam.
OJEE Exam Dates 2022
| | |
| --- | --- |
| Events | Dates 2022 (Tentative) |
| Online registration process begins | March 14th, 2022 |
| Last date to apply for the OJEE exam | May 10th, 2022 |
| Last date for fee payment | May 2022 |
| Availability of Admit Card | May 2022 |
| OJEE Exam 2022 | June 2022 |
| Answer key release date | July 2022 |
| Announcement of Result | July 2022 |
| Counselling begins | July/ August 2022 |
OJEE Preparation Tips
1. Create a suitable timetable
Create a study plan for your preparations.
Collect information about the complete OJEE Syllabus and divide them equally as per your time so that every minor topic gets covered in your study plans.
Make short notes for preparations.
Collect the mock papers and sample papers.
All the subjects are essential, and students should give them equal importance.
Self-belief is most important as it generates a lot of positivity and boosts your confidence.
2. Study Material
Preparation for Verbal Reasoning
Verbal reasoning section will require candidate to focus on concepts such as comprehension of passages, sentence/text completion, grammar and vocabulary, etc.
Read the newspapers and magazines daily.
Read the comprehension. This section will consist of passage of four to five lines, which will have to be comprehended and answer the questions accordingly.
Solved the sample papers and mock papers.
This section will comprise 40 MCQs. Verbal Reasoning topics are:
| | |
| --- | --- |
| Synonyms and Antonyms | Sentence completion |
| Grammar | Comprehension of passages |
| Vocabulary | – |
Preparation for Analytical Reasoning
Practice the mock papers and previous question papers.
Improve your speed.
Cover all topics and fundamentals and prepare the notes.
Attempt the easy question first and avoid the difficult questions.
Try to learn shortcut tricks to save time in bulky calculations.
This section will consist of 40 questions. Topics are:
| | |
| --- | --- |
| Series Completion | Selection Criteria |
| Linear and Circular Arrangements | Direction |
| Symbol Based comparison | Conditional Coding |
| Sequential Output | Venn diagram |
Preparation for General Knowledge
Read magazines, newspapers, and other journals and procure important information.
Read General Awareness Pratiyogita Darpan or any other current affairs magazine like CST, Chronicle, or Wizard.
Focus on the topics like the economy, politics, international affairs, etc., within the magazine.
Candidate must follow a national newspaper in order to keep them updated about the happenings of the world because general awareness plays a very important part of the exam.
General Awareness is a very scoring section, and it is less time-consuming.
Concentrate on topics like Current Affairs (National and International), Major Financial/ Economic News, Budget and Five Year Plans, Who is who?, Sports, Book and Authors, Awards and Honors, Science – Inventions and Discoveries,  Abbreviations & Important Days etc.
You can practice questions on apps while traveling, read the magazines before going to bed and revise it in the early morning
There will be 10 questions from this section. Topics are:
| | |
| --- | --- |
| General Knowledge | Buildings |
| Countries | Languages |
| Sports | Animals |
| Persons, awards | Inventions |
| Famous personalities | Currencies |
Preparation for Computer Awareness
Basic knowledge of computer and computer skills.
Prepare all essential topics.
Make short notes during preparation.
It consist 10 MCQs.
| | |
| --- | --- |
| Introduction to computer | C, C++ and Data Structure |
| Introduction to operating system | Logical and verbal abilities |
| Computer arithmetic | – |
3. Maintain Health
During preparation, never ignore your health.
Take fresh fruits and vegetables.
Avoid junk food and a heavy diet.
During preparation, do yoga and meditation; it will help calm your mind and increase inner peace, confidence, and concentration power.
Never over-stress yourself and try to get sleep for at least six to eight hours.
4. Time Management
Time Management plays a crucial role in preparation for exams. Before starting preparation, you have to create a timetable covering all your subjects/topics.
Students must give equal weightage to all the subjects and prepare for them as per your prepared timetable.
Include short breaks of 15 minutes between long hours of study.
Maintaining a proper schedule for every task can lead you to success.
Divide the time for all subjects.
5. Revision
Make sure you revise every topic thoroughly and prepare well for every subject by revising time and again.
Prepare a separate revision plan for last-minute preparation.
At last revised all main topics.
Conclusion
Every exam requires a strategized and efficient study plan. Various methods help you to achieve that. This article presented you with the most helpful preparation tips that will help you ace this exam.
Good luck!