Full Form
PDF Full Form | What is the Full Form of PDF?
PDF - Portable Document Format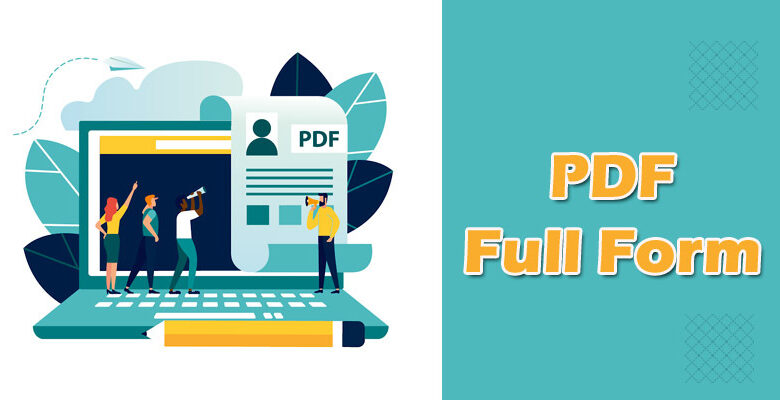 The full form of 'PDF' is 'Portable Document Format'. It is a file format used to display text and images in a digital form based on the PostScript language. PostScript refers to a page description language used to describe the appearance of text and graphical content for both screen and print.
PDF Full Form | Portable Document Format
Adobe System develops PDF in the1990s. Adobe gives everyone-from emerging artists to global brands- everything that they need to design and deliver exceptional experiences by providing the solutions such as Document Cloud, Creative Cloud, and Experience Cloud.
Adobe Document Clouds helps organizations drive business faster and deliver superior customer experiences, on any device, by providing them with the PDF and electronic signature solutions to turn manual document processes into digital ones. Document Clouds has integrated its functioning with industry leaders like Microsoft, Salesforce, Nintex, Box, etc. so that people don't need to change their way of work. Two hundred fifty billion PDFs were opened in Adobe products in the last year.
How to open PDF documents on a Desktop?
Some of the applications used to read Portable Document Format, full form of PDF, in desktop or laptop are-
Adobe Acrobat Reader DC
Nitro's PDF Reader
Foxit Reader
Javeline PDF Reader
Google Drive
PDF-XChange Editors, etc
These applications also help in creating, sharing, and securing the PDFs all on the cloud. One can upload scans, Word documents, PowerPoint presentations, and Excel sheets and combine multiple PDFs into a new file.
Steps for Downloading a PDF
Following are the steps for downloading PDF documents
Download a PDF reader application
Download the software by clicking on the Download button
Go to "Downloads", where the downloaded installations file has been stored.
Double click the Installation File
Once the Setup File installs the application, restart the computer
Right-click on the link to the PDF document, click on "Select Target As" or "Save link as"
Save the document to the hard drive
Open PDF Reader
Go to File, where the document has been saved, and open it.
Uses of PDF
PDF provides Document security, which is essential in businesses sharing information over any network. Organizations may put user-password security with the PDF, preventing unauthorized persons from viewing the document.
PDF Reader can be installed on every network PC and Smartphone for free. Hence it allows sharing documents with anyone inside and outside an organization with no extra cost.
A PDF document is compressed to 25% of its original size when converted from an electronic document. This reduction in size helps the PDF documents to open quickly at the workstation.
A complete book can be easily downloaded in PDF format in a couple of minutes. This has made the Computer or Smartphone performing the function of a mini-library.
Banking organizations have accepted the digital form of signature for the verification of identity. These documents are maintained in PDF format to give an extra layer of security to confidential information.
Advantages of PDF over other Document formats
Legal professionals have their trust in PDFs as their preferred file format because a file format that cannot be altered without leaving an electronic footprint is s admissible in a court of law.
Documents are easily converted into PDF from Word, Excel, or PowerPoint, and they can be saved back into their original form by using Adobe Acrobat XI.
Various documents, such as spreadsheets, photos, and presentations, can be merged into a single PDF file.
The latest version of Adobe Acrobat allows one to add hyperlinks, media files, and many advanced features to PDF.
The option of 'quick search' helps the user to find what they are looking for.
The password protection option allowed in PDF formats is not available in other document formats.
Disadvantages
PDF is supported under the Operating Systems of Windows and Mac. Users of Linux and UNIX cannot view or create PDF files.
PDF files are created in A4, or A3 format pages, which is suitable for printing but viewing it on the screen makes one spend a lot of time scrolling through the pages as the computer screen fall between 4:3 and 16:9 aspect ratio.