Full Form
SSC Full Form | What is the Full Form of SSC?
SSC - Secondary School Certificate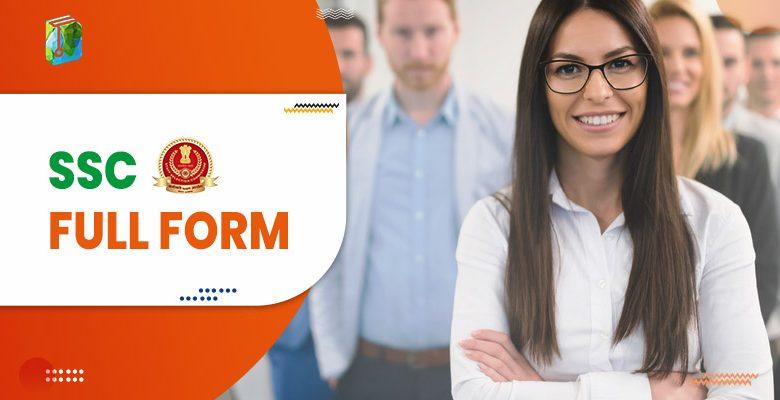 SSC Full Form is a Secondary School Certificate. Secondary education in India is divided into two years of education – classes IX and X, followed by two years of senior secondary education – classes XI and XII.
SSC Full Form: Secondary School Certificate
At the end of the secondary phase (class X), the school conducts externally administered examinations from either a state or national (All-India) examination board. Students who pass the secondary examinations earn a certificate usually called the Secondary School Certificate. This certificate makes a student eligible for senior secondary school. Secondary examinations are also known as Matriculation examinations or 10th board examinations.
There are 31 state examination boards and three national boards that conduct the secondary and senior secondary examinations. Secondary schools are required to get affiliated with either the state board relevant to their location or one of the national boards:
State Government Boards.
Council for the Indian School Certificate Examination (CISCE)
National Institute of Open Schooling Board (NIOS)
The SSC exam is conducted in many states of India, Bangladesh, and Pakistan. It is equivalent to GCSE (General Certificate for Secondary Education in England).
Common subjects for SSC examination
Mathematics
Biology
Chemistry
Physics
Social Science
Hindi
English
Regional Language
The pattern of the examination differs depending on the board conducting the examination.
SSC Procedure and Schedule
SSC exams are conducted annually at the national level by various boards in February or March or April. Different examination board follows different syllabus. One should have to register oneself in a central or state level senior secondary school to appear in this exam.
SSC Grading system
Most of the state secondary boards use the most common grading scale based on the 'percentile' method:
60% or above- first division
45%-59%-Second division
33%-44%- Third division
Note: A student fails if he scores below 33%.
The marking pattern of CBSE is based on the Continuous and Comprehensive Evaluation (CCE) system. Under this pattern, grades are awarded based on their rank order- A-1, A-2, B-1, B –2, C –1, C –2, D –1, D –2, A-1 signifying the highest rank D-2 the lowest. Rank E is considered when a student fails.
CISCE follows the grading system where grades lie from 1 to 9, Grade 1, 2, 3 indicating very good, 4, 5, or 6 indicating a pass with credit, 7 or 8 indicating a pass, and 9 a failure.
SSC – Staff Selection Commission
Another SSC full form is Staff Selection Commission. It is an organization set up under India's government for conducting examinations for recruitment to Group C, non-technical posts in the various Ministries and Departments of the Government of India, and Subordinate Offices.
The commission got its designation from the year 1977. The commission comes under the Department of Personnel and Training and is headed by a chairman, and there are two members and a Secretary-cum-Controller of Examinations. It is headquartered in New Delhi, India.
The commission has set up a large network of centers/sub-centers in different parts of the country to conduct the examinations smoothly, such as Allahabad, Mumbai, Delhi, Kolkata, Guwahati, Chennai, Bangalore, Raipur, and Chandigarh.
Some of the Exams conducted by SSC-
Candidates can apply for any of the exams only if he fulfills the eligibility criteria by enrolling themselves through the online registration process and mentioning the required details.
Some of the Major Functions of SSC
The commission conducts the recruitment of all Group "B" posts (pay scale ranging Rs10500 or below) and all non-technical Group "C" posts in the various Ministries/Departments of the Govt. of India and their Attached and Subordinate Offices.
It conducts Open Competitive Examinations and interviews for the posts within its purview, at different centers, or recruitment to the posts of:
Lower Division Clerks, Stenographers, Assistants, Inspectors of Central Excise, Sub-Inspectors in, Central Bureau of Investigation and Central Police Organizations, Divisional Accountants, Auditors and Accountants, Junior Engineer, Statistical Investigators, Tax Assistant.
The commission holds examinations also for promotion within a specific department.
The commission conducts periodical typewriting tests in Hindi and English.
Conclusion
SSC full form is Secondary School Certificate and Staff Selection Commission. Here is everything you need to know about secondary schooling and the Staff Selection Commission exam in detail.
People are also reading: