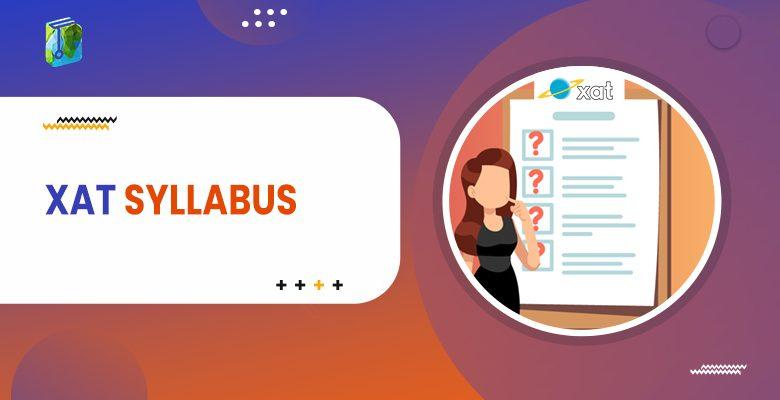 The XAT Syllabus 2023 includes 4 major subjects: Quantitative Ability & Data Interpretation, Decision Making, Verbal & Logical Ability, and General Knowledge. It also includes an essay-writing section conducted after selecting a candidate for the Persona Interview round.
The

XAT exam pattern

has been revised, and the question paper consists of 101 questions (100 MCQs + 1 Essay). The time duration has been changed to 190 minutes.

The XAT GK Syllabus is vast and covers static GK and current affairs. However, you need to know that the marks obtained in the GK section will not be considered while calculating the percentage. These marks will be considered in the last stage of selection.

The candidates need to be aware of the new changes made in the exam pattern and syllabus, which will help them develop a proper preparation plan.
XAT Syllabus 2023 Highlights
XAT syllabus will be divided into 5 sections. The complete overview of XAT Syllabus 2023:
S.No
Sections
Total No. Of Questions
Topics 
Time Limit
Part 1

Verbal and Logical Ability

26

Critical and Analytical Reasoning, Vocabulary, Logical Deductions, Reading Comprehension.

165 minutes

Decision Making

21

Decision making in a given scenario, Caselet study, Data Arrangement, Ethical Dilemma.

Quantitative Ability and Data Interpretation.

27

Number System, Algebra, Geometry, Mensuration, Arithmetic.

Part 2

General Knowledge

25

Static GK and Current Affairs.

25 minutes

Essay

1

Total 

101

190 Minutes
Changes Made In XAT Exam Syllabus 2023
The XAT syllabus 2023 will be divided into 4 sections. Here are the major changes introduced in the XAT exam pattern and Syllabus 2023:
The total number of sections has been increased from 4 to 5. The essay writing section has been reintroduced.

The 5 sections included are

Verbal & Logical Ability

Quantitative Aptitude and Data Interpretation

Decision Making

General Awareness

Essay

The maximum number of questions is 101.

The essay question will be evaluated for candidates who are shortlisted for the personal interview.

0.25 marks will be deducted for every wrong answer asked in Part 1 of the question paper. However, there is no negative marking for the questions asked in Part 2.
Subject-Wise XAT Syllabus 2022
The complete section-wise syllabus for XAT exam 2023 will help you prepare well.
Syllabus For Quantitative Ability & Data Interpretation
The Quantitative Ability & Data Interpretation section is dynamic, comprehensive, and focuses mainly on topics related to mathematics.
QA & DI Highlights
The QA & DI section is the most difficult section among all the other sections.

This section includes 28 questions in total.

The questions asked in this section are majorly from the class 10th syllabus.

The important topics in the QA section are- Numbers, Arithmetic, Algebra, and Geometry.

The important topics in the DI section are- Data tables, graphs, charts, bar diagrams, data analysis & comparison.

Last year's XAT question paper includes Mensuration, Venn diagrams, and Numbers questions.
QA & DI Syllabus
Here is the complete XAT quantitative ability and data interpretation syllabus.
| | |
| --- | --- |
| Mensuration – 2D and 3D | Profit and Loss |
| Linear Equations | Probability |
| Statistics | Quadratic Equations |
| Surds and Indices | Logarithm |
| Heights & Distance | Direction Sense & Time |
| Complex Numbers | Clocks |
| Data Interpretation – Table, Combination | Arithmetic |
| Graphs | Algebra Functions |
| Geometry | Speed & Distance |
| Trigonometry | Table |
Syllabus For Verbal & Logical Ability
This section is divided into three parts: Verbal ability, reading comprehension, and logical reasoning.
Verbal & Logical Ability Highlights
This section does not have any time limit, so you can spend a maximum of 50 minutes solving this section.

A total of 26 questions are asked in this section.

Some of the important topics in verbal ability are from

English vocabulary, such as filling in the blanks, synonyms, antonyms, correction of sentences, use of right words, etc.

The reading comprehension section covers 50% of the VALR section. The topics are in this section are from economics. Politics, social awareness, literature, or abstract.
VA & LR Syllabus
Here is the complete XAT verbal ability and logical reasoning syllabus.
| | |
| --- | --- |
| English Topics | Reading Comprehension Topics |
| The contextual meaning of words | Culture |
| Error correction | Psychology and social issues |
| Grammar | Literature and fiction |
| Para completion and para jumble | Economy |
| Antonyms & Synonyms | Narration of incidents |
| Critical reasoning | Science |
| Arguments | – |
Syllabus For Decision Making
This is a unique section and is not included in any other MBA entrance exam. However, this is the simplest section in the XAT question paper.
Decision-Making Highlights
This section has over 21 questions divided into 7 sets, including 3 MCQs. 

The question is a little simple to solve when compared to the other sections. 

Some of the important topics in this section are decision-making in a situation, data arrangement tests, etc.
Decision-Making Syllabus
Here is the complete XAT Decision-Making syllabus.
Analytical Reasoning

Case lets

Situational

Data Arrangement Test

Conditions and Grouping Test

Reading Comprehension

Arithmetic

Decision Making in a situation

.
Syllabus For General Knowledge
To score good marks in the GK section, candidates need to stay updated about the current happenings on a daily basis. Here is the complete overview of the XAT GK syllabus.
General Knowledge Highlights
25 questions are asked in this section. The candidates will be provided with 25 minutes to complete the GK and essay section.

There is no negative marking in this section.

Some of the important topics covered in this section are current affairs (national and international), history, author names, business, economy, politics, etc.
General Knowledge Syllabus
Here is the complete XAT General Knowledge syllabus.
| | |
| --- | --- |
| History | Nation & States |
| Business | Awards & Recognitions |
| Sports | Literature |
| Economics | Society |
| International Relations | Merger & acquisitions |
XAT Exam Pattern 2023
The paper pattern 2023 is yet to be released. However, here is the XAT Exam Pattern based on the previous year:
XAT Exam Date 2023

1st Week of January 2023.

Total Time Duration

190 minutes

Total No. Of Questions

101 (100 MCQs and 1 Essay writing)

Number of Sections

5

Types of Questions

MCQs

Number of Answer Choices

5

Total Number of Sections

Verbal & Logical Ability

Decision Making

Quantitative Ability & Data Interpretation

General Knowledge

Essay Writing

XAT Marking Scheme 2023

+1 for every correct answer

-0.25 for every incorrect answer in XAT QADI, VALR, and DM sections

-0.10 for more than 8 unattempted questions
Conclusion
The XAT 2023 will be held in the 1st week of January 2023 and the XAT syllabus will be released with the official notification. Knowing the syllabus and exam pattern will help the candidates to prepare effectively for the exam.
Moreover, it will also provide the candidates with an idea of preparing for the exam. Here we have explained the complete subject-wise XAT syllabus 2022 in detail.
All the best for your exams!
People are also reading: