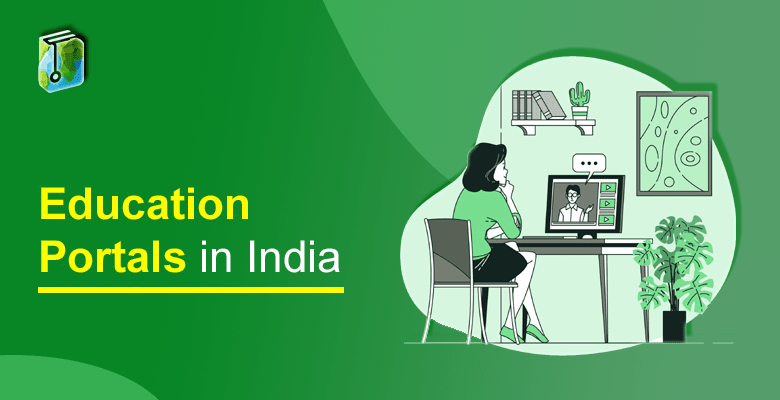 Introduction
The coronavirus has taken over not just our country but the entire world. The world is suffering from this pandemic, and as a precautionary measure, the administration all around the world has locked down all community places, including schools and colleges. This has hugely impacted the studies and academics of the students. It has left the parents in the dilemma of how they can ensure that their ward receives education amidst this situation.
Parents are looking forward to portals that can provide education to their children in the comfort and safety of their homes. Therefore, to help all the students and parents in these hard times, we have curated the list of best Education Portals in India which can ensure that the students continue to receive education amidst this lockdown and utilize this time productively.
In this article, we will discuss the Top 10 Educational Portals in India.
Let's begin!
Top 10 Education Portals in India

Byju's is one of the most renowned education portals in India where the students from classes IV to XII along with the candidates aiming for competitive exams like JEE, NEET, CAT, GMAT, IAS, etc. can also get training and world-class study material. It is the world's highest-valued Education Technology Application which is the first choice of many students and has emerged as the most preferred educational website by the students and parents in India. It provides highly personalized, interactive, and, engaging content that enables students to receive a quality education from anywhere in the world.

Coursera is an online educational platform that enables students to take courses of their choice to learn online and build their skills. The students have an open field where they can select courses from any domain they are interested in and receive learning and training from reputed international institutes. It not just educates the candidates but also provides certification from the top institutes and companies of the world once you successfully finish your course. It can be a great way not just for students but for anybody who wishes to enhance their skills while being at home during this lockdown. 

Khan Academy is one of the most renowned and well-known educational portals and definitely a flag-bearer in this domain. It was founded in 2008 by Salman Khan, who is an American Educator with the aim of providing free education and coaching to students who can't afford it. With time, it has become a standard of internet learning. It provides the students with a personalized dashboard that can be utilized to measure their progress. The students can learn all the conventional school subjects like mathematics, science, history, geography, economics, etc. at their own pace. Khan Academy has also partnered with many reputed organizations to amplify the content quantity and quality for students.

Meritnation is an Indian online education portal that provides dynamic and interactive study material to students of class I to XII of all central and state boards including CBSE, ICSE, MSBSHSE, KSEEB, SCERT, and Tamil Nadu boards. It has numerous exciting features like practice tests, live classes, tutorials, multimedia sessions, and expert help, etc. It is especially known for the top-quality study material available on it for all the classes. It also has a feature called homework help which solves the queries of the students.

It is an Indian education and training portal where students can get online courses as per their requirements. It is an Indian company based in Delhi and provides online learning not just for school students but also for the candidates who are preparing for competitive exams like IAS, SSC, IPS, etc. You can get high-quality study material: mock-tests, and sample papers from this website.

Toppr is also a renowned educational portal that provides numerous intriguing features like Live Classes, Online Classes, Adaptive Practising, Mock Tests, and Interactive Doubt Solving Classes. It is a comprehensive portal where students can get a solution to all their educational needs. They use adaptive algorithms to create personalized learning for every student as per the strengths and weaknesses of every student. Their motto is to provide all-around academic growth for the students.

edX is the most popular educational portal among students, as it provides top-notch content from world-class universities like Harward and MIT. The students can avail themselves of 2500+ courses from over 140 institutes and upgrade their skills. It enables the students to learn on their own terms from any corner of the world. It is great for students of all ages.

 Udemy is a popular educational portal and has its headquarters in California. It is known for providing amazing quality courses at very low prices. Some of its courses are even available for free. It has courses in all fields and domains, and each and every individual can benefit from it. May it be a course on baking a cake or rocket propulsion, Udemy has it all.

Unacademy is an Indian Educational Portal that was developed by Indian Educator and Former IAS Officer Dr. Roman Saini. This portal enables students to take courses from the best teachers in India. It provides thousands of free courses, and even the paid courses are available at a very nominal cost. Along with cutting-edge tutorials, it also provides certification which can add value to your career. Unacademy helps not just students but also proves as an excellent option for the working professional.

Vedantu is an intelligent web-based educational portal where educators give online classes to students over the web, utilizing a continuous learning condition named WAVE, which is a technology exclusive to Vedantu. It is India's driving mentoring organization and has propelled its free learning application, accessible on Android. It permits you to ask continuous questions from learning specialists and real educators and get them explained immediately, and that too, free.
Conclusion
The above list provides the top 10 Education Portals in India, which can greatly help the students to continue their studies in these tough times. Although we are amidst a big crisis, the students must keep their morales high. The parents are supposed to motivate their children to utilize this time productively, which can greatly help in shaping their career in a better way.
No matter what, the learning should never stop, and keeping that in mind, the students must continue their academics so that they do not feel disconnected from their studies once the lockdown opens.
Stay safe and stay productive!
People are also reading: