Exams
TS EAMCET 2023 Counselling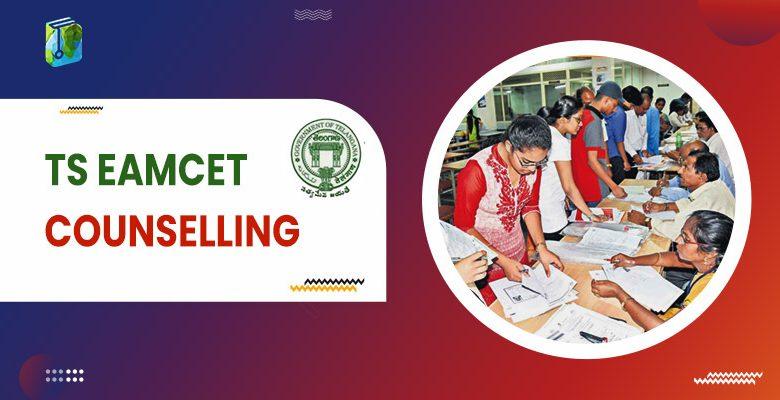 The TS EAMCET is a state general entrance examination administered by Jawaharlal Nehru Technological University (JNTU), Hyderabad, on behalf of the TSCHE. Candidates who pass this exam are able to enroll in engineering, agricultural, and other programs offered by various colleges and institutions around the state of Telangana. The test is held for admission to several UG degrees such as B.Tech, B.E, B.Tech (Agriculture Engineering), B.Tech (Bio-Technology), B.Pharma, and B.Pharmacy. The TS EAMCET 2023 Exam will be conducted online.
On behalf of TSCHE, JNTU Hyderabad will conduct the TS EAMCET Counselling 2023. Through the official website i.e. https://eamcet.tsche.ac.in/ register for TS EAMCET 2023. The new dates will soon be intimated on the official website.
TS EAMCET 2023 Counselling
The TS EAMCET Counselling process is a fully web-based online procedure only.
To be eligible – must score 45 % for OC and 40 % for another category.
The authority will conduct 2 separate sessions of counseling for both MPC & BiPC streams.
MPC stream counseling – To get admission in BE/B.Tech/Pharmacy.
BiPC stream counseling – To get admission in Biotechnology, Pharmacy & Pharm.D.
Those who clear the TS EAMCET Exam 2023 will be called for the TS EAMCET Counselling Process.
Be ready with your original as well as a copy of documents for verification, as it is the initial stage of counseling.
After document verification – choose your preferred course and college.
TS EAMCET Counselling involves – 2 rounds with all participating colleges.
TS EAMCET 2023 Counselling Schedule
| | |
| --- | --- |
| Events | Dates (Tentative) |
| TS EAMCET 2023 | To be announced |
| TS EAMCET 2023 result | To be announced |
| TS EAMCET counseling payment of fees and filling detail | To be announced |
| Verification of documents | To be announced |
| Online choice filling | To be announced |
| Freezing of options | To be announced |
| TS EAMCET seat allotment 2023 provisional | To be announced |
| Payment of tuition fees and self-reporting through website | To be announced |
| Internal sliding at the institution | To be announced |
| Issue of notification by the college to fill leftover vacancies under Spot Admissions | To be announced |
| Completion of Spot Admissions | To be announced |
| Reporting to the allotted institutes | To be announced |
TS EAMCET 2023 Counselling Procedure – Registration and Slot Booking
Register and verify your documents at the TS EAMCET Helpline centers.
For (OC/BC) – The processing Fee is 1200 and for (SC/ST) – The processing fee is Rs.600.
After payment – verify all your documents and provide a valid mobile number and email ID.
All these activities make the TS EAMCET 2023 Counselling way to process further. Take a printout of the Manual option entry form from the official website.
Certificate Verification
As per the rank called out – candidates have to present the documents with all other requisites, if any.
For verification – Aadhaar card details are mandatory.
Documents Required at the time of Verification/Admission
SSC or its equivalent Marks memo.
Intermediate or its equivalent Memo-Cum-Pass Certificate
VI to Intermediate Certificates
Transfer Certificate
TS EAMCET Rank Card 2023
TS EAMCET Hall Ticket 2023
Residence Certificate of either of the parents
Income Certificate
Aadhaar Card
Caster Certificate issued by the competent authority
PH/CAP/NCC/Sports/Minority certificates (if applicable)
Documents Required by PH/CAP/NCC/Sports/Minority Candidates
PH-certificate issued by District Medical Board. Candidates with a disability of 40% or more are considered eligible.
Identity card and discharge book (in the case of ex-servicemen) and Service Certificate (in the case of in-service men) issued by the Competent Authority for verification CAP-certificate issued by Zilla Sainik Welfare Officer
Original Certificates issued by competent authorities for NCC and Sports.
Minorities – SSC TC with Minority Status or a Headmaster's Certificate.
Anglo-Indian – Certificate from their place of residence's Tahsildar.
Exercising Choice Filling Option
In this, fill up your preferred course and college.
Select on the basis of priority.
TS EAMCET Seat allotment will be done on the basis of choice filling option and rank scored in the TS EAMCET 2023 Exam.
On completion of the option entry form – click on save and log out in a proper manner.
Provisional Allotment of Seats
Via SMS – the exam authority will convey the seat allotment status. Candidates need to visit the official website to read out the allotment letter.
Reporting
Within stipulated time and day, candidates are advised to report to their respective colleges.
For confirmation – candidates need to pay the admission fee at the reported college. Failure to which may lead to cancellation of seat allotment.
TS EAMCET 2023 Help Line Centers
Government Polytechnic, Mahabubnagar
K.D.R Government Polytechnic, Wanaparthy
Government Polytechnic,dharur Road, Gadwal
S V Government Degree College, Palem, Nagarkurnool District
Government Polytechnic, Nalgonda
Government Polytechnic For Women, Suryapet
Government Polytechnic, Yadagirigutta
Government Polytechnic, Rudrampur, Kothagudem
Sr & Bgnr Govt. Degree College, Khammam
Government Polytechnic, Warangal
University Arts & Science College, Subedari, Hanamkonda, Warangal
Kakatiya University, Warangal
Kakatiya Government College, Hanamkonda, Warangal
A B V Government Degree College, Jangoan
Government Degree College, Mahabubabad
Government Degree College, Bhoopalpalli
Government Polytechnic, Bellampally, Mancherial District
S G Government Polytechnic, Adilabad
Government Polytechnic, Nirmal
Government Polytechnic, Nizamabad
Government Arts And Science College, Kamareddy
Government Polytechnic For Women , Medak
Government Polytechnic, Rajgopalpet, Siddipet
Government Polytechnic, Ismail Khanpet, Near Mnr Medical College, Sanga Reddy
Dr.b. R. Ambedkar Gmr Polytechnic For Women, Karimnagar
Sknr Government Degree College, Jagtial
University Pg College, Godavarikhani, Peddapalli District
Srrs Government Polytechnic, Sircilla, Rajanna Sircilla
Government Polytechnic, Vikarabad
Government Institute of Printing Technology, Secunderabad
Q.q.government Polytechnic, Chandulal Baradari, Old City, Hyderabad.
J.n.government Polytechnic, Ramanthapur, Hyderabad
Jntu College Of Engineering, Kukatpally, Hyderabad
Government Polytechnic, Masab Tank, Hyderabad
Dr. B R Ambedkar College, Baghlingampally, Hyderabad
University College Of Science, Saifabad, Masab Tank, Hyderabad
Government Degree College For Women (Autonomous), Begumpet, Hyderabad
Sankethika Vidya Bhavan, Masab Tank, Hyderabad
Conclusion
The above counseling procedure for the TS EAMCET is in accordance with the upcoming TS EAMCET 2023. For more information, you can click on the official website for TS EAMCET – https://eamcet.tsche.ac.in/. We hope all your eligibility doubts must be clear by now.
People are also reading: