JEE Main
JEE Main 2023: Exam Dates (Rescheduled), Application Form (Closed), Syllabus, Eligibility, Question Papers and Cut-off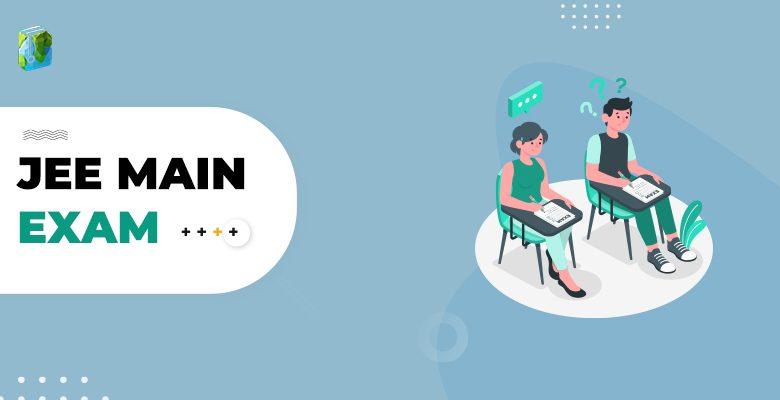 JEE Main 2023 Latest Updates
JEE Main exam 2023 was held in June 2023.

According to the guidelines, the aspirants needed to score at least 75% in the board exams.
There is a negative marking in both MCQs and numerical value answers. 1 mark is deducted for every incorrect answer.
JEE Main result for session 1 has been declared. The candidates can now download the result from their registered mobile numbers.

Candidates who applied to take the Joint Entrance Examination (JEE) Advanced in 2020 or 2021 but were unable to attend due to COVID were allowed to reappear directly in JEE Advanced 2023.
JEE Main is a national-level entrance exam organized by NTA every year. After qualifying for this exam, candidates can get admission in B.Tech/ B.E/ B.Arch/ B.Plan courses in prestigious engineering institutions like IITs, NITs, CFTIs, etc.
NTA had released the official notification on jeemain.nta.nic.in and had rescheduled the exam dates due to the clash with board exam dates. The JEE Main exam dates were:
June 20, 21, 22, 23, 24, 25, 26, 27, 28, 29, and 30, 2023.
The exam is conducted separately for Paper 1 (B.Tech/ B.E) and Paper 2 (B.Arch/ B.Plan). The Paper1 is conducted for admission to Undergraduate Engineering Programs (B.E/B. Tech) at NITs, IIITs, other Centrally Funded Technical Institutions (CFTIs), Institutions/Universities funded/recognized by participating State Governments, as well as an eligibility test for JEE (Advanced), which is conducted for admission to IITs.
What is JEE Main?
JEE Main is a national-level entrance exam conducted by the NTA for admission into the B.E./B.Tech and B.Arch./B.Plan. courses that are offered by the IITs (Indian Institute of Technology), IIITs (Indian Institute of Information Technology), NITs (National Institute of Technology), and CFTs (Centrally Funded Institutions).
Only those candidates who qualify for the JEE Main will be eligible to appear in the JEE Advanced. The counseling-cum-seat allotment for all the IITs, NITs, IIITs, and CFTIs will be organized by the Joint Seat Allocation Authority (JOSAA).
JEE Main Exam Highlights
Details
Description
Exam Name
JEE (Joint Entrance Examination)
Known Specify
JEE Main
Conducting Authority
National Testing Agency (NTA)
Examination Level
National Level
Exam Category
Undergraduate Level
Motive
Provide admission to the students' IITs, NITs, and GFTIs.
Mode of the Examination
Online Mode (Computer Based)

For Paper 2 (Offline Mode)

Number of Attempts Available
4
Times Conducted Yearly
2
Slot Available
8
Average Number of Applicants registration
11 Lac
Test Centres in India
248
Test Centres out of India
10
States that are parts of JEE System
Odisha, Madhya Pradesh, Haryana, Uttarakhand, and Nagaland
States that accept JEE Main Score
Rajasthan, Punjab, Chandigarh, Himachal Pradesh
NTA Official Website
https://jeemain.nta.nic.in/
JEE Main Exam Dates 2023
The official notification is released now. The JEE Main exam dates are tabulated below:
Events
Important Dates 2023 (Rescheduled)
June Session
Release of Notification
 

Notified soon

Starting of the Registration process
 

Notified soon

End of registration
 

Notified soon

Last date of fee payment
 

Notified soon

Exam City announcement
 

Notified soon

Release of Admit card
 

Notified soon

JEE Main 2023 Exam
 

Notified soon

Answer key
 

Notified soon

Declaration of Result
 

Notified soon

Counseling process starts
 

Notified soon
JEE Main Application Form 2023
JEE Registration Form 2023 has been released by the NTA.
There was no JEE Application Form correction facility to edit/change/rectify particulars in their filled application form. So candidates had to be extra careful while filling out the form.

Aadhaar Card Is Required: An Aadhaar Card is not required to apply for the exam.

For filling up the Application Form, candidates need to upload scanned images of images in the form, i.e. passport size photographs, signatures of candidates, and mothers/fathers/parents.

The size of a signature should be 3.5*1.5 cm.

The scanned documents must be in jpeg or JPG format.

Submission of multiple applications will lead a candidate's application towards cancellation.

There is no need to send the Application Form's hard copy to the conducting authority.
JEE Main Image Format 2023
| | |
| --- | --- |
| Dimensions | 3.5cm X 4.5cm |
| Format | JPEG |
| File Size | 4kb to 40kb |
| Preferred Background | White |
JEE Main Application Fee 2023
Candidates could pay the JEE Main application fee online through Internet Banking or a credit or debit card. The application fee for various categories and exam centers is as given below:
Exam Center Opted
Appearing Papers
Online Mode Exam
Paper Type

General/Gen- EWS/OBC (NCL)

(Male) (INR)

SC/ST/PWD/Transgender/Girls (INR)
India
Single Paper
650
325

B.E./B.Tech and B. Arch or

B.E./B.Tech and B. Planning or

B.E./B.Tech, B. Arch and B.Planning or

B.Arch and B.Planning

1300
650
Foreign
Single Paper
3000
1500

B.E./B.Tech and B. Arch or

B.E./B.Tech and B. Planning or

B.E./B.Tech, B. Arch and B.Planning or

B.Arch and B.Planning

6000
3000
JEE Main Application Correction 2023
This year, there was no correction facility to make changes in the application form after completing the registration process.
No modification could be done in the photographs or signatures uploaded in the form.
Aspirants had to make sure to fill out the application form diligently and re-check it before submitting it.
No corrections sent by candidates through post/Whatsapp/ email/ by hand will be entertained by NTA.
Previously, the candidates had the provision of modifying and editing the details of their Application Form by conducting authority. 
Candidates could edit/correct their application forms.

Application form correction facility was available via online mode only.

JEE Main correction window provided the facility of correction in details like the change in exam mode from PBT to CBT, the city of examination, and paper-2 to paper-1.

Candidates could make changes only in some selective fields.
For correcting the application form, an additional fee could be paid through credit/debit card, e-wallet, or e-challan.
JEE Main Eligibility Criteria 2023
Those who applied for the exam had to go through the JEE Main eligibility criteria first, as only those candidates who fulfill the criteria are eligible to sit for the examination. The detailed eligibility criteria are given below:
Age Criteria: There is no upper age limit for the Main exam.
Qualification Criteria
The candidate must have passed the XII or equivalent exam in 2019, 2020, or appear in 2021 to be eligible to apply for JEE exam 2023.

For B.E/B. Tech, it is essential to have passed the XII/qualifying examination with Physics and Mathematics as compulsory subjects, along with Chemistry, Biotechnology, Biology, and Technical as a Vocational subject.

For B. Arch, it is mandatory to have passed XII with Physics, Mathematics, and Chemistry.

For B. Planning, it is required to have passed the XII/qualifying exam in Mathematics.

There are no minimum marks required in the XII. However, the candidates must score 75% or above to get admission into IIITs, NITs, or CFTI.

Candidates who passed the Class 12th/Qualifying examination in 2019 or before, as well as those who will appear in such an examination in 2023 or later, are not eligible to appear in JEE Main.

Diploma holders may also apply for JEE, but they will only be eligible for admissions into IITs.
Number of Attempts
A total of three attempts are given for clearing the JEE Main. JEE Advanced can be attempted a maximum of two times in consecutive years. The attempt limit is the same for all the categories.
JEE Main Exam Pattern 2023
The JEE Main Exam Pattern comprises a total of three papers of three hours each. The paper contains both objective and numerical questions. The three papers are for B.Tech, B.Arch, and B.Plan, respectively. The complete details of the paper pattern are given below:
Features
Exam Pattern
Mode of exam
B.Tech/B.Plan – CBT mode
B.Arch – PBT mode | CBT mode
Type of questions
Objective (MCQs) and Numerical
Subjective – B.Arch Drawing Paper
Number of questions
75 for B.Tech
77 for B.Arch
100 for B.Plan
Total marks
Paper 1 – 300 marks
Paper 2 – 400 marks
Paper 3 – 400 marks
Duration
3 hours
Name of sections
B.Tech – 3 (Physics, Chemistry, and Mathematics)
B.Arch – 3 (Drawing, Mathematics, and Aptitude)
B.Plan – 3 (Mathematics, Aptitude, and Planning Based Questions)
Marking scheme
Correct Response – (+4)
Incorrect Response – (-1)
The difficulty level of the exam
Easy to Moderate
JEE Main Admit Card 2023
The NTA releases the admit card before the exam. Some essential pointers regarding the JEE Main Admit Card are given below:
Only the candidates who have successfully registered for the exam can download the JEE Admit Card.
The Admit Card will be released in online mode only.
The authorities will inform the candidates regarding the release of the admit card on their registered email ID and mobile number.
Candidates can download the admit card/hall ticket by entering their application number, date of birth, or security code.
If candidates discover any errors after generating their admit cards, they must contact the conducting authority.
The admit card contains details like exam schedule, exam center details, the candidate's roll number, etc.
Candidates must carry an ID proof along with the admit card to the examination hall.
The JEE Main Syllabus provides the details about the topics and chapters that will be covered in the test papers. All three papers have different courses, so the syllabus is also different. The detailed paper-wise division of the syllabus is as given below:
JEE Main (B.E / B.Tech) –  Mathematics, Physics, and Chemistry
Mathematics Syllabus
| | | | |
| --- | --- | --- | --- |
| Unit 1: Sets, Relations, and Functions | Unit 2: Complex Numbers and Quadratic Equations | Unit 3: Matrices and Determinants | Unit 4: Permutations and Combinations |
| Unit 5: Mathematical Induction | Unit 6: Binomial Theorem and Its Simple Applications | Unit 7: Sequences and Series | Unit 8: Limit Continuity, and Differentiability |
| Unit 9: Integral Calculus | Unit 10: Differential Equations | Unit 11: Coordinate Geometry | Unit 12: Three Dimensional Geometry |
| Unit 13: Vector Algebra | Unit 14: Statistics and Probability | Unit 15: Trigonometry | Unit 16: Mathematical Reasoning |
Physics Syllabus
Section A – Theory
Unit 1: Physics and Measurement
Unit 2: Kinematics
Unit 3: Laws of Motion
Unit 4: Work, Energy, and Power
Unit 5: Rotational Motion
Unit 6: Gravitation
Unit 7: Properties of Solids and Liquids
Unit 8: Thermodynamics
Unit 9: Kinetic Theory of Gases
Unit 10: Oscillations and Waves
Unit 11: Electrostatics
Unit 12: Current Electricity
Unit 13: Magnetic Effects of Current and Magnetism
Unit 14: Electromagnetic Induction and Alternating Currents
Unit 15: Electromagnetic Waves
Unit 16: Optics
Unit 17: Dual Nature of Matter and Radiation
Unit 18: Atoms and Nuclei
Unit 19: Electronic Devices
Unit 20: Communication Systems
Section B – Practical
Unit 21: Experimental Skills
Chemistry Syllabus 
Section A: Physical Chemistry
Unit 1: Some Basic Concepts in Chemistry
Unit 2: States of Matter
Unit 3: Atomic Structure
Unit 4: Chemical Bonding and Molecular Structure
Unit 5: Chemical Thermodynamics
Unit 6: Solutions
Unit 7: Equilibrium
Unit 8: Redox Reactions and Electrochemistry
Unit 9: Chemical Kinetics
Unit 10: Surface Chemistry
–
–
Section B: Inorganic Chemistry
Unit 11: Classification of Elements and Periodicity in Properties
Unit 12: General Principles and Processes of Isolation of Metals
Unit 13: Hydrogen
Unit 14: Block Elements (Alkali and Alkaline Earth Metals)
Unit 15: P-Block Elements
Unit 16: d-and-f Block Elements
Unit 17: Coordination Compounds
Unit 18: Environmental Chemistry
Section C: Organic Chemistry
Unit 19: Purification and Characterization of Organic Compounds
Unit 20: Some Basic Principles of Organic Chemistry
Unit 21: Hydrocarbons
Unit 22: Organic Compounds Containing Halogens
Unit 23:  Organic Compounds Containing Oxygen
Unit 24: Organic Compounds Containing Nitrogen
Unit 25: Polymers
Unit 26: Biomolecules
Unit 27: Chemistry In Everyday Life
Unit 28: Principles Related to Practical Chemistry
–
JEE (B. Arch / B. Planning) – Aptitude Test
| Part 1 | Part 2 |
| --- | --- |
| People, places, buildings, materials, and textures related to architecture and the built environment are all things to be aware of. Analytical reasoning and mental ability (visual, numerical, and verbal) are required. | Three-dimensional perception: understanding and appreciation of scale and proportion of objects, building forms, and elements; color, texture, harmony, and contrast. design and drawing of geometrical or abstract shapes and patterns in pencil. Transformation of forms, both 2D and 3D, union, subtraction, rotation, development of surfaces, and volumes. generation of the plan, elevations, and 3D views of objects. Creating two-dimensional and three-dimensional compositions using given shapes and forms is challenging. |
How to Prepare for JEE Main 2023?
Some highly beneficial JEE Main Preparation Tips are:
Make a proper study timetable.
The exam pattern is very important in exam preparation; therefore, keep up to date with the syllabus and exam pattern.
Students are advised to thoroughly prepare for the three subjects (Physics, Chemistry, and Mathematics) of classes XI and XII to score well in the examination.
Candidates must have a good command of NCERT books as they cover a significant chunk of the JEE Main syllabus.
Aspirants must also go through the past year's question papers to get an idea of the difficulty level of the exam.
Practice mock tests to identify the weak areas.
Time management is crucial. Set your timetable so that you can easily decide your study hours. Divide your time well among school, coaching classes, exercise, entertainment, etc.
Keep yourself healthy by not succumbing to stress.
JEE Main Exam Centers
The NTA JEE examination is conducted all around the country. The complete state-wise list of exam centers is given below:
Exam States
Exam cities
City code
Haryana
Faridabad
28
Gurgaon
29
Hisar
30
Karnal
31
Kurukshetra
32
Himachal Pradesh
Hamirpur
33
Shimla
34
Jammu & Kashmir
Jammu
35
Srinagar
36
Uttarakhand
Dehradun
88
Haldwani
89
Haridwar
90
Roorkee
91
Punjab
Amritsar
73
Bathinda
74
Uttar Pradesh
Agra
92
Allahabad
93
Bareilly
94
Gorakhpur
95
Jhansi
96
Kanpur
97
Lucknow
98
Varanasi
99
JEE Main Cut-Off
The "cut-off" is the minimum mark required to qualify for the exam. It will be released along with the main results of the JEE. The expected JEE Main Cut-Off is given below:
| Category | Cut Off |
| --- | --- |
| General | 88-91 |
| GEN- EWS | 77-80 |
| OBC – NCL | 73-76 |
| Scheduled Caste (SC) | 53-56 |
| Scheduled tribes (ST) | 43-46 |
| PwD | 0-1 |
JEE Main Counseling 2023
Once the conducting authority declares the NTA JEE Main results, the Joint Admission Boards will release the counseling dates. The schedule will be different for all-India rank counseling and state-level counseling.
To appear in the counseling process, candidates need to register themselves first.

JoSAA/CSAB are the authorities that conduct centralized counseling for admission to NITs, IITs, IIITs, and CFTIs.

Admission will be offered to the candidates based on their AIR and choices.

The candidates must participate in the counseling and seat allocation processes to get a seat.

The seat will be allotted based on filled choices, rank, category, and seat availability.

Candidates must download the provisional seat allotment letter and pay the seat acceptance fee.

Once candidates pay the acceptance fee, they must report to the allotted centers to verify their documents.

There are a vast number of colleges in every state that also offer admission through JEE Main. To get admission to these colleges, students must apply separately through state counseling.
JEE Main Result 2023
Candidates who appear in the NTA JEE examination can download their scorecard from the official website. Here we are providing some details about the JEE Main Result
The JEE Result 2023 will be released online. Session 1 result is out; however, students have to wait for results for session 2. Click here to check the result.

The result indicates actual scores and ranks secured in the entrance examination.

It is published along with the All India Rank (AIR).

Based on the result, students will get to know if they are eligible to appear in JEE Advanced or not.

All India Rank (AIR) will be considered for admission to IITs, NITs, IIITs, CFTIs, and STIs.

The scorecard will not be sent to the students individually via post or offline mode.
JEE Official Help Desk Details
If a candidate is facing any problem, they can contact the conducting authorities on the details given below:
Address:
National Testing Agency
Block C-20 1A/8 ,Sector- 62
IITK Outreach Centre, Gautam Buddh Nagar
Noida-201309, Uttar Pradesh (India)
Contact No. :  0120 6895200
Conclusion
Every year lakhs of students appear for this prestigious examination to take admission into prestigious institutes like IITs, NITs, etc. It requires plenty of hard work, determination, and consistency to crack this exam with flying colors.
Do not neglect to understand the exam pattern diligently before preparation. This gives a better understanding of the nature of the exam. This article gives in-depth detail about the JEE Main exam 2023. We hope that this information helps you in the best way possible.
Good luck!
People are also reading: