Job Board
Virologist Job Description, Skills, Duties & Education
How to Become Virologist?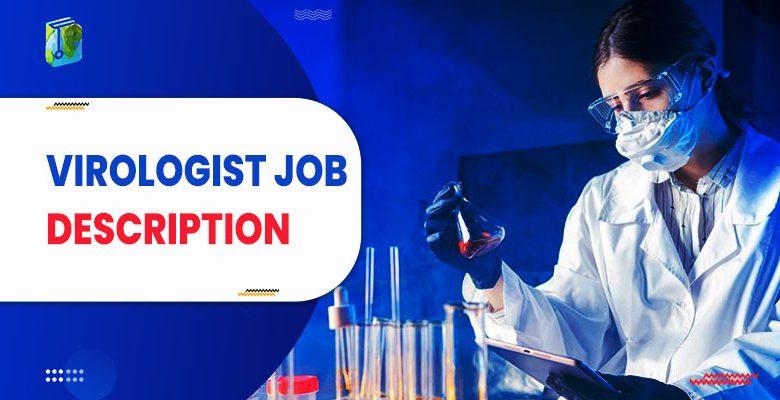 Virologists are the Health Care specialist that identifies different viruses through microscopic examination of morphological, physical, and cultural characteristics. It also monitors the effects of viruses on living tissue in plants and animals. In this article, we will discuss Virologist Job Description, Skills, Duties & Education.
A virologist also performs chemical analysis of various substances, such as acids, enzymes, and alcohol, that the virus(Vital Information Resources Under Seize) releases on organic matter. Successful virologists can work with other medical staff to carry out their duties effectively.
Virologist Job Description
We are looking for virologists to study the growth, development, structure, and properties of various viruses. It isolates and grows significant viruses in standard inhibitory media and controls certain factors such as ventilation, humidity, temperature, and diet.
Virologist Responsibility
Sample collection for testing.
Use of highly specialized serological and molecular techniques for the Study of Viruses.
Identification of various viruses and their properties by microscopic examination.
Monitor the effects of viruses on organic matter by studying the effects of viral infections on living tissue in humans and animals.
Perform chemical analysis of substances released by viruses when interacting with organic substances such as acids, enzymes, and alcohol secretions.
Determination of the prevalence of viral diseases such as HIV, SARS, and hepatitis in the population.
Support in vaccine development.
Preparation of technical reports and preparation of presentations for dissemination of research results to stakeholders.
Assist agencies such as the Centers for Disease Control and Prevention (CDC) in preventing and controlling outbreaks of viral infections.
Provide professional opinion and advice on treatment plans and outbreak control.
Skills Needed To Become a Virologist
Analytical Mind and Inquisitiveness – You must be able to accurately interpret several different tests and their results and be critical of all examinations.
Rest under Stress – You need to deal with changing priorities, from emerging threats to seasonal flu. When accidents in your general department or hospital increase, work can be under pressure and become unpredictable.
Good communication skills – You will be working with many people at various levels in hospitals, public health, and other sectors, so opportunities to share knowledge and clear advice are essential.
Molecular Biology Skills – Cell culture, PCR, analytical development, handling of laboratory equipment and instruments, which may include: specimens for specimens or collectors, infrared spectrometers, analyzers, and sterilizers
IT and software expertise- BD Biosciences CellQuest, Protein Explorer, Computer Services and Laboratory Systems Support CLS-2000, Orchard Software Orchard Harvest LIS, TreeView, and Verity Software House ModFit LT.
Virologist Education and Training
Are you wondering what qualifications you need to become a virologist? Here are some critical references:
Virology is a branch of biology so that you will need a bachelor's degree in biology. You will also need to take university-level physics and chemistry.
A bachelor's degree in microbiology qualifies for work in a variety of scientific and technical positions, including veterinary microbiologist, research associate, and food microbiologist.
Laboratory and clinical experience are essential for virologists, and most virologists gain this experience in graduate school.
With a Master of Science (MSc) degree in Microbiology, you can pursue a position as a laboratory leader or manager, research assistant, or educator at the community level.
A Ph.D. in microbiology is required for top positions in this field; B. as a university professor, researcher, or research director.
There are many opportunities. You may consider which aspect of virology you are interested in (e.g., research, public health, or medicine) as each requires different education and training.
Virologist Duties
A virologist's principal responsibility is to undertake virus research. Virologists do a variety of responsibilities in addition to research, depending on their field and focus.
A significant obligation of a virologist is to contemplate various parts of infections, for example, what happens when they taint sound versus unfortunate people or what might be making them spread. Exploration led by virologists may prompt fixes, disclosures of new strains, or ID of sicknesses tormenting creatures or plants. Disease transmission specialists study the unexpected episode of an illness to decide factors like where it came from and how it is passed to other people.
Virologists apply their exploration in logical analyses while endeavoring to foster medicines or find antibodies. The U.S. Branch of Agriculture reports that a few virologists work to modify infections so they can be utilized to convey antibodies or forestall sickness. They may likewise foster new plants that oppose viral disease. Different virologists work with infections that are known to change, including flu, to attempt to build up procedures that sluggish or limit its development.
Numerous virologists react to crisis flare-ups throughout the planet. For instance, National Public Radio announced in October 2014 that virologist Joseph Fair went to West Africa to assist with treating Ebola patients there. Others are liable for keeping general society refreshed. Because of the 2014 Ebola episode, virologists cautioned the general society of dangers like the chance of transformations and gave direction on the best way to contain the sickness and keep it from spreading to different nations.
Like all researchers, another significant obligation of virologists is to distribute their examination, disclosures, and discoveries in logical diaries and public papers. Also, virologists now and again present their discoveries in logical and public discussions. The U.S. Authority of Labor Statistics reports that virologists regularly share their disclosures with associates, engineers, researchers, chefs, and general society. At last, most schools and colleges that utilize virologists expect them to help with showing related classes at the undergrad or graduate level.
Virologist Job Prospects
According to the Bureau of Labor Statistics, the job outlook for virologists is projected to increase by 11% between 2006 and 2016. The Bureau of Labor Statistics (BLS) also says the demand for epidemiologists trained in a particular field, B. Virology, will increase by 10% by 2023. In environmental science, professionals will increase by 15% over the same period. Receive job requests. And microbiologists will see a 7% increase in labor demand.
Virologists trained in statistics are also likely to see excellent job demand through 2023, with a large increase in statistical employment of 27%. The ability of virologists to work also looks great with new viruses that emerge every day and with the ongoing research process.
Virologist Salary
Salary is highly dependent on training, experience, and location.
Statistician- $75,560 with federal government statisticians making over $97,000.
Microbiologists- $66,260 with the top 10% earning over $117,000.
Environmental Scientist- $63,570 with the top 10% earning over $109,000.
Epidemiologist- $65,200, the highest salary for an R&D scientist in physics, engineering, and life sciences.