Books
10 Best Witchcraft Books You Must Read In 2023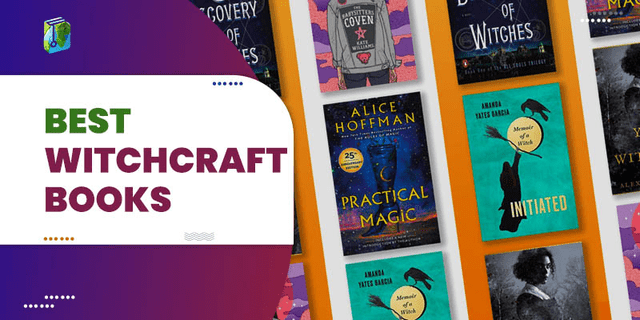 If you are interested in magical and witchy stories, you have landed in the right place. Interestingly, more than 1,000,000 Americans follow some witchcraft or related practices. These practices have a fascinating and long history.
There are several movies and seasons based on this genre. In addition, you will find plenty of books on the market about different forms of witchcraft, such as Paganism and Wicca.
Many writers have curated some appealing witchcraft books. This article will present the 10 best witchcraft books, each with a detailed description. These books will spellbind you regardless of any association with witchcraft or sorcery.
Let's begin!
10 Best Witchcraft Books
The Green Witch: Your Complete Guide to the Natural Magic of Herbs, Flowers, Essential Oils, and More
Wicca: A Guide for the Solitary Practitioner
A Modern Guide to Witchcraft: Your Complete Guide to Witches, Covens, and Spells
Witchery: Embrace the Witch Within
Buckland's Complete Book of Witchcraft
Wicca Book of Spells: A Book of Shadows for Wiccans, Witches, and Other Practitioners of Magic
The Witch's Book of Self-Care: Magical Ways to Pamper, Soothe, and Care for Your Body and Spirit
Drawing Down the Moon: Witches, Druids, Goddess-Worshippers and Other Pagans in America
A Witches Bible: The Complete Witches Handbook
Moon Spells: How to Use the Phases of the Moon to Get What You Want
Highlights
Author: Arin Murphy-Hiscock
Publishing Year: 2017
Publisher: Adams Media
Description
With this book, the readers can unfold the power of natural magic with essential oils and herbs. It is a helpful guide to learning green witchcraft.
The Green witch in this book is an herbalist and a healer. She understands the magical world and the power of nature. Moreover, she attracts energy from the universe and relies on objects like gems and stones to communicate with the land. For healing, she uses various herbs, oils, plants, and flowers and takes guidance from mother nature.
In this beautiful guide, you will grasp various methods of the Green Witch. She teaches different ways to make potions using the essential things for healing. In addition, it is an excellent learning source to build harmony and balance with the earth and yourself. The story focuses on tuning yourself to nature and embracing your power.
In this guide, you can discover the green power of nature and find solace.
Highlights
Author: Scott Cunningham
Publishing Year: 2002
Publisher: Llewellyn Publications, U.S.
Description
It is a remarkable book written by Scott Cunningham. It is one of the forms of witchcraft, and many people practice it. This compilation can help you understand Wicca in-depth.
This guide presents you with the details of:
Wicca
Rituals
Colors
Spells
Definition of elements
It is a handy book that contains valuable information regarding Wicca. The writing is very comfortable and easy to understand. There are plenty of elements related to witchcraft in the book that provide a better understanding of this subject. It is all about how to live life by connecting yourself to spirituality, magic, and nature.
Moreover, this book is not confined to magic but also talks about religion and critical issues of the present day. The writer presents Wicca as a religion dedicated to the Almighty. He propels individuals to be earth-oriented.
Overall, this guide is one of the best books written on Wicca and witchcraft, providing ample knowledge to the readers. To explore more, purchase your copy now!
Highlights
Author: Skye Alexander
Publishing Year: 2014
Publisher: Adams Media
Description
This book is a complete guide that introduces you to the world of witchcraft. It helps you understand your inner power and implement changes to make your life magical. The author's writing style will take you to a magical world full of potions, charms, spells, and much more.
She guides the readers with a step-by-step approach to teaching witchcraft practices. Moreover, it contains details related to directing these spells, focusing on a particular situation.
These practices help to further unfold a million possibilities inside of you. It's an excellent book to know about witchcraft's core beliefs and aspects. The book's pages are like old-time parchment, which makes it more appealing.
If you wish to dig down more about this topic, then this book is a perfect match for you!
Highlights
Author: Juliet Diaz
Publishing Year: 2019
Publisher: Hay House UK
Description
Juliet Diaz has written this marvelous book with much finesse. The author demonstrates the ways to cast off what is not serving you. There are various skills and techniques to learn to develop the Magikal craft. Moreover, various topics will enhance your knowledge, such as:
Multiplying the inner energy.
Understanding the power of manifestation, love, healing, and protection.
Connecting with the ancestors to gain their wisdom.
Creating spells and learning their power.
Grasping the essence of the book of shadows.
Furthermore, this book helps to know your inner self well. It is simply a guide to self-empowerment and puts you on a sacred journey to reach that.
To understand more, buy your copy now.
Highlights
Author: Raymond Buckland
Publishing Year: 2010
Publisher: Llewellyn Publications, U.S.
Description
It is a stunning book and has influenced numerous students and people all across the globe. This is one of the most advised books of modern Wicca.
In addition, the author has presented a comprehensive step-by-step course in witchcraft. There are various illustrations and photographs combined with history. He has also put down instructions for spellwork, healing, herbalism, etc. Readers can also find questions at the end of every lesson to assess their understanding of the chapter.
If you are looking forward to learning witchery in a fun way, this is the book for you! It is an incredible self-study book that beautifully inscribes beauty, wisdom, and magic. Overall, the historical as well as pragmatic approach of the book makes it a fun and entertaining read.
Highlights
Author: Lisa Chamberlain
Publishing Year: 2016
Description
It is an excellent guide for beginners who wish to cast Wiccan spells. With the help of the spells, it is possible to bring positive changes in your life and the lives of people you love. There are plenty of spells; however, the author has chosen the 50 most crucial ones and divided them into three categories, namely:
Health and wellbeing
Friends and family
Wealth and prosperity
Moreover, there is a designated section on spell work with various ingredients such as moon phases, essential oils, and several homemade products. The entire process and instructions are well elaborated. Therefore, it makes a perfect read for novice readers.
The author's focus is to create positive magic and promote self-empowerment in people. She has compiled a total of 20 books on the same subject; Magic and Wicca. The information in the book covers many Wiccan traditions and various perspectives. Hence, it's a great read.
Purchase your copy now!
Highlights
Author: Arin Murphy-Hiscock
Publishing Year: 2018
Publisher: Admas Media
Description
This self-care guide can help you to become more positive and happier. The book explains how it is simple to take care of yourself by keeping three goals:
Healthy body
Healthy mind
Healthy spirit
Moreover, the author explains how and why you should prioritize yourself with the help of magic and witchcraft. There are various methods to pamper your mind and body using spells, mantras, meditation, and embracing the strength within yourself.
The Witch's book of Self Care expresses and teaches how simple it is to connect with personal power and earth. In addition, the book also showcases some self-care remedies such as DIY body butter, green space meditation, a ritual to release guilt, and much more. All these practices are self-empowering and help to ease down quickly.
All these things make your life better. If you wish to read more, purchase this excellent copy now.
Highlights
Author: Margot Adler
Publishing Year: 2006
Publisher: Penguin Books
Description
The author of this book has been to various ritual gatherings and understood nature, myths, and much more. This helped to compile an updated guide with knowledgeable aspects of witchcraft.
Margot focuses on various lifestyles, experiences, traditions, and beliefs of people mainly those belonging to modern America's pagan groups. In addition, there is also a specific mention of the movement in the US that makes it all the more interesting.
This book is considered a classic compilation of Neopaganism. For understanding and exploring more, purchase your copy now!
Highlights
Author: Janet Farrar and Stewart Ferrar
Publishing Year: 1997
Publisher: Robert Hale Ltd.
Description
This book is an incredible collection that contains two books:
Eight Sabbats for Witches
The Witches' Way
It comprises various principles and rituals of modern witchcraft. The book is highly knowledgeable and explains Wicca diligently. It is highly recommended for beginners as this book has well-instructed spells and methods.
Interestingly, the author has written eight books on the subject and has attended numerous workshops and seminars to gain expertise in witchcraft. The book's overall message is to focus on the force that can help you attract an abundant life.
If you wish to pick an easy book and start your journey in witchcraft, then purchase this copy now.
Highlights
Author: Diane Ahlquist
Publishing Year: 2007
Description
The author has compiled this remarkable book containing every detail related to the moon spells. It is an easy way to understand and learn how to use energy to achieve whatever you wish. Diane focuses on aligning your spirits with the moon and benefiting the most from it in a magical way.
The author teaches how to use gemstones, spells, candles, etc., at the exact lunar moments to multiply the power and fulfill your desires.
The book has various spells that can help you achieve a lot in life, such as releasing your fears, beginning a new life, moving on from a loss, or being successful. Moon Spell demonstrates how you can achieve all this by using the correct spells at the proper time.
Therefore, unravel the magic within you and purchase this copy now!
Conclusion
As you know, there are numerous books on witchcraft in the market. Due to the abundant options available, finding a reliable and good book becomes difficult. However, to narrow down your search, we came up with some of the best compilations that exist. All the books are written by renowned authors who have invested a lot of time in understanding witchcraft's true nature and essentials.
Mostly we relate witchcraft in a negative sense; however, there are various positive aspects associated with it. We have entailed the same in these books. There is a lot to learn from these books and understand how we can attain our true and best selves.
Let us know which one of the above-listed books you find the most interesting and helpful. We hope that the information helps you to make an informed decision.
Happy Reading!