Job Board
General Practitioner Job Description, Skills, Requirements, Salary & More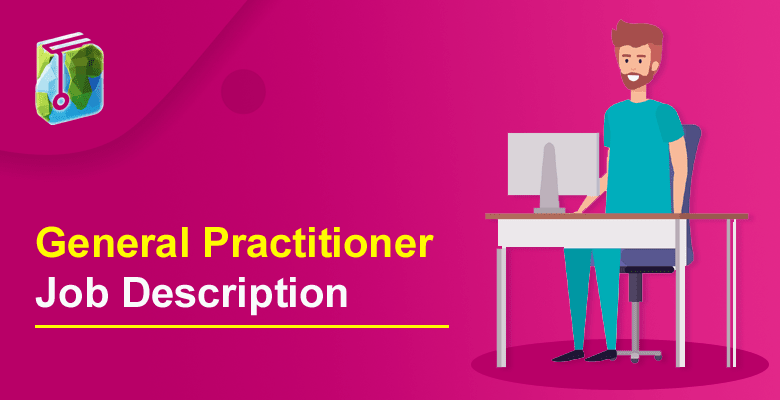 A General Practitioner is a medical doctor who provides treatment for all common medical conditions and can refer patients to hospitals and other medical services for urgent and special treatment. To know more about a these professionals and how they can serve you better, you need to know about the General Practitioner job description. Here in this post, we will be discussing the general practitioner JD.
Explained: General Practitioner Job Description
In a hurry to find a specialist who will treat you, a General Physician plays an important role. A GP will help you figure out the health issues and will suggest the best medical expert.
What do they do?
If you are looking for treatment for a physical or mental health concern, a general practitioner is the best choice for your first point of contact. They provide treatment for everyone, from newborns to older adults. Their main duties include evaluating you with a physical exam and a review of your medical history.
From there, they can order some required additional tests, recommend treatment, or connect you with a specialist. As part of telehealth services around the world, they can dispense a consultation over the phone or by a video call.
Reason to Consult a General Practitioner
The reason behind consulting a general practitioner is very general and natural. They can help you with many scheduled routines and serious conditions. Here are some of the reasons to visit a general practitioner:
One of the important duties is performing routine health checkups. A consultation of a general practitioner may benefit from observing conditions, such as high blood pressure, risk factors for heart disease, risk factors for diabetes, high cholesterol, cancer, sexually transmitted diseases, and more.
A consultation with a general practitioner is also very productive to cope with anxiety, depression, and other mental health issues.
They can be contributory to the early detection of health conditions as well as deterrent medicine.
Screening by these professionals will secure your health and peace of mind.
They are a great measure for keeping updated on all necessary immunizations and preventative care.
Responsibilities Of A General Practitioner
The responsibility of a general practitioner includes:
Responding to patients' health problems by analyzing their medical history and carrying out diagnosis, investigation, and proper treatment.
Discuss and analyze the side effects of the medicines. They will do all the possible interactions of medication with the patients.
Offer other medical services to nurses, technicians, and other medical staff.
Gather the record and keep up with patient information such as medical history, reports, and examination results.
Oversee the skilled medical students who participate in research studies commissioned by the hospital board.
Aid the rotating shifts and working flexible schedules.
What To Expect From A General Practitioner?
A general practitioner appointment generally lasts 10 to 30 minutes. They are expected to:
Evaluate your health
Talk about your medical history and symptoms
Operate diagnostic tests
Enlarge a treatment plan
Advice about your ongoing lifestyle and some changes over it
Give you thorough information about your condition and treatment
Prescribe medication with proper clarification
Suggest you to a specialist or arrange a follow-up appointment
General Practitioner Requirements/ Qualification
Qualification as a GP is a long process. First, you need to complete your five-year medical degree certified and approved by the General Medical Council. To clear a medical degree, you need a minimum of three A grades in chemistry, biology, physics, or maths. You also need to secure at least five GCSEs in grades 9 to 7 (A* or A). Moreover, you may also need to give an aptitude test, such as the Biomedical Aptitude Test (BMAT) or the University Clinical Aptitude Test (UCAT).
The medical degree is followed by a compulsory hospital and general practice-based vocational training in the two-year foundation program. After completing the specialty training for general practice which takes a minimum of three years, you need to appear for exams to get entry into the Royal College of General Practitioners.
The graduates from non-medical backgrounds can be a GP by following the same route. But it can take the shorter, more concentrated graduate medical degree. Most universities ask for graduates to possess at least a 2.1 degree mostly in a scientific subject. However, a graduate who does not secure these criteria may still be able to apply after taking access to a medicine course. They must also secure good academic references. They have to be highly motivated, and they should be owners of appropriate personal characteristics such as perseverance and energy.
General Skills Of A General Practitioner
Here the generalized skill requirements are given precisely which is applicable for both categories:
Certain years of experience working as a Medical Practitioner
Magnificent patient management skills
Potential to make decisions in high-pressure situations
Honesty and a strong professional code of ethics
The accomplishment of residency and state licensure
Outstanding verbal and written communication in certain language
An MBBS qualification or any equivalent of this, such as non-medical graduates
This has to be clear that It is only possible to qualify as a GP with a medical degree, any equivalent fulfilling all requirements with further training.
Other Key skills
The other subsequent key skills to recruit in this general practitioner profile is to have
Potential to work long hours, often under pressure and during medical emergencies.
Establish communication skills, including sensitivity and the ability to provide clear explanations with analysis
Empathy to the patients
Capability to point out and figure out the problems involving effective decision-making skills
Desire and interest to continue learning throughout the career
Magnificent business management skills
Ability to work with responsibility
Organizational capability
Salary
The starting salary for a general practitioner starts at $85,000 a year. However, the best paid can earn around $225,000 a year also. Although these salaries are lower than specialists, the benefits depend on the employer but are usually worth at least $20,000 a year. Moreover, those who are self-employed will benefit from tax advantages as well.
Importance of a General Practitioner
There is a particular need for after-hours medical care services that help keep people out of emergency rooms when they are not required to be there. However, general practitioner service should not be treated as a replacement for any specialist. Many patients still don't realize the importance and the real benefits of having a regular doctor whom they visit over several years, and sometimes even for a lifetime.
Here are just some of the important reasons why it is so important to have your own GP:
A doctor who is known to you
By visiting a regular GP, it means they can get to know you. When a regular doctor treats you and your family, they are very well aware of your medical history, which becomes very beneficial.
A doctor who is an expert in general health care
A regular General Practitioner is well placed to help you with the many physical and mental symptoms that can turn up throughout your life.
Expert and useful advice on preventative health
Your general practitioner is a key resource in providing advice for preventive actions that makes sure you live a healthy lifestyle – not just there to cure coughs and colds.
Coordinated and communicative care
A General Practitioner is the salient person who is responsible for coordinating and observing you to health care. In case of your condition requires any collaboration of other health professionals. This could be a suggestion to a medical specialist or allied health professionals such as a psychologist or podiatrist.
Managing and operating chronic conditions
A General Practitioner has the opulence of knowledge to manage chronic medical conditions by operating it effectively. They are also able to manage a Health Care Management Plan for many chronic conditions.
Conclusion
Initially, the role of a General Practitioner was once done by any doctor with qualifications from a medical school and who works in the community. However, from the 1950s, general practice has become a special job profile in its own right, with specific training requirements customized to each country. The 1978 Alma Ata Declaration put down the intellectual foundation of primary care and general practice. I hope this article will help you know about a general practitioner job description and how they play an important role in our society.
People are also reading: