Job Board
YouTuber Job Description, Skills, Requirements, Salary & More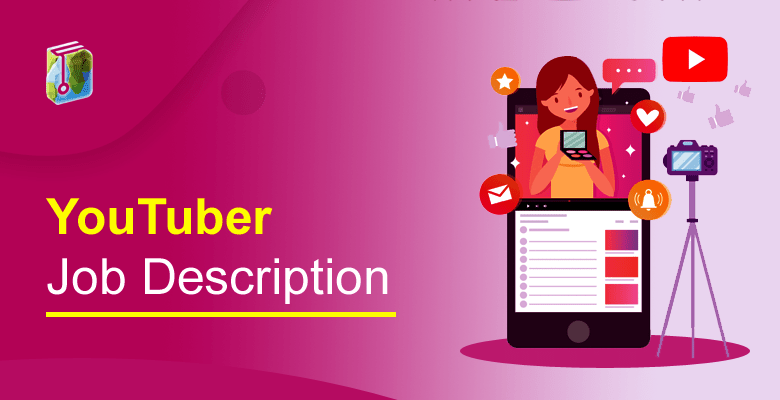 If you are highly creative, a profession in entertainment might be just the thing for you. If you're an aspiring YouTuber, count yourself lucky!
A YouTuber is a digital content creator who films, edits, and uploads videos to the video streaming platform YouTube. They usually function independently but can also be affiliated with more extensive networks and companies. These online influencers stream various video content like periodical vlogs, sarcastic skits, educational videos, talent-oriented posts, gaming, and more.
YouTube: As A Career
With the instant stardom potential, becoming a creator on YouTube has found its place as a desired and lucrative career. Even though working to satisfy the algorithm enhances viewership, anything and everything can get viral on the platform, owing to the vast interest of the huge viewership.
Many don't consider digital creation a credible occupation even when it has proved to be one of the greatest career boosters that doesn't require much investment. The platform has facilitated the recognition of young individuals without much capital, to begin with.
YouTuber Job Description
This platform offers everything, from DIY and music videos to food recipes, travel vlogs, and beauty vlogs. For the millennials and zoomers, influential YouTubers are the big-time celebrities.
The main job of a YouTuber is to create viewer-friendly and easy-to-access content for the target audience. You need to record, refine footage, edit the videos and increase your channel's viewers and subscribers. Moreover, to succeed you need to add authentic and transparent information.
Skills Required To Become An Expert YouTuber
Many companies hire camera crews, scriptwriters, videographers, editors, and managing teams for video production. It is recommended to do so for commercial and professional content creation.
On the other hand, YouTubers work with limited resources to showcase their talents and follow their passion. Under such circumstances, hiring a video production crew is nearly impossible. So, you need to learn and specialize in a number of skills themselves to begin a channel in the first place. Here are some of the basic skills you need to become an expert and professional YouTuber.
Enthusiasm and motivation: The budding YouTubers should be enthusiastic and energetic. A driven and motivated persona will surely keep the viewers engaged. As a YouTuber, you need to keep your audience happy and entertained, which helps keep the audience hooked up.
Good delivery skills: Keeping your audience hooked throughout and interacting with them is a must. They need to have good intonation and phrasing with a versatile voice to intimate their message.
Exceptional communication: On and off-screen, good communication is important for any profession. To help potential investors and the audience understand the essence of their channel and the motive of their videos, they need to use ingenious and authentic means.
Efficient time management skills: They need to plan and execute a prioritized schedule to avoid any mishaps with the all-inclusive job. Similar to other industries, entertainment also requires strict adherence to time and timely video uploads.
Determined work ethic: Any independent professional needs to have a focused work ethic. With the endless list of responsibilities, they need to be determined and driven to accomplish their goals.
Editing and filming skills: A YouTube video doesn't require a completely commercial setup and equipment for filming. But, uploading a good-quality, well-edited and clear video helps in maintaining one's viewership.
Cinematography: A good quality video also means it needs to be shot properly. Be it a signature angle or constant movement, YouTubers need to ensure that their visuals are not distorted, fazed, or boring. The videos need to have a proper flow and appealing shot.
Regular, eye-catching content: They need to produce regular, enticing content with new and unique ideas. Even if one's jumping on the bandwagon of trends, adding a personal touch to their videos helps create a brand with the audience.
Captivating scripts: Be it dialogues for a comedy video or information for educational videos, they need to be well written. They should be efficient and easy to understand for all the viewers.
Trends: The algorithm surely enunciates videos apt for the current situation by setting trends or adding twists to an existing one. As more and more people find the same concept interesting, they need to find a way to satisfy their viewers.
Genuine and responsible content: As a YouTuber, you need to maintain authenticity over the platform. Lying and pretending to be someone they aren't is not only a liability but can also be an offense. Their videos should also be appropriately tailored for their target audience.
Multi-tasking: With time constraints, YouTubers need to manage various aspects like editing videos, and voice-overs, optimizing their videos for the channel and marketing them on different social media platforms. Efficient multitasking is important to stay one step ahead.
Optimization: Once they get a considerable number of viewers and sponsors, YouTubers need to update and improve their overall performance and delivery constantly. It's about satisfying their fans while maintaining sponsors, not the other way around.
Basic Requirements Of A Professional YouTuber
Education qualification: Standard education isn't a necessity for content creation. But, established language training and digital editing will surely help in developing one's career.
Demonstrable experience: Exhibiting professional and confident behavior is essential as people prefer to see well-executed vlogs over amateur, distorted ones.
Marketing and troubleshooting: They need to creatively develop newer, subtle, and well-strategized marketing strategies and deal innovatively with any hurdles or problems that may arise.
Successful approach: People appreciate transparent and unfiltered communication rather than a tailored conversation.
Understanding social media: Much like every other influencer, a YouTuber needs to know the nooks and crannies of the platform, its users, and the algorithm to efficiently make the best use of it.
Social-media presence: With the microcelebrity status of influential creators, they must have a prominent, up-to-date online profile. As a YouTuber, you need to be careful about the posts and updates, keeping in mind the large audience.
Consistent work and engagement: Like every other profession, persistent production helps increase and maintain viewer engagement. Interacting with viewers regularly and ensuring that the content they desire is equally important.
Unique perspective: Having a different outlook from the general trend also intrigues the audience.
Specific Requirements Of A YouTube Professional
Quality equipment: As a YouTuber, your first investment when trying to make money from YouTube should be getting equipment that will help you increase your channel's overall quality. Getting high-definition cameras and noise-canceling microphones helps create professional videos.
Knowing about the YouTube algorithm: You need to understand how the platform functions to determine how to make a profitable career as a YouTuber. Learning about the algorithm and adapting it to your videos helps boost your page's promotion and sponsorships.
Advertising: Budding YouTubers need to familiarize themselves with the way advertising works. A lot of actions repel such perks and can reduce the profit margins of the channel. Advertiser-supported content must be all-inclusive and kid-friendly.
Organization: Having a proper theme for the channel and sorting various videos into playlists helps viewers access their content easily. Using tags with relevant and optimizing key terms in the title also adds to the algorithm.
Build a respectful bond with subscribers: They need to form a healthy relationship with their viewers and open them up to a few relatable facts here and there. This captivates viewers as they welcome creators into their personal life.
Irresistible content: One needs to make sure that their videos are click-worthy. Every minute spent by a viewer on the video should be made worthwhile.
YouTuber Job Description: Duties and Responsibilities
The main aim of YouTubers is to create content that is not insensitive and harmful to the viewers. They need to adhere to the YouTube community guidelines strictly. As a profession, ad sense and affiliations are the main sources of income. So they have to focus on creating family-friendly videos that companies and affiliations favor.
On-screen 
YouTubers need to be mindful about what they put out for the world to watch. They should be well thought out and worthy.
Affiliations should be thought through and not be done for the sake of the attractive offers provided by companies.
They need to be subtle yet persuasive. The YouTube channel memberships and merchandise sales are profitable for them and also valuable to the viewers, making them perfect marketing opportunities.
A vital part of subscriber interaction should be done through the comment section under videos. Respectful yet fun responses in a timely manner help YouTubers increase their viewership.
The voiceover for videos and editing has to synchronize perfectly.
They need to collaborate with people that create similar content or find a way to bring together other famous YouTubers with innovative video ideas. Cross viewership enhances and promotes their channel and adds fresh content.
Off-Screen
Editing should be refined and done distinctively. This helps one establish their brand and build around it.
They need to build strong social media profiles across various apps like Instagram, Snapchat, Twitter, etc. and maintain their aesthetic throughout. Posting some fun and carefree posts here helps in engagement.
They need to promote their upcoming and recently uploaded videos across their social media accounts. Informing subscribers about their upload schedule or probable days ensures maximum audience in the early hours.
Be it creative or informative, any video put up should be well researched and accurate. The content shouldn't be made up as this affects credibility.
A content creator needs to ensure that they don't offend any individual, group, or community. The products or organizations they endorse should be trustworthy, reliable, and legitimate. Any scam or harmful service promoted without proper research can affect a large group.
Public Interaction
Interacting and spending time with viewers and subscribers is as important as creating and posting videos. In general, public celebrity appearances tether up a lot of publicity. With the huge fandoms of many YouTubers, they need to make sure that the audience feels connected to them through engagement and socialization.
Regular live Q and A sessions, Instagram lives, comment responses, fan page likes, and other such social media activity helps build a rapport with the audience. Attending YouTube community events like the Streamy Awards and participating in a meet and greets at VidCon alongside other successful YouTubers are inevitable.
Commercially, selling customized merchandise, organizing calls, and holding panels for viewer satisfaction certainly expands one's reputation many folds.
Why is Entertainment Big?
YouTube is a well-known form of entertainment that offers huge profits for all content creators. One can make good money with hardly any investment. People amidst busy schedules want to wind down and relax. A popular way to do that today is by watching their favorite movies, shows, or digital creators. The industry's back end is filled with big-shot studies and investors that understand how entertainment is lucrative and can be profitably managed.
It's more about business if looked into properly.
How has YouTube influenced the status quo?
A seemingly free streaming service like YouTube has completely changed the popular culture today. Aspiring artists needed influence, agencies, and money to get into the industry, and even then, their probability of securing good deals was quite low.
With the complete flexibility on time and type of content posted, the platform attracted millions for a quick refreshment or hours of binge-watching. New YouTubers with budding creativity managed to attract users with a plethora of videos.
Conclusion
YouTube has grown into a platform where people go for tailor-made content and as a YouTuber, you can earn a good amount of money and build your career with very less or zero investment. Thanks to the relay of sponsors, investors, and advertisers, YouTube helps bring out the talents of many and also provides free and high-quality entertainment.
If you love spontaneous and creative work with no authoritative restrictions, YouTube might be the right answer for you. With little to no investment, one can build an empire and influence millions.
To be a YouTuber, a good camera, be it your phone or a professional model, access to the internet, a YouTube account, and a charming personality is all you'll need!
We hope that the information helps you in the best way!
People are also reading