Job Board
Content Creator Job Description: Skills, Salary & More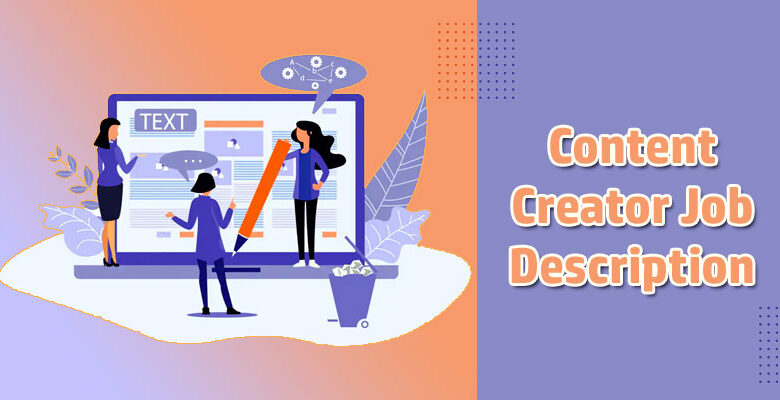 To become an expert content writer, you must focus on attracting consumer interest. In the end, extraordinary content creators will promote collaboration between internal stakeholders to ensure consistency in a company's output. Here we will be discussing the Content Creator Job Description in detail. 
The writers produce entertaining, informative, and engaging content and are responsible for information contributions to any media. They create content for digital media and offline sources that serves the interests of the target audience.
Various tasks of a content creator include writing articles for company web pages, e-books, videos, and social media posts. To be successful in this field, a person must be familiar with publishing content online, generating traffic and leads for your business.
To become a content writer, an individual need to have the ability to integrate their employer/client content guide with creativity. Having a voice and a unique personality is an important and distinguished asset.
Content Creator Job Description
The main aim of a content creator is to create new and informative articles for the target audience. Not only do they have to create, but they should also regularly update the content and find new ways to reach consumers. They must also contribute to the formation of different style guidelines.
Content Creator Job Description: Job Roles And Responsibilities
To become a content writer, you need to know the responsibilities. Here are some guidelines that you must follow in this field:
Write, review, edit, and update content for corporate websites, blogs, marketing materials, and similar platforms.

Do extensive research and watch interviews to learn more about trends, developments, and current perceptions about the content writing industry.

Help creative team with promotional material design.

Use social media to involve consumers, respond to questions or complaints, and promote company initiatives.

Collaborate with internal departments to build campaign goals, complete tasks, and identify and solve problems.

Monitor social media and company website metrics.

Utilizing the SEO method to increase site traffic.

Suggestions for novel ways to promote firm offerings and reach out to customers are welcome.
Content Creator Job Description: Skills and Experience
A Bachelor's or Master's degree in English, Media Studies, Communication Studies, Journalism, PR, or equivalent specialization.

Working knowledge of Microsoft Office and design software (e.g., Illustrator, Photoshop, Indesign, etc.)

Experience with the Content Management System (e.g., WordPress)

Good knowledge and understanding of SEO, including a detailed understanding of key phrase research and its application for SEO and a clear understanding of how Google's algorithms assess pages.
Working knowledge about Google Analytics, WordPress, and Google Webmaster Tools

Proven to be successful in working with third parties and internal stakeholders to produce a leading creative campaign in the industry

The ability to check long content cut.

Exceptional time management and organizational skills.

Sharp eyes for detail.

Analytical thoughts with troubleshooting attitudes.

Experience proofreading and advanced editing.

Creative thinkers with good content generation skills.

The ability to type quickly and accurately.

With the ability to interpret information, news, data, and research quickly, analytics filter the most important/relevant information to inform new and innovative new content.

Extensive blogging experience.

Excellent work knowledge of major social media channels like Facebook and Twitter.

Proactive and very organized, with time management and planning skills.
Content Creator Duties
The role of a content creator can take various forms, which makes it attractive for candidates. For many content creators, writing is one of the main parts of their daily tasks. Creating high-quality content-based pieces, such as genuine advertisements, bulletins, blog posts, and website materials, is expected at many job levels, whether you plan to work for different companies or are interested in loose. 

Some content creators focus on webinars and brochures, while others work on website copy and blog posts. When you progress in your career as a content specialist, you can switch to a more executive role. 

The Executive Role can involve the management of free writers in creating content, developing content ideas, or even branching into some content areas such as video, visual media, interactive, and more. 

In the end, content creators are the force behind creating high-quality content that focuses on companies to use it to connect with existing and potential customers, using a new perspective on traditional marketing methods.
How to Get Started? 
Here are some tips:
If you hope to learn more about becoming a content creator, take the time to browse examples of content on corporate blogs, websites, social media, and more. These examples can give you an idea of the work you can do and even inspire you to take the next step in your career goals.

Talk to a content creator to get an idea of ​​their daily tasks and ask for guidance from someone new in the field.

Attend high-quality education programs, such as being in an air school, to give yourself an advantage over other candidates. 
Content Creator Working Conditions
The working conditions for the most frequently content-based content creator requires access to computers to complete everyday tasks. Some content creators may be self-employed, working from home offices or local professional cooperatives. However, for most content specialists, their work is finished as part of a larger team.

Most creators work together with other roles such as search engine optimization specialists, graphic designers, marketing specialists, and sales representatives, the work environment is usually very collaborative.

Companies of all sizes offer the role of content creators, such as marketing companies and technology-based companies. Because quality content is a broad need that crosses into various industries, you will find employers of all types.
Content Creator Career Outlook
The field of content specialists has shown growth, especially because more companies turn towards the content-based approach to marketing. The prospect of work is excellent, especially for quilters who qualify. 
It is possible that demand will continue to grow as social media and online search become increasingly popular. 
Anyone can have a sound career as a content creator. It has endless opportunities and challenges. With the increasing use of the internet, the demand for content writers with in-depth skills has increased exponentially. This career is very competitive, but people with skills and exact experiences have made a lot of money from their profession.
As the internet is the main media that presents information, almost every company or organization has linked itself to the content creator. This has become a leading and leading step for marketing and advertising. 
In terms of growth and competition, the content creator can be seen as a career with a small crowd but great durability for countless creators to work and produce a lot of money.
Content Creator Salary
The demand for content is growing with the increasing understanding of content-based marketing, the possibility for creator content salaries has also been strengthened. Like a lot of work, the average salary can vary depending on your location because many entrepreneurs consider living expenses.

Varies from $ 0.02 – $ 2.00 per word for written content and $ 10 / hour – $ 200 / hour for various types of content ranging from videos to white paper and graphic design.

Keep in mind that as a content creator, the possibility of your salary will increase dramatically with the right training, education, and experience. Taking a proactive role in your career by looking for special training and education will make you a stronger candidate and help increase your potential salary with many employers.
Conclusion
It is the work of a content creator to connect with other people with words, images, videos, and audio. You can be as creative and bear financially as you want, as long as you make a little effort. To become a successful content creator, you must always think, create, and develop content for the digital platforms.
This article presented detailed information about the roles and responsibilities of a content writer along with other details. We hope that you benefit from this article.
Good luck!
People are also reading: