Full Form
IBPS Full Form: What is the Full Form of IBPS?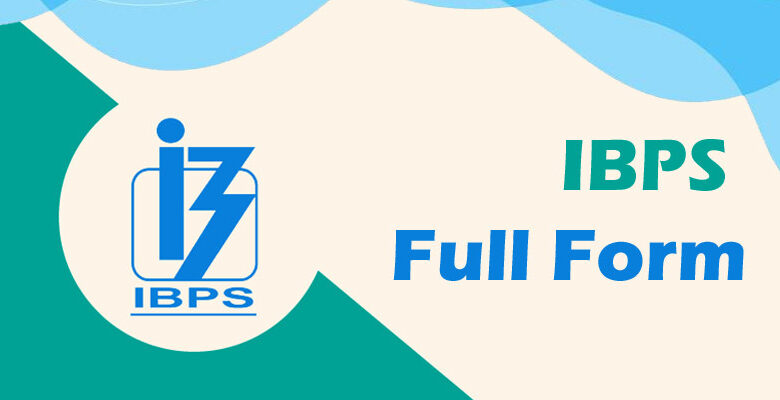 The full form of IBPS is referred to as Institute of Banking Personnel Selection.
What is IBPS?

The Institute of Banking Personnel Selection, commonly known as the IBPS is a premier, autonomous organization that is responsible to conduct recruitment exams, selection, assessment, and management of Human Resources for various client organizations from the banking sector in India. IBPS has expertise in developing and constructing online tests and tools, and recruiting lakhs of candidates all over India.
History of IBPS
In 1969, National Institute of Bank Management (NIBM) was set up as an apex level institute for research and training for all public sector banks.
IBPS was constituted in 1984 from the original examining body under the National Institute of Bank Management.
It constituted a small unit – Personnel Selection Service (PSS) to handle the personnel department of the banks.
In 1984, PSS was converted into IBPS under the directorship of Dr. A.S. Deshpande.
In 2011, it started conducting Common Written Examination (CWE) to recruit candidates in public sector banks.
Vision
IBPS envisions designing and developing tests and tools, and conducting recruitment exams for lakhs of candidates from all over India for the banking sector. IBPS also functions to assess and publish the results of the exams as well as render services such as recruitment, selection, and placement of personnel to its client organizations.
IBPS is managed by a governing board that includes nominees from different government bodies and banks such as the RBI, Ministry of Finance, IIT Mumbai, NIBM, and IBA. Its director acts as its Chief Executive Officer and performs his duties in coordination with the Divisional Heads. Shri Rajkiran Rai G. is the current Chairman and Managing Director of IBPS.
The various competitive examinations conducted by IBPS for filling different positions in the public sector banks are:
IBPS Clerk Exam for Clerical positions
IBPS PO Exam for Probationary Officers
IBPS SO Exam for Specialist Officers
IBPS RRB Exam for Officers and Office Assistants in Regional Rural Banks
IBPS also offers a Ph.D. program in Management (HR) under the guidance of its faculty members.
Eligibility Criteria of Candidates
Different posts demand different educational qualifications for appearing in the exams. For example, IBPS CWE PO exam mandates a candidate to hold a Bachelor's Degree in any discipline from a recognized university to be eligible to apply for the recruitment drive.
IBPS SO exam requires a candidate to hold a graduation or post-graduation degree in the discipline required by the particular posts.
Clientele
Following are the list of the client base of the Institute of Banking Personnel Selection (IBPS),
Public Sector Banks
Private Banks
Regional Rural Banks
Central and other Financial Institutions
Co-operative Banks
Insurance Companies
State-owned Companies
Public Sector Undertaking companies
List of Participating Banks
Almost every bank accepts IBPS scores. Some of them are:
Allahabad Bank
Union Bank of India
UCO Bank
Punjab National Bank
Bank of Baroda
Central Bank of India
Dena Bank
Oriental Bank of Commerce
State Bank Of India
Bank of India
Indian Overseas Bank.
Conclusion
So, if you are aspiring for a career in the banking sector, you know which competitive exam you have to write. The exams conducted by IBPS provide a gateway to a great banking career and a chance to enter public service.