Full Form
IEEE Full Form | What is the Full Form of IEEE?
IEEE - Institute of Electrical and Electronics Engineers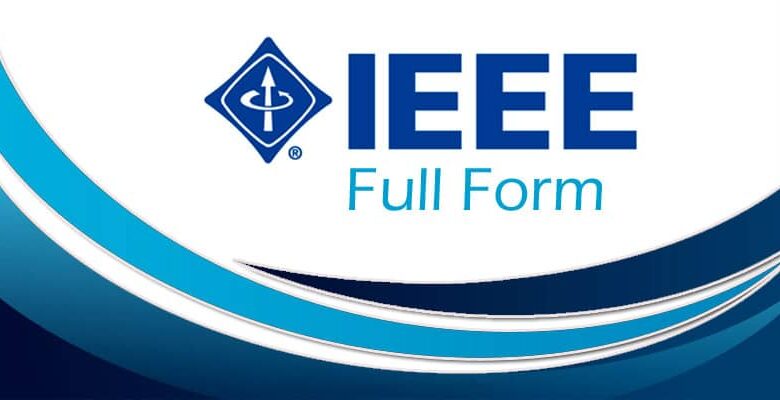 IEEE stands for the Institute of Electrical and Electronics Engineers. It is the world's largest technical professional organization, and it is working hard to achieve its mission of fostering technological innovation and excellence for the benefit of humanity.
IEEE Full-Form | Institute of Electrical and Electronics Engineers
IEEE aspires to play a critical role in the development of a global technical community and the improvement of global conditions through the contributions of technology and technical professionals.
IEEE's current President and CEO is K.J. Ray Liu.
This article highlights the full form of IEEE, its history, benefits, future initiatives as well as a summary of it.
IEEE History
In 1884, a small group of electrical professionals in New York, USA, founded the American Institute of Electrical Engineers, or AIEE, to support professionals in their fledgling field and to apply innovation for the betterment of humanity.
The evolution of the radio industry resulted in the formation of a new society in 1912, the Institute of Radio Engineers (IRE), whose members were professionally linked through publications, standards, conferences, and meetings to exchange information and ideas.
The AIEE and the IRE merged on January 1, 1963, to form the Institute of Electrical and Electronics Engineers or IEEE.
IEEE Societies evolved from the predecessor institutions' professional groups and technical boards. IEEE introduced its members and their interests with 39 Societies; 130 journals, transactions, and magazines; more than 300 conferences annually; and 900 active standards by the early twenty-first century.

IEEE Membership
Membership in IEEE is open to competent individuals in the designated fields of IEEE, such as engineering, computer science, physical science, biological and medical sciences, mathematics, technical communications, education, management, law, and policy.
The membership fee varies depending on the region of the applicant and the society chosen.
Benefits to members
Network with other technology professionals
Establish a professional profile highlighting your accomplishments
Create a group to share and collaborate on projects and discussions on various technical interests
Access to new resources, valuable opportunities, and many discounts will help advance a career in the right direction.
Role of IEEE-
The IEEE is very involved in the publication of technical works, the sponsorship of conferences and seminars, accreditation, and the development of standards.
Technical, safety, regulatory, societal, and market needs are established based on guiding principles of openness, balance, consensus, and due process and serve as catalysts for technological innovation and global market competition.
At the moment, there are 1250 developed standards and more than 700 standards under development.
Some of them are-
1622 standard: Electronic Distribution of BLNK ballots FOR Voting Systems
1680 standard: Environmental assessment
2600 standards: Hardcopy Device and System Security
N42 Standards: radiation Detection Standards
C95 Standards: Safety Levels for Human Exposure to Radio Frequency Electromagnetic Fields
IEEE 802: local, metropolitan, and other area networks, including Ethernet and Wireless LAN
Future initiatives
Blockchain: This initiative is dedicated to generating a new perspective on human interaction and social challenges, be it a financial transaction, energy trading, carbon emission trading, protection of health and healthcare records, or protection of the valuable assets of corporations and nation-states.
Brain: This initiative is dedicated to advancing technologies that improve the understanding of brain functions, developing new approaches for augmenting human-machine interaction, and mitigating the effects of neurological disease and injury.
Digital Reality: This initiative is dedicated to fueling digital transformation through advances in sensors and actuators, artificial intelligence, augmented reality, virtual reality, and digital twins.
Rebooting Computer:

IEEE aims to rethink all aspects of a computer, from device to user interface, taking evolutionary and revolutionary approaches.
Quantum: This initiative is currently developing a project plan to address the current aspects of quantum technologies, including challenges and opportunities by engaging the quantum community at large.
Conclusion
IEEE is dedicated to the advancement of technology for the benefit of humanity. IEEE humanitarian and philanthropic opportunities bring together a wide range of IEEE programs that aim to do social good to support this effort. There are numerous opportunities to make a large or small contribution to improving the human condition around the world through IEEE's diverse humanitarian and philanthropic programs. You can get involved at any stage of IEEE involvement by donating your time, talent, and treasure. Together, the IEEE network's strength and reach can be used to make a difference around the world.