IES
IES/ESE Prelims 2023 Syllabus: Download the Syllabus in PDF Format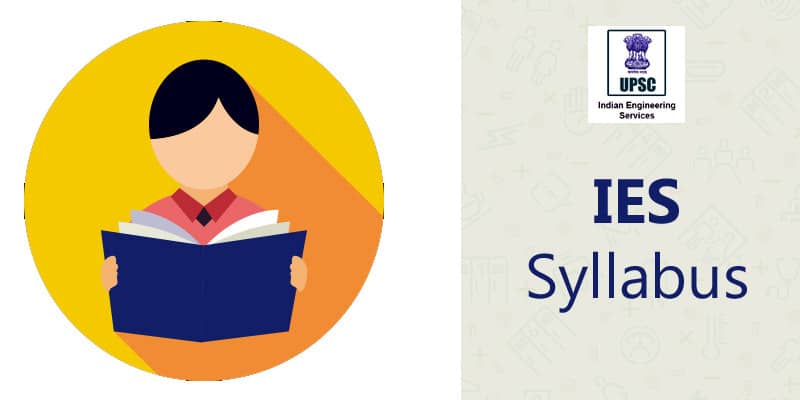 UPSC has announced the dates for IES/ESE 2023 Prelims. The IES/ESE Prelims 2023 exam will be conducted on Soon. The IES/ESE Prelims Syllabus 2023 has been released along with the official notification by UPSC. The IES/ESE 2023 examination is conducted in three phases i.e. Preliminary, Mains, and Personal Interview. The IES/ESE 2023 Preliminary stage exam syllabus includes Current Affairs and General Aptitude. To qualify for the Mains examination, candidates need to qualify in the IES Prelims Examination. In this article, you will get complete information regarding the IES Syllabus 2023.
IES Syllabus 2023
The Mains syllabus is comprised of specialized subjects which are decided by the candidates. The syllabus of the IES Examination is divided as per the three stages of the examination, which are:
Prelims stage
Mains stage, and
Personal Interview stage
IES 2023 Syllabus for Prelims Examination
The IES/ESE Preliminary Examination will consist of two objective type (multiple choices) questions papers and carrying a maximum of 500 marks (Paper 1 – 200 Marks & Paper II – 300 Marks).
General Aptitude 
The General Aptitude section is covered by the national and international general awareness, economic, social and industrial development.
Engineering Aptitude 
Logical Reasoning and Analytical Ability, Engineering Mathematics, Numerical Analysis, General Principles of Drawing, Design, and Importance of Safety, Basics of Project Management, Basics of Material Science and Engineering, Basics of Energy and Environment: Conservation, environmental pollution, and degradation, Climate Change, Environmental impact assessment, Information and Communication Technologies (ICT) based tools and their applications in Engineering such as networking, e-governance, and technology-based education, Information-based technology and tools (Networking, E-governance, Technology-Based).
IES 2023 Syllabus for Mains Examination
As this is the gateway towards selection in IES Examination, in India's second toughest examination. IES Mains syllabus is very important and you need to know it very clearly and understand. There is no prescribed syllabus for IES Examination.
Here we have described IES Mains Syllabus via various available engineering specialisation.
IES Syllabus for Mechanical Engineering (ME)
For Paper 1
Manufacturing
Orthogonal Cutting, Tool Life Equation Problems, Casting Types and Design, Resistance Welding, Problems in Welding
Heat Transfer
Numbers in convection like Pr No, Gr No, Re No, etc, Problems on conduction, Critical thickness, Shape factor in radiation, The problem in Heat exchangers like NTU
Thermal Science
1st and 2nd Law Problems, Steam Turbines, Laws of TD and Properties, Problems of Diesel, Otto, Duel Cycle, Detonation and, Knocking, Turbo Machinery
Fluid Mechanics
Velocity Potential, Flow through Pipes, Boundary Layer Theory, Buoyancy, Surface Tension, Capillary, Applications of Bernoulli equation, Centrifugal pumps, Specific speeds of turbine and pumps
Theory of Machines and Vibration
Planetary gear train, Gears LOC, POC, Shafts Problems, Governors & Fly Wheel, Linkages, Pairs & its applications, Inversions of single & double slider crank
Renewable Sources of Energy
Solar Radiation, Solar Thermal Energy collection – Flat Plate and focusing collectors their materials and performance, Solar, Thermal Energy Storage, Applications – heating, cooling and Power Generation, Solar Photovoltaic Conversion, Harnessing of Wind Energy, Bio-mass and Tidal Energy – Methods and Applications, Working principles of Fuel Cells
For Paper 2
Engineering Mechanics
Mechanisms and Machines, Manufacturing, Industrial and Maintenance Engineering
Engineering Materials
Design of Machine Elements, Mechatronics and Robotics
| Book | Author Name | Buy Link |
| --- | --- | --- |
| Engineering Thermodynamics | P.K. Nag, Edition: 5 | Click Here |
| Introduction to Fluid Mechanics & Fluid Machines | S K Som, Gautam Biswas, S Chakraborty, Edition: 3 | Click Here |
| Fundamentals of Engineering Heat and Mass Transfer | R.C. Sachdeva, Edition: 4 | Click Here |
| Theory of Machines | S S Rattan, Edition: 4 | Click Here |
| Engineering Mechanics | S. Timoshenko, D.H. Young, J.V. Rao, Sukumar Pati, Edition: 5 | Click Here |
IES Syllabus for Civil Engineering 
For Paper 1 (CE)
Structural Engineering: Solid Mechanics, Steel Structures, Structural Analysis
Geotechnical Engineering: Soil Mechanics, Foundation Engineering
Water Resources Engineering: Hydrology, Fluid Mechanics, Hydraulics, Irrigation
Environmental Engineering: Water and wastewater disposal, Air Pollution, Noise Pollution, Municipal Solid Waste
Transportation Engineering: Transportation Infrastructure, Highway Pavements, Traffic Engineering
Geomatics Engineering: Surveying, Basics of Geographical Information System (GIS), Geographical Positioning System (GPS)
For Paper 2 (CE)
The flow of Fluids, Hydraulic Machines and Hydro Power, Fluid Mechanics, Open Channel Flow, Pipe Flow, Hydraulic Machines and Hydropower, Hydrology and Water Resources Engineering, Environmental Engineering, Water Supply Engineering, Waste Water Engineering
| Book | Author | Buy Link |
| --- | --- | --- |
| Basic Structural Analysis | C.S.Reddy, Edition: 3rd | Click Here |
| R.C.C. Designs | B.C.Punia, Ashok Kumar Jain, Arun Jain Edition: 3rd | Click Here |
| Design Of Steel Structures | S.K Duggal Edition: 3rd | Click Here |
| Surveying (vol. 1,2,3) | B.C.Punia, Askok Jain, Arun Jain | Click Here |
| Engineering Hydrology | K Subramanya, Edition: 4th | Click Here |
IES Syllabus for Electrical Engineering
For Paper 1 (EE)
Electric Circuits
Network graph, KCL, KVL, Node, and Mesh analysis, Sinusoidal steady-state analysis, Thevenin's theorem, Norton's theorem, Three phase circuits
Electromagnetic Fields
Electric Field Intensity, Electric Flux Density, Gauss's Law, Electric field & potential due to the point, line, plane & spherical charge distributions, Biot-Savart's law, Ampere's law, Self and Mutual inductance of simple configurations
Signals and Systems
Representation of continuous and discrete-time signals., Linear Time-Invariant and Causal systems, Sampling theorem, Applications of Fourier Transform, Laplace Transform, and z-Transform
Electrical Machines
Single phase transformer,, Three phase transformers,, Auto-transformer, DC machines, Three phase induction motors, Operating principle of single phase induction motors, Synchronous machines,Types of losses and efficiency calculations of electric machines.
Power Systems
Power generation concepts, Electric field distribution and insulators, Gauss-Seidel and Newton-Raphson load flow methods
Voltage and Frequency control, Power factor correction, Symmetrical components, Symmetrical and unsymmetrical fault analysis, Circuit breakers, System stability concepts
Control Systems
Mathematical modeling and representation of systems, Feedback principle, transfer function, Block diagrams, and Signal flow graphs, Transient and Steady-state analysis of linear time-invariant systems, Routh-Hurwitz and Nyquist criteria, Bode plots, P, PI and PID controllers; State space model, State transition matrix.
Electrical and Electronic Measurements
Bridges and Potentiometers, Measurement of voltage, current, power, energy and power factor, Instrument transformers, Digital voltmeters, and multimeters, Phase, Time and Frequency measurement; Oscilloscopes
Analog and Digital Electronics
Characteristics of diodes, BJT, MOSFET, Oscillators and Feedback amplifiers, Operational amplifiers, 8085Microprocessor
Power Electronics
Characteristics of semiconductor power devices: Diode, Thyristor, Triac, GTO, MOSFET, IGBT, DC to DC conversion: Buck, Boost and Buck-Boost converters, Single and three phase configurations of uncontrolled rectifiers, Line commutated thyristor-based converters, Bidirectional ac to dc voltage source converters, Issues of line current harmonics, Power factor, Distortion factor of ac to dc converters, Single phase and three phase inverters, Sinusoidal pulse modulation.
For paper 2 (EE)
Analog and Digital Electronics, Systems, and Signal Processing, Control Systems, Electrical Machines, Power Systems, Power Electronics, and Drives
| Book | Author | Buy Link |
| --- | --- | --- |
| Electrical Power Systems | C. L. Wadhwa, Edition: 6 | Click Here |
| Electrical Machinery | Author's Name: P. S. Bimbhra, Edition: 7 | Click Here |
| Control Systems Engineering | I.J.Nagrath, M. Gopal, Edition: 5 | Click Here |
| Power System Engineering | I Nagrath, D Kothari, Edition: 2 | Click Here |
IES Syllabus for Electronics and Telecommunication Engineering
For Paper 1 (ECE)
Networks, Signals, and Systems
Network solution methods, Network theorems, Linear 2-port network parameters, Continuous-time signals, Discrete-time signals, LTI systems, Digital filter design techniques.
Electronic Devices
Energy bands in intrinsic and extrinsic silicon; Carrier transport, P-N junction, Zener diode, BJT, MOS capacitor, MOSFET, LED, a photodiode and solar cell, Integrated circuit fabrication process
Analog Circuits
Small signal equivalent circuits of diodes, BJTs, and MOSFETs; Simple diode circuits, Single-stage BJT and MOSFET amplifiers, BJT and MOSFET amplifiers, Sinusoidal oscillators, Function generators, wave-shaping circuits and 555 timers, Voltage reference circuits, Power supplies: ripple removal and regulation.
Digital Circuits
Number systems; Combinatorial circuits, Sequential circuits, Data Converters, Semiconductor memories, the 8-bit microprocessor (8085)
Control Systems
Basic control system components, Block diagram representation, Signal flow graph, Transient and steady-state analysis of LTI systems, Frequency response, Routh-Hurwitz and Nyquist stability criteria; Bode and root-locus plots; Lag, lead and lag-lead compensation, State variable model and solution of state equation of LTI systems.
Communications
Random processes, Analog communications, Information theory, Digital communications, Fundamentals of error correction, Hamming codes, Timing, and frequency synchronization, inter-symbol interference and its mitigation, Basics of TDMA, FDMA and CDMA.
Electromagnetics
Electrostatics, Maxwell's equations, Plane waves and properties, Transmission lines, Waveguides, Antennas, Basics of radar
Light propagation in optical fibers
For Paper 2 (ECE)
Analog and Digital Communication Systems, Control Systems, Computer Organisation, and Architecture, Electro Magnetics, Advanced Electronic, Advanced Communication
| Book | Author Name | Buy Link |
| --- | --- | --- |
| Microelectronic Circuits: Theory and Applications | Adel S. Sedra, Kenneth C. Smith, Edition: 6 | Click Here |
| Fundamentals of Electric Circuits | Charles K. Alexander, Matthew N. O. Sadiku, Edition: 5 | Click Here |
| Automatic Control Systems | Benjamin C. Kuo, Edition: 9 | Click Here |
| Digital Logic and Computer Design | M. Morris Mano, Edition: 1 | Click Here |
| Principles of Communication Systems | Goutam Saha, Herbert Taub, Donald Schilling, Edition: 3 | Click Here |