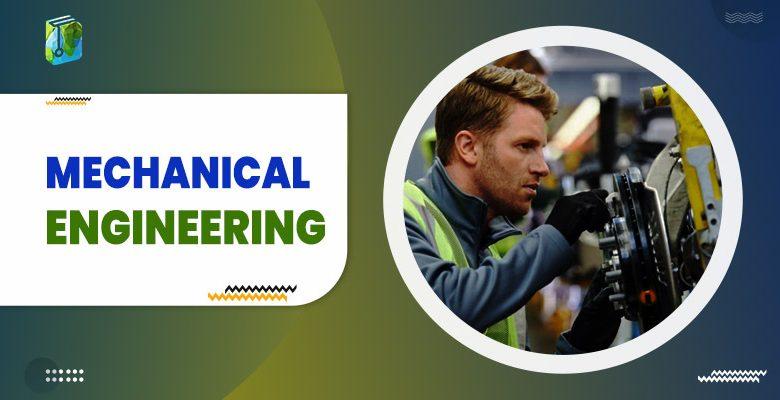 What is Mechanical Engineering?
It is just not mechanics, while is is based on mechanism. Mechanism is based on law of physics, material science, environment condition and mathematics are involved in the design, production, manufacturing and maintenance.
This is the best engineering stream if you loved with machinery, functions, robotics, material science, micro devices, weapons design, aircraft, watercraft, and their manufacturing. It is the branch where you can proof your self and make your career according to your interest which you want to do?
It has to be emerged in 18th century, when industrial revolutions came in Europe. However the branch will become from the result of the development in the field of physics.
"An Engineering that applies the standards of material science, arithmetic and material science for outline, investigation, support and assembling of mechanical frameworks is Mechanical Engineering."
Get latest news & updates about Mechanical Engineering Exam via SMS and e-mail, by entering your details below:
[ninja_form id=6]
Courses & Duration
Mechanical engineering, it will be derived in three different courses i.e. described below:
Diploma courses, 3 years courses popularly known as Polytechnic.
UG courses, 4 years courses known as B.Tech (Bachelor of Technology).
PG courses, 2 year courses known as M.Tech (Master of Technology).
PhD (Doctorate In Philosophy) is also the leading courses for research fields.
Eligibility Criteria
Check are you eligible or not for these diploma, under graduate, post graduate courses:
For diploma courses you will be eligible after completion of 10th.
For U.G courses (B.E/B.tech) courses you will be eligible, if you have completed your 12th standard.
You must have mathematics in your qualification examination for admission in diploma as well as bachelor degree courses.
For PG (M.Tech) courses, Candidates must have a Computer Science & Engineering degree.
So now, you have a complete package of education in Mechanical Engineering after 10th upto research programme.
So many institutions are offering the Distance Education or Online Education in Mechanical Engineering in India and Abroad.
In most countries, you will have to be certified by the professional body after completion of your degree in Mechanical engineering.
JEE Main 2019 is national level engineering entrance exam which is conducted by the CBSE for admission into the top colleges IIITs, IITs, NITs and GFT across India and for M.Tech programs candidates need to appear in GATE Exam. A candidates who are qualifies in  GATE exam will be eligible for admission in IITs.
In Market there are various jobs available in mechanical engineering but the very important question came into students mind why they are not selected when they sit in the placement; the answer for this question's is "they have not good knowledge over the basics of functions and formula which are asked in interview"
Jobs & Career
Those who want to build their career as a mechanical engineer want to know that after completing B.tech or M.tech will they find any suitable jobs, and if finds then will they get a good amount of package from the MNCs or not. So here we are listed some profile which a mechanical engineer associated after placement.
Designation
Acoustics engineer
Automotive engineer
Building systems engineer
Chief mechanical engineer
Cryogenics engineer
Design engineer – mechanical
Heating specialist engineer
Lubrication engineer
Mechanical engineer
Mould design engineer
Nuclear engineer
Power plant engineer
Robotics engineer
Thermal power engineer
Tool engineer
Tribologist
The below given employers either visits in the campuses for recruitment or conducted their own drive for placements which we listed below and also companies which are associated with Mechanical engineering.
Tata motors
Bajaj
hero
Leyland
ford
Honda
BARC
BHEL
NTPC
ISRO
DRDO
COAL INDIA
ECIL
ARMY
NAVY
HAL
SAIL
Aban group
Central mechanical engineering research institute
sun grace
ved engineering
Design tech system Ltd
Salary
In indian mechanical students get 5 lakh per annum upto 20+ lakh per annum salary package from the above given MNCs. Whereas in foreign countries it is 0.2 million per annum.
Book & Study Material
For achieving this certificates you need to go through the some best books for preparation,  So here we are sharing some important books for studying in your engineering:
| | |
| --- | --- |
| Books Name | Author |
| Engineering Mathematics | Christopher C. Tisdell |
| Concepts in Electric Circuits | Dr. Wasif Naeem |
| Automation and Robotics | Miltiadis A. Boboulos |
| Essential Engineering Mathematics | Michael Batty |
| Mechanics of Solids and Fracture | Ho Sung Kim |
| Control Engineering Problems with Solutions | Derek P. Atherton |
| Engineering Fluid Mechanics | T. Al-Shemmeri |
| Control Engineering | Derek P. Atherton |
| Manufacturing Processes and Materials: Exercises | Miltiadis A Boboulos |
| A First Course in Fluid Mechanics for Engineers | Buddhi N. Hewakandamby |
| Heat Transfer | Chris Long; Naser Sayma |
| CAD-CAM & Rapid prototyping Application Evaluation | Miltiadis A. Boboulos |
| Introduction to Mechanics of Materials: Part II | Roland Jančo; Branislav Hučko |
| Engineering Thermodynamics Solutions Manual | Prof. T.T. Al-Shemmeri |
| Hydrocarbons | Dr. Clifford Jones |
| Fluid Mechanics and the Theory of Flight | R.S. Johnson |
| A First Course on Aerodynamics | Arnab Roy |
| Chemical Thermodynamics | Leo Lue |
| Computational Fluid Dynamics | Abdul naser Sayma |
| Introduction to Polymer Science and Technology | Mustafa Akay |
| Momentum, Heat, and Mass Transfer | Leo Lue |
| Theory of waves in materials | Jeremiah Rushchitsky |
Streams Available
Here we are described streams available for B.tech and M.tech programs in Mechanical engineering.
Mechanics
Mechatronics and robotics
Structural analysis
Thermodynamics and thermo-science
Design and drafting
Micro electro-mechanical systems (MEMS)
Friction stir welding (FSW)
Composites
Mechatronics
Nanotechnology
Finite element analysis
Biomechanics
Computational fluid dynamics
Acoustical engineering