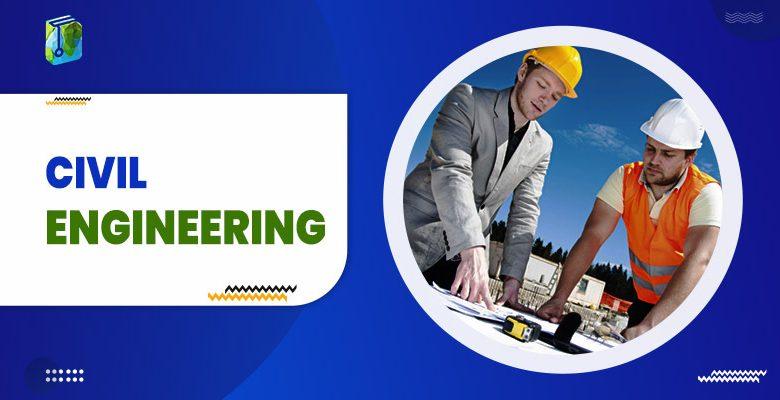 What is civil engineering? In our opinion, it is the most frequently searched question.
The answer to this is that if you are interested in designing and constructing something big, it is done by civil engineers. Then civil engineering is the branch where you can prove your ability and build your career as a civil engineer.
It was previously known as "military engineering" and is the oldest branch of engineering.
The biggest examples of work done by civil engineers who designed and created things from the earliest times are the Taj Mahal, Eifel Tower, Dubai Resort, Great Wall of China, etc. What they give us is the biggest example of civil engineering.
In 1828, in London, it was declared as a professional program.
"Civil Engineering is the craftsmanship and system of coordinating the power in nature for the use and accommodation of man. It is craftsmanship to make the created world around us. "
Course Type: Diploma/Degree
Course Duration: 3 Years/4 Years
Package/Salary: 3-5 lakh per Annum (for freshers)
12th Stream: Physics, Chemistry, Mathematics
Career: Civil, Construction
T
There are various fields in which civil engineers can grow a career:
River and township planning and construction
After computer science, civil engineering is the biggest branch of engineering.
The civil engineering courses are as followed:
Diploma courses are 3-year courses popularly known as polytechnics.
UG courses are 4-year courses known as B.Tech (Bachelor of Technology).
PG courses are 2-year courses known as M.Tech (Master of Technology).
The PhD (Doctorate in Philosophy) is also the leading course for research fields.
Courses related to the civil engineering
Diploma Courses
Diploma in Civil & Rural Engineering
Advance Diploma in Civil Engineering
Post Graduate Diploma in Civil Engineering
Bachelor Courses:
Bachelor of Technology (B.Tech) in Ceramics & Cement Technology
Bachelor of Technology (B.Tech) in Civil Infrastructure Engineering
Bachelor of Technology (B.Tech) in Civil & Transportation Engineering
Master Courses:
Master of Technology (M.Tech) in Civil Structural Design
Master of Technology (M.Tech) in Building Technology & Construction Management
Eligibility
For these diplomae, undergrad, and postgraduate courses, listed below is the eligibility criteria:
For diploma courses, you will be eligible after completion of the 10th.
For U.G courses (B.E/B.tech) courses, you will be eligible if you have completed your 12th standard.
You must have mathematics on your qualification examination for admission to a diploma as well as bachelor's degree courses.
For PG (M.Tech) courses, candidates must have a Computer Science and Engineering degree.
Specialization
The civil engineering programs is divided into the following stream for designing, construction and many more"
Materials Science And Engineering
Coastal Engineering
Construction Engineering
Earthquake Engineering
Environmental Engineering
Geotechnical Engineering
Water Resources Engineering
Structural Engineering
Surveying
Transportation Engineering
Municipal or Urban Engineering
Forensic Engineering
Control Engineering
There are various institutions and colleges that offer civil engineering courses. They can be regular, distance, or online education centers. If you want to become a successful civil engineer, you need to complete your studies at a recognized university and institution.
For admission into the civil engineering courses, you need to qualify for the JEE main and JEE Advanced (national level exams) which are conducted by the CBSE for online and offline mode. For M.etch programs, you need to qualify for the GATE Examination, which offers admission to M.tech programs which are offered by the IITs.
Some reputed colleges have given various students a chance to get a civil engineering degree, become civil engineers, and now represent top firms all over the world.
Indian Institute of Technology (IIT), Bombay
Indian Institute of Technology (IIT), Kharagpur
Indian Institute of Technology (IIT), Delhi
National Institute of Technology (NIT), Trichy
National Institute of Technology (NIT), Surathkal
Jobs & Career
"There are various opportunities awaiting for civil engineers in both sectors."
Civil engineers play an important role in the development of a country. Every country is moving towards development, whether they are developed or developing.
This is the only field where you can earn a much higher salary package as compared to other branches.
Building developers, town developers, canal workers, city planners, road and rail transport developers, dam and bridge developers, and any workplace where building, construction, physical creativity, or natural resource creativity is involved, are all examples of these types of engineers.
Here we have listed the top companies and firms that hire civil engineers. After completing their engineering studies, students will apply for placement in these companies.
Salary
The most important question that arises in every student's mind after completing B.Tech in Civil Engineering is how much salary they have to gain from the top MNC's or companies. So, in India, a civil engineer receives a salary of 5 lakh per year up to 20 lakh per year from companies, whereas a foreign student receives a salary of $60000 to $100000 per year from companies.
There is no criterion of salary for brilliant or experienced candidates.
Books & Study Material
To achieve the degree of civil engineering, you need to select the best books in your entire academic session, irrespective of whether it is a four-year course or a three-year diploma course. During the entire academic session, you will learn design, hydraulics, construction, earth mechanisms, soil mechanisms, construction management, computer methods, structural machines, environmental nature and issues, and traffic and transport. So here we are going to share with you the best books for civil engineering by which you can crack it easily.
| | |
| --- | --- |
| Books Name | Author |
| Basic Civil Engineering | S Ramamrutham |
| Basic Civil Engineering | Satheesh Gopi |
| Basics of Civil Engineering | Subhash Chander |
| Basic Structural Analysis | C.S. Reddy |
| Advanced Reinforced Concrete Design | N Krishna Raju |
| Analysis of Structures | T S Thandavamoorthy |
| Geotechnical Engineering | Donald P Coduto |
| Geotechnical Earthquake Engineering | Steven L Kramor |
| Hydraulics & Fluid Mechanics | Modi |