Courses
Computer Science Engineering (CSE)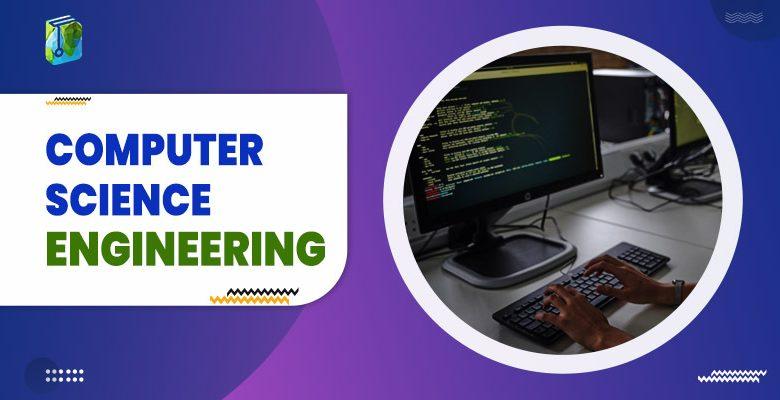 The very popular courses in India for every students which they want to select in their engineering. CSE will be prepared from three different word:
Computer
Science
Engineering
Whenever we are doing any digitalis work that mean we are in doing computerization and modernization in our routine life. Where we are involving in social media, professional, occupational, defense and other activities. So it's proof that Computer is also a part of human life. Without computer we can not predict human being's life now a days.
The very first and basic need of this for error free data and fast operation, and by doing this you are saving your time which you are wasting in manual calculation and various other tasks.
The most search and selected stream by the students for engineering courses.
"Software engineering and Engineering involves the plan and comprehension of computational process and programming dialects."
Course Type: Diploma/Degree
Course Duration: 3 Years/4 Years
Package/Salary: 2.5-3.5 lakh per Annum (for freshers)
12th Stream: Physics, Chemistry, Mathematics
Career: IT, Computer
Courses & Duration in Compuetr Science Engineering
When an students selects Computer Science & Engineering as the stream in their engineering courses when they are pursuing their engineering they will go through the algorithms, programming languages, operating systems, database management systems, computer network, computer graphics and artificial intelligence.
After 12th Science, you can select computer science engineering for building your career as a software developer, programmer and designer and many other profession.
In engineering three different courses are available for CSE Stream
Diploma courses, 3 years courses popularly known as Polytechnic.
UG courses, 4 years courses known as B.Tech (Bachelor of Technology).
PG courses, 2 year courses known as M.Tech (Master of Technology).
PhD (Doctorate In Philosophy) is also the leading courses for research fields.
Courses related to the CSE Engineering:
Diploma in Computer Science and Technology
Diploma in Computer Science and Engineering
Bachelor of Technology (B.Tech) in Computer Engineering
Master of Engineering (ME/M.Tech) in Computer Engineering
Post Graduate Diploma in Computer Networking
Master of Philosophy (M.Phill) in Computer Science and Engineering
Subjects available in B.Tech and M.Tech
Following are the sub streams which CSE further exoanded:
Computer architecture and organization
Database systems
Electronics
Operating systems
Networking
Foundations of Computer Systems
Java Programming and Website Design
E-Commerce & ERP and Multimedia Applications
Eligibility Criteria
For these diploma, under graduate, post graduate courses you need to be eligible, So here we are listed the eligibility criteria:
For diploma courses you will be eligible after completion of 10th.
For U.G courses (B.E/B.tech) courses you will be eligible, if you have completed your 12th standard.
You must have mathematics in your qualification examination for admission in diploma as well as bachelor degree courses.
For PG (M.Tech) courses, Candidates must have a Computer Science & Engineering degree.
Admission Process
There are various ways to get admission into the top engineering colleges either they are private and government.
For government colleges candidates need to appear in entrance test, then on the basis of their score card, the authority will allot the colleges to the candidates after the counseling process. For admission into the private you will take admissions through the donation basis as well as by the help of entrance test basis
JEE Main 2018 is national level engineering entrance exam which is conducted by the CBSE for admission into the top colleges IIITs, IITs, NITs and GFT across India and for M.Tech programs candidates need to appear in GATE Exam. A candidates who are qualifies in  GATE exam will be eligible for admission in IITs.
Some entrance tests for B.Tech & M.Tech courses are listed here:
JEE (Joint Entrance Exam) Advanced
GATE (Graduate Aptitude Test for Engineering)
BVP CET (Bharti Vidyapeeth Deemed University Common Entrance Test)
BCECE (Bihar Combined Entrance Competitive Examination)
UPSEE (Uttar Pradesh State Entrance Examination)
Top Engineering Entrance Exams
Check top institutions which offered Computer science engineering courses.
Indian Institute of Technology (IIT), Bombay
Indian Institute of Technology (IIT), Delhi
Indian Institute of Technology (IIT), Kanpur
National Institute of Technology (NIT), Trichy
National Institute of Technology (NIT), Surathkal
National Institute of Technology (NIT), Warangal
Indian Institute of Engineering Science and Technology (IIEST)
Jobs & Career
Once Candidates completed their engineering courses they want to build their career in one of the various given areas, which iyou lovee most i.e.
Database management
Embedded systems
IT
Telecommunication
Multimedia
Computer hardware & software implementation
Computer hardware & software maintenance
Gaming
Web designing and other related industries.
Popularly known designation:
Professor
Computer Programmer
System Designer
Software Developer
Engineering Support Specialist
Academic Research Editor
E-Commerce Specialist
Data Warehouse Analyst
Software Engineer
Some of the best IT Industries which offers you the above given designation after your selection:
TCS
Infosys
Wipro
HCL
Accenture
Cognizant
Microsoft
IBM
Adobe
Google
Accenture
Cisco
Oracle
Sun Microsystems
Yahoo
Tech Mahindra
Mahindra Satyam
Salary
Once you got you engineering degree from the university, then you expect that now you will be able for getting good package from the top companies. So private sector is the option which will give you the best salaries in the industries. As a fresher you will get a minimum 2 lakh per annum to 3 lakh per annum  package in India whereas in foreign candidates will get salaries in six digits.
Once your experience level increased then your salary as well increased, most probably it will be doubled and your expectation also increased.
Best Books & Study Material
For preparing and engineering and clearing your engineering semester, there are various books in the market which you can go through for best preparation but selecting the best books for preparation, gives us the best result so here we are going to listed top books for programming.
| | |
| --- | --- |
| Books Name | Author |
| Exercises in Programming Style | Cristina Videira Lopes |
| Bayesian Phylo genetics | Ming-Hui Chen, Lynn Kuo, Paul O. Lewis |
| Computing | Yoshihide Igarashi, Tom Altman, Mariko Funada, Barbara Kamiyama |
| GPU Pro 5 | Wolfgang Engel |
| Making Music with Computers | Bill Manaris, Andrew R. Brown |
| Geographical Information Systems | Elaheh Pourabbas |
| Computing Handbook, Third Edition | Allen Tucker, Teofilo Gonzalez, Heikki Topi, Jorge Diaz-Herrera |
| Roadmap to Greener Computing | Raoul-Abelin Choumin Nguemaleu, Lionel Montheu |
| Computing Handbook, Third Edition | Teofilo Gonzalez, Jorge Diaz-Herrera, Allen Tucker |
| Graphics Interface 2014 | – |