SBI Clerk
SBI Clerk Important Topics 2023: High Scoring Important Topics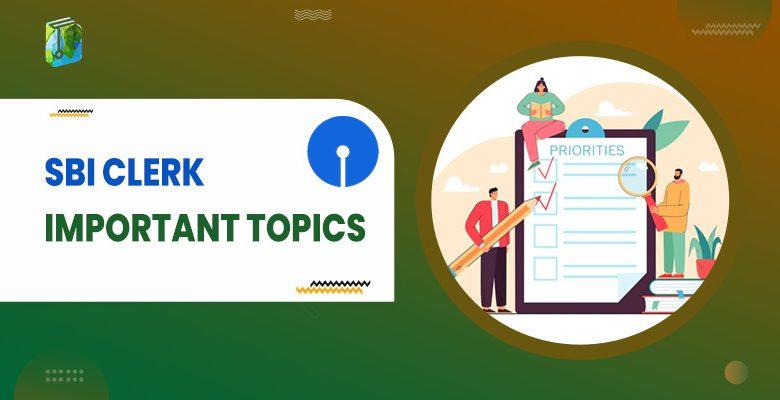 Important Topics for SBI Clerk: State Bank of India(SBI) will release the official notification for the post of clerk in their different branches in the country, State bank of India(SBI) is the largest public sector bank in India.
In order to crack the exam candidates in easy manner candidates may know the SBI Clerk Exam Syllabus, In order to qualify for the final round, the candidates need to clear two rounds of online exams. This article discusses Important Topics for SBI Clerk.
Two Months are sufficient to crack the SBI Clerk, if you follow the correct strategy and approach in your studies, you definitely achieve it.
SBI Clerk Important Topics 2022
The SBI Clerk Exam will be conducted in June 2022 (tentatively). Let's now discuss how you should utilize these 2 months before the exam to crack the prelims phase of SBI Clerk. In order to score well, one must be very well versed with Important Topics for SBI Clerk.
Important Topics for English Language
| | |
| --- | --- |
| S. No. | Topic Details |
| 1. | |
| 2. | |
| 3. | |
| 4. | |
| 5. | |
| 6. | |
| 7. | |
| 8. | |
| 9. | |
If you have a good hold over these topics, scoring in the English section becomes comparatively easy.
Read News Paper (The Hindu) this will help your Reading Skill.
Devote at least 2 hours per day to the practice and understanding of the English Section.
Important Topics for Reasoning Ability
S. No.
Topic Details
1.
2.
3.
4.
5.
6.
7.
8.
9.
10.

Distance & Direction Notes
Practice Distance & Direction

11.
The best way to score in the Reasoning section is through the practice of different topics.
make sure that you understand the basic concepts of the different topics of the Reasoning section and then devote maximum time to their practice.
Important Topics for Quantitative Aptitude
S. No.
Topic Details
1.
2.

Simplification/ Approximation

3.
4.

Data Interpretation
(Basics, Pie chart, Bar chart, Tabulation, Missing DI, Caselet DI, Line chart, Mixed DI

5.

Simple & Compound Interest

6.
7.
8.
9.
10.
11.
12.
13.
14.
The quantitative Aptitude section basically tests your calculation skills.
Next and the most important step of your quantitative aptitude preparation is topic-wise practice.
Conclusion
To clear the exam with good marks, you need to know the important topics which will help you score good marks. To help you better, here are the SBI Clerk important topics 2022.
People are also reading: