Full Form
SOP Full Form | What is Full Form of SOP?
SOP - Standard Operating Procedure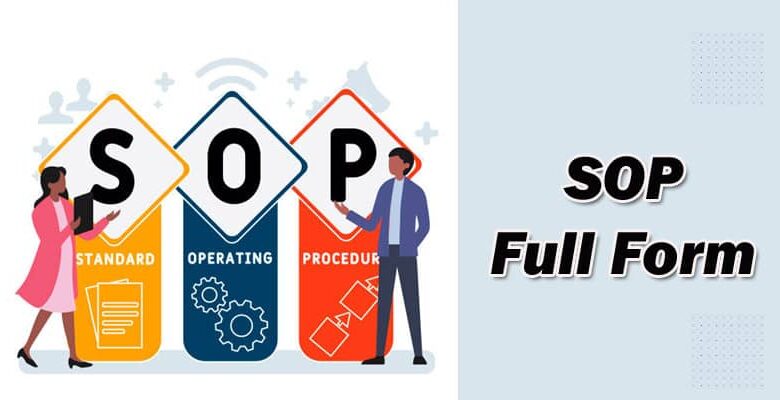 The SOP Full Form is Standard Operating Procedure.
Introduction
SOP stands for Standard Operating Procedure. It is a documenting process followed by organizations or institutions which desire to carry on certain activities while abiding by a specific set of procedures to ensure reproducible results. The document describes how to do a particular task. An SOP defines expected practices in all businesses where quality standards exist
In small companies, the CEO makes all the important decisions related to day-to-day business activities. But as the company expands, documented SOPs are needed to bring consistency in business functions. They serve as very vital tools in organizing and communicating key corporate policies, regulations, and best practices. It works as a guideline for the employees, which helps employees understand the procedure of business practices and other day-to-day tasks.
The SOPs will help to ensure consistency and maintenance of certain desired standards in the production of a given product or the provision of certain services are attained and maintained.
The structure of SOP varies between companies depending on the nature of business. For example; the banks, media houses, and hospitals are likely to have different SOPs.
Below is a list of a few typical SOPs
Production/Operations
Finance and Administration
Marketing, Sales, and Customer Service
Human Resource
Legal
Companies with less than 20 employees are required to create a plan describing how they would maintain with the Customer Service Management and then train their employees accordingly.
Companies with 20 or more employees must convey their plans in writing and report to the government on how the company is carrying on its business.
SOP Benefits
Some of the benefits to be accrued from the use of SOP are:
They will be helpful in many workplaces where strict procedures or adherence to a set of instructions are required to attain certain outcomes. Sometimes, even the best of employees may tend to forget things; this implies that having sops is vital in helping all the employees to stick to the recommended procedure.
SOP also helps newly inducted and trained employees. It will act as a handy source of reference and help them follow the fresh instructions.
It is good to make SOPs available at the actual location of the employees thereby enhancing their accessibility and providing them with a roadmap to achieve their objectives.
SOP can create consistency, reliability, efficiencies, and in production and service, and hence profitability.
Conclusion
Hope you must have understood the full form of SOP, the various types of SOPs, and the benefits of SOPs in companies. If you still have any doubts or queries, reach out to us through the comments section below, we will try to address your doubts or queries at the earliest.