Books
10 Best Anger Management Books That You Must Read in 2023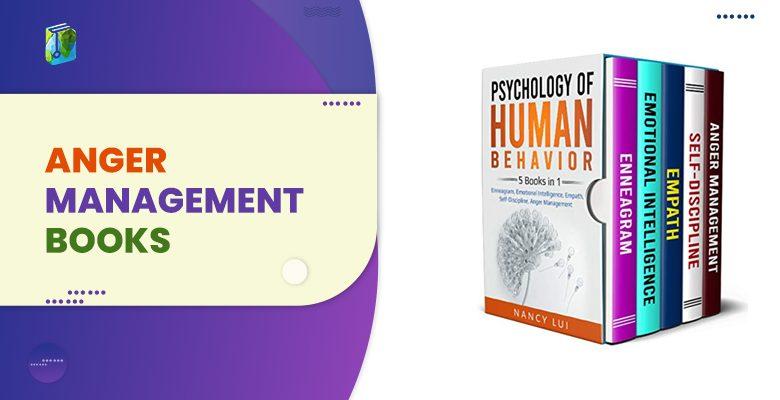 Anger is one of the most natural and influential human emotions we often try to control. However, many of us struggle a lot when it comes to maintaining our anger. Though it sounds destructive when managed well, anger can be a great fuel to put you ahead on the path to success in life. Also, when anger manifests itself too often, it can be a sign that it is time to make a change.
Being an angry person who always has the 'hard-face' on is bad for you and the people around you. Luckily, there are hundreds of online and offline programs as well as books available that can help you better manage your anger. Anger Management is a psycho-therapeutic program to control and prevent anger in the long run.
Reading books on anger management will allow you to trace the pain point when you get angry. Also, it will help you to stop taking any drastic decisions.
To help you better, here are the best anger management books to ensure that you spend less time in anguish and more time accessing your zen.
Best Anger Management Books To Read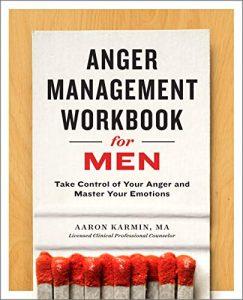 Author: Aaron Karmin MA
Latest Edition: May 26th, 2016
Publisher: Althea Press
This book is more than answering "Why do men get angry?" It helps to get to the root of your anger by including information and assessment that will help you evaluate your anger, real-life examples of expressing it positively, and some clinical examples and strategies to control it.
In this book by Aaron Karmin, the author explains the skills required to manage your anger without being aggressive. He also helps the readers build self-confidence, self-control, and self-respect.
It is one of the most insightful and timely books. The author brings humor and compassion to all the critical topics. If you are looking for a resource that includes practical information for men who find it difficult to control their anger, this book is the best.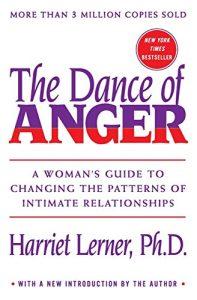 Author: Harriet Lerner
Latest Edition: March 25th, 2014
Publisher: William Morrow Paperbacks
According to the author, anger management requires a lot of attention. The Dance of Anger is a renowned Classic and New York Times bestseller that has helped many women and men view their relationships differently.
As one of the best books on anger management, it teaches us to identify the root cause of our anger. The book can help you with case studies on different anger management programs, which can help you with different perspectives in human behavioral science.
This book on anger management is a must-read for all women. It is a complete revelation designed for every young and modern feminist.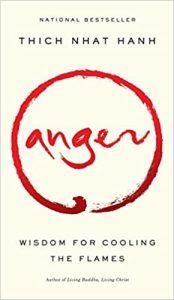 Author: Thich Nhat Hanh
Latest Edition: September 3rd, 2002
Publisher: Riverhead Books
The author beautifully explains the relationship between inner peace and the peace we seek through acquiring earthy materials. 'Anger: Wisdom of Cooling the Flames' is the best resource for gaining wisdom, comfort, compassion, and peace.
According to the author, anger is one of the most powerful emotions and can ruin lives, health, and spiritual development.
Also, the books offer tools and advice that will help transform relationships and focus on the more important things in life. If you are someone who wants to control your anger and focus more on inner peace, then this book is the best one for you.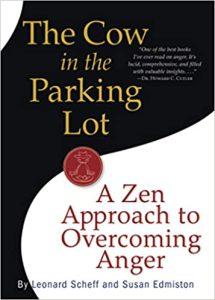 Author: Leonard Scheff and Susan Edmiston
Latest Edition: June 23rd, 2010
Publisher: Workman Publishing
According to the authors, meditation and Buddhism can help you with much wisdom in life. The book explains the theory with a simple example: Imagine finding a parking space in a crowded parking lot when you spot a space, but another driver races ahead and takes it. Annoying, isn't it?
However, now imagine that a cow has lumbered into the parking space instead of another driver. The anger has turned into puzzlement. So what changed? Your perspective.
According to Leonard Scheff and Susan Edmiston, using simple Buddhist principles and applying them helps non-Buddhists to understand ways to control their anger. The Cow In The Parking Lot shows how anger is based on unmet demands and introduces the most common types: Important and reasonable, reasonable but unimportant, irrational, and impossible.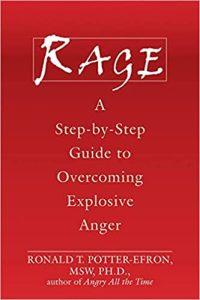 Author: Potter-Efron R
Latest Edition: April 1st, 2007
Publisher: New Harbinger Publications
This book by Potter-Efron R includes powerful tools to help the readers overcome extreme anger levels. In this book for anger management, the author explains the four types of anger: anger triggered by a sense of danger or threat, helplessness, abandonment rage, and shame rage.
Potter explains how the brain functions during times of extreme anger and helps you to stop getting angry. If you are looking for a book that includes a straightforward step-by-step guide for anger management, this book is the best one for you.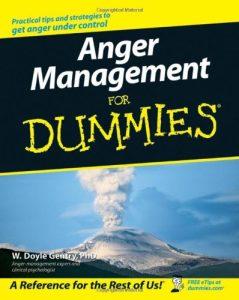 Author: W. Doyle Gentry
Latest Edition: December 8th, 2006
Publisher: John Wiley & Sons
If your anger is out of control and is taking a toll over you, you need to read Anger Management For Dummies by W. Doyle Gentry. This practical guide shares some of the best anger management methods, skills, and exercises to help you find the root cause of your anger.
Apart from this, you will also learn how to:
Control your anger before it increases.
Express your feelings with a calm mind.
Respond rather than react.
Prevent anger in the future.
Healthily release healthy anger.
Confess your anger by writing it down in a journal.
Make constructive use of your anger and more.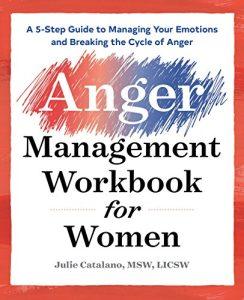 Author: Julie Catalano
Latest Editon: June 26th, 2018
Publisher: Althea Pr
The Anger Management Workbook for Women includes some actionable and practical 5-step strategies designed to help you understand, work, and control your anger. The step-by-step guide helps understand the root cause of anger and release the pervasive guilt resulting in negative behavior. You will also learn some strategies to manage anger in the future.
This book also includes compelling and interesting stories of women who want to overcome their anger issues. One of the unique things about this book is that it includes some important worksheets, quizzes, and other exercises.
The author also uses the FADE Method: Feel better about managing anger, Appear differently to others, Do things differently, and be Empowered when trying to manage better.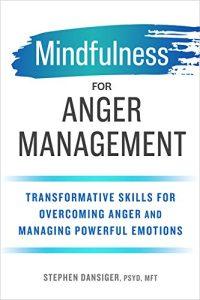 Author: Stephen Dansiger
Latest Edition: November 6th, 2018
Publisher: Althea Pr
This book offers some transformative skills and strategies to overcome anger and take control of the most powerful yet destructive emotion, anger. This guide offers skills to overcome anger and practice mindfulness.
Stephen Dansiger helps to recycle your anger, see it for what it is, and helps you to manage your anger and other emotions.
The book includes what anger management is, different types of anger, and practical exercises, including self-assessment, checklists, etc. The book also includes some real-world applications that will help you focus on how your anger has taken over your work, relationships, and personal well-being.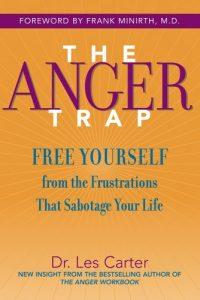 Author: Les Carter
Latest Edition: October 8th, 2009
Publisher: Jossey-Bass
The Anger Trap by Les Carter is a complete step-by-step guide that strips the myths and misconceptions of anger. The author also explains the difference between healthy and unhealthy anger. This book also helps to get to the root of anger and helps you realise your patterns and break this cycle.
Another important feature of this book is that Les Carter offers practical tips and techniques to get rid of insecurities, fears, etc., which will help you stay relaxed and live a stress-free life.
This book is more than a self-help book. If you are looking for a book that helps you deal with your anger issues and helps get over them, then this book is for you.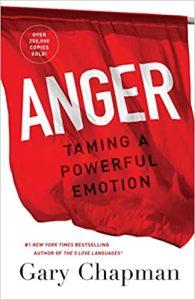 Author: Gary D. Chapman
Latest Edition: June 1st, 2015
Publisher: Northfield Publishing
In this book, the author shared some important insights about anger, how it affects a relationship, and how to overcome it.
It includes some advice with real-life examples which will help you understand yourself better, overcome shame, denial, and bitterness, and make positive life changes. Gary also explains how to handle anger healthily.
The case studies mentioned in the book come with real-life examples that you can try right away. This book is a must-read for those who are struggling with anger.
5 Tips to Control Your Anger
Before we get into the books for anger management, here are some tips which will help you control your anger before it starts controlling you.
1. Think Before You Speak
It becomes easy to say things they will regret later when one gets angry. It is really important to take a few moments to collect your thoughts before you say anything hurtful. It is also important to give others some time to think.
2. Express Your Concerns When You Are Calm
Once calm and think straight, express everything you feel less aggressively. One of the most important keys to managing your anger is to be direct and clear without hurting others.
3. Exercising Is The Key
It is said that exercising regularly reduces stress and anger. If you feel your anger is increasing, you can go for a brisk walk or spend time doing some physical activity you love.
4. Don't Hold Grudges
Forgiveness is the key. If you let your anger and negative emotions take over positive feelings, you might be swallowed up by your own bitterness. The key to avoiding this is to forgive people who angered you.
5. Seek Help
Trying to control your anger can be challenging at times. It is very important to get help when you feel you cannot control your anger which causes you to do things that you will regret or hurt your loved ones.
Conclusion
You must have heard the phrase- "Control your anger before it starts controlling you." When we get angry, we say things that we might regret later. Apart from this, anger also affects your mental peace and mindfulness.
There are different ways to manage your anger. One of them includes going to the root cause of the anger. Another way to manage your anger is by reading good books on anger management.
To help you better, here we have given the best anger management books for you.
Happy reading!
People are also reading: