GATE
GATE Exam Pattern 2023 (Subject-wise) – Test Paper Structure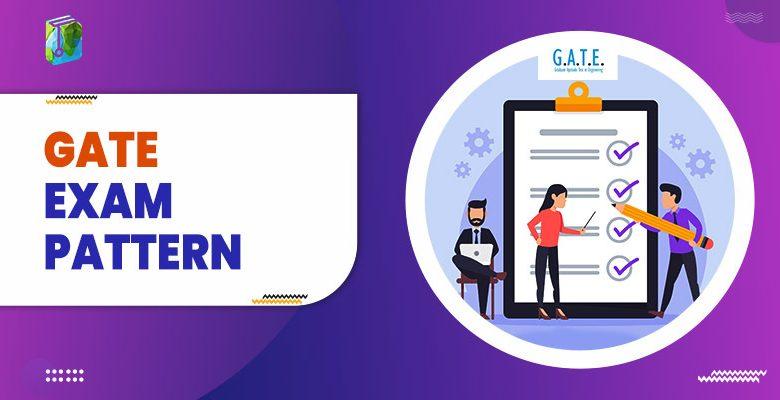 To clear the GATE examination, you need to know the exam pattern and the type of questions asked in the examination. Here we have explained the complete GATE exam pattern 2023.
Introduction
GATE 2022 Examination will be conducted for 29 disciplines through online mode only (Computer Based Test). Students can appear on only one paper. The examination will be held during the morning (9:00 AM to 12:00 Noon) and afternoon (12:00 PM to 5:00 PM) sessions on weekends. GATE will also be conducted in International centers, and the session timings will be as per their local time.
The conducting authority this year is IIT Kanpur.
GATE Exam Pattern 2023
Question Type: The question paper of GATE 2023 consists of multiple-choice type (MCQ) and numerical answer type questions(NAT). For objective-type questions, multiple options are given, and students need to select only the correct answer. For numerical answer type questions, candidates need to enter a number using the virtual keyboard available on the computer screen during the examination.
Get the latest news & updates about GATE Exam via SMS and e-mail, by entering your details below:
[ninja_form id=6]
Number of Questions: The GATE question paper contains 65 questions with a maximum of 100 marks.
Exam Duration: 3 hours
Title
Data
Mode of Examination
Computer-Based Test (CBT)
Time Duration
3 hours (180 minutes)
Total Subjects (Papers)
29
Exam Sections
General Aptitude (GA)

Candidate's Specified Discipline

Type of Questions
Multiple Choice Questions, Multiple Select Questions, and Numerical Answer Type (NAT) Questions
No. of Questions
10 (GA) + 55 (subject) = 65 Questions
Distribution of Marks in all Papers except papers AR, CY, EY, GG, MA, PH, XH, and XL.
General Aptitude: 15 MarksEngineering Mathematics: 13 Marks Subject Questions: 72 Marks

Total: 100 Marks

Distribution of Marks in papers AR, CY, EY, GG, MA, PH, XH, and XL
General Aptitude: 15 Marks

Subject Questions: 85 Marks

Total: 100 Marks

GATE 2023 Marking Scheme
Questions carry 1 mark and 2 marks.
GATE 2023 Negative Marking

For the wrong answers chosen in MCQs, there will be negative marking.
For 1-mark MCQ, 1/3 mark will be deducted for a wrong answer.
For 2-mark MCQ, 2/3 mark will be deducted for a wrong answer
For NAT Type Questions, there will be no negative marking.
From the below-given tables, candidates can check GATE paper and paper codes for GATE 2023:
GATE Exam Pattern for Various Papers
In the papers AE, AG, BT, CE, CH, CS, EC, EE, IN, ME, MN, MT, PE, PI, TF, and XE, Engineering Mathematics carries 15% marks of total marks, General Aptitude section contains 15% marks and rest of the 70% marks are contained by the core subject of the paper.
In the papers, AR, CY, EY, GG, MA, PH, and XL, the General Aptitude section carries 15% of the total marks, and the core subject of the paper carries the remaining 85% marks.
The General Aptitude section contains 5 questions of 1 mark and 5 questions of 2 marks.
Question paper other than GG, XE, and XL contains 25 questions of 1 mark and 30 questions of 2 marks.
Marking Scheme
For every incorrect answer, negative marking is applicable. There is no negative marking for Numerical answer-type questions. For 1-mark questions, 1/3 mark is deducted for every incorrect answer, and for 2 marks questions, 2/3 marks are deducted.
Conclusion
GATE examination is a lengthy and challenging exam. There are a total of 29 disciplines in GATE. Every year lakhs of students prepare for this prestigious exam. The GATE exam pattern consists of two formats, namely multiple choice questions and numerical answer types.
The students are recommended to prepare for the exam diligently. Before commencing your preparation, you must download and analyze the syllabus and exam pattern.
We wish you the best in everything!
People are also reading: