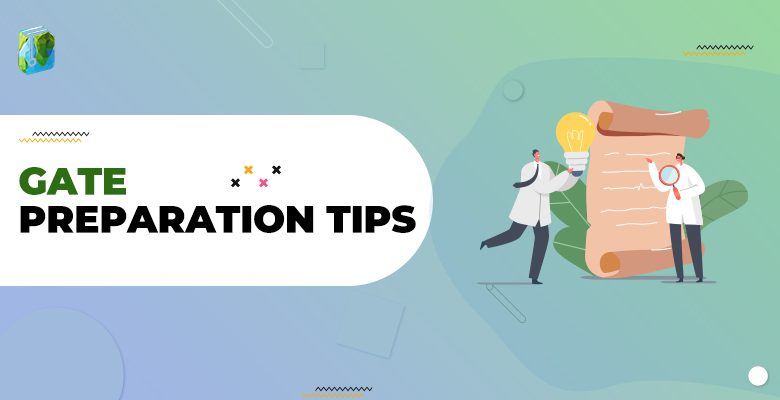 Introduction
GATE or Graduate Aptitude Test In Engineering is one of the most competitive examinations that needs complete focus and a good understanding of basic concepts. In order to clear the exam, the candidates must have a thorough preparation. In this article, you will get the best GATE preparation tips.
Get the latest news & updates about GATE Exam via SMS and e-mail, by entering your details below:
[ninja_form id=6]
GATE Preparation Tips of Exam 
The best way for any exam preparation is :
LEARN

→ PRACTICE → 

REVISE

 → REPEAT.
Identify and improve on your weak areas.
Get a personalized improvement plan & track your progress.
Collect previous question papers and solve them.
While solving the problems, students must have a balance between speed & accuracy.
Get a list of probable colleges based on the current preparation level.
GATE Preparation Tips for  Exam 2022
1. Begin the preparation
The first step is to understand what you are up against. Collect as much information as possible before you plan and then begin the actual preparation. Every success story has a dedicated plan and strategy that has to be followed to achieve the goal. Create a timetable and then start your schedule for the GATE exam according to your plan. Analyze the syllabus and previous papers of the GATE Exam and start preparing accordingly.
2. Know the GATE Syllabus & Exam Pattern thoroughly
As you know, that GATE is conducted for 23 different sections. The syllabus for every paper is different depending upon the core subject that you have studied during the qualifying examination (B.Tech). Candidates should refer to the syllabus and analyze the exam pattern using previous years' papers and prepare accordingly. Identify topics that have fetched more marks and give more importance to them during your preparation.
GATE has two types of questions:
Multiple Choice Questions (MCQs): These questions have options and candidates must choose carefully as there is negative marking for these questions
Numerical Answer Type (NAT) questions: These questions are calculated and carry no negative marking
3. Time Management
Time management plays a very crucial role in the preparation for the GATE exam. Before starting the preparations, you have to create a timetable that covers all your subjects/topics.
How to manage time-
Check the past year's papers and exam analysis
Make short notes while you study because they are helpful during revision
Write down formulae that you find difficult to remember so that they are handy for revision
Keep the solved problems and notes separately indexed so that you can refresh and revise later when required
Create your own plan as you know best what works for you
4. Maintain your Health
While preparing for the exam, students forget to take care of their health, so maintain your health-
Take a nutritious diet
Eat fresh vegetables and fruits
Avoid junk food
Playing some sport occasionally or listening to soft music is recommended if you are feeling stressed after long hours of studies
You can do yoga and meditation to relieve or relax your body
Take sleep for at least 7 hours a day
5. Revision
Revision is very important before going for the examination as it helps to recall many things that might get skipped.
Try to complete the syllabus in time so that you get enough time for revision
Keep a check on your performance; you can try to solve some examples in model papers also
Do not start a new topic in the last stage of preparation
Keep making brief notes to be used while revision before the final exam
An efficient revision plan helps in recalling the concepts during the GATE exam
6. Evaluate yourself before the GATE exam
Make sure to reserve a month for exhaustive and thorough revision
Analyze the weaker points and work on them
Learn and use simple tricks and shortcuts for solving GATE questions rather than adopting a lengthy approach
7. GATE Books for Preparation
A very common question arises in everyone's mind, i.e. "What are the GATE Books required for the preparation?" We at Learndunia, always recommend you to refer to only one book set for exam preparation. Books that cover the entire syllabus of the exam.
GATE Preparation Tips by Experts
GATE Exam is not based on completing the syllabus for preparation; it is based upon completing and understanding the basic concepts
If you found a problem taking too much time, then you need to move forward to a new solution
Candidates need to keep a balance between speed & accuracy
Candidates need to divide their preparation time according to the topics/section they need to prepare like aptitude, fundamentals, attitude, concentration level, etc
Always try to track your own performance to analyze your preparedness for the examination
A problem can be solved in lots of ways. A smart preparation always goes with the method by which you can find out the correct answer within less amount of time
Whenever you are studying and preparing a topic, you need to keep your goal in your mind
If in the last phase of your preparation, you have any doubts regarding any previous topics, then clear your doubts, only after that, prepare the next topic
In the final days, refrain from studying something new and focus only on revision. Once your revision process is over, then evaluate yourself by attempting a mock test and previous year's questions papers
Conclusion
Every competitive examination needs a diligent analysis of its syllabus. In the GATE examination too, we advise you to focus on the syllabus and prepare a strategy accordingly.
Additionally, it is important to follow a credible and reliable set of study material for your preparation. Do not build a stack of books and create unnecessary pressure. Instead, keep relevant books and revise them repeatedly.
Lastly, appear for as many mock tests as possible. It helps you to understand your weak and strong areas.
Maintain consistency and follow a healthy routine.
Good luck!
People are also reading: