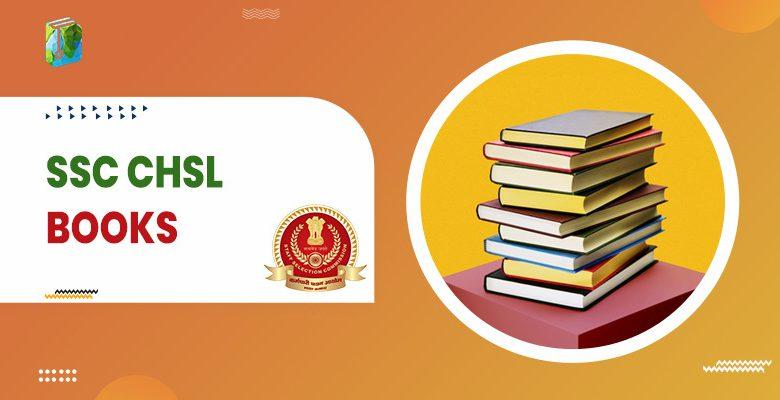 What is SSC CHSL exam?
Every year, the Staff Selection Commission holds the SSC CHSL exam for enrollment in various ministries and departments of the Government of India. The Staff Selection Commission Combined Higher Secondary Level Exam or the SSC CHSL exam is held for aspirants with a 10+2 degree.
The topic-wise list of SSC CHSL exam books below will assist applicants in approaching the competition with the necessary confidence. The books for the SSC CHSL exam include core topics like quantitative aptitude, English language, general awareness, and general intelligence. Candidates should go over the entire syllabus for the SSC CHSL exam, as this will help them construct an effective strategy and plan for the exam.
SSC CHSL exam is held in three phases, Tier – I, II, III.
Tier I is a computer-based multiple-choice question exam that covers topics such as quantitative aptitude, general awareness, general intelligence, and English.
Tier II is based on a descriptive writing essay and letter test using pen and paper.
Tier III of the SSC CHSL is the final round of a 15-minute computer typing skill assessment test.
In this article, we are entailing the finest books available for the SSC CHSL exam.
Best Books for SSC CHSL
Topic
Book
Quantitative Aptitude

SSC Advanced Mathematics by Rakesh Yadav
Quantitative Aptitude for competitive exam By RS Agarwal
Kiran's SSC Maths by Kiran Institute

English

Word Power Made Easy by Norman Lewis
Best 4000 Smart Question Bank SSC English language by Testbook
Plinth to Paramount by Neetu Singh

General Intelligence

A Modern Approach to Verbal and Non-verbal reasoning by RS Agarwal
SSC Reasoning by Rakesh Yadav

General Awareness

Manorama Yearbook 2022
Lucent by Lucent Publications

Descriptive Test

Selected Contemporary Essays by Saumitra Mohan
SSC CHSL Tier 2 Descriptive Exam Practice Work Book – English by Kiran's Publication
Quantitative Aptitude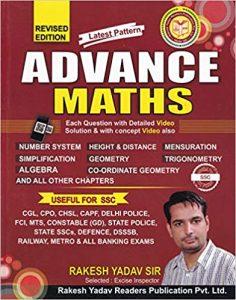 Highlights
Author: Rakesh Yadav
Publication Year: 2021
Publisher: Rakesh Yadav Reader Publication Pvt Ltd.
This book contains model practice papers for students taking the SSC exam. It gives detailed examples to help students learn various arithmetic topics. The book is beneficial to learners who are enrolling for SSC CHSL and other examinations and are looking for Aptitude type problems to improve their skills. Furthermore, it also includes previous years' solved papers and Model practice sets (Tier-II). The chapters available in this book are:
Data Interpretation
Height & Distance
Miscellaneous
Boat & Stream
Partnership
Mensuration
Pipe & Cistern
Simplification
Power & Indices
Ratio & Proportion
Profit And Loss
Lcm & Hcf
Co-Ordinate Geometry
Geometry
Discount
Number System
Time & Work
Average
Time Distance Train
Trigonometry
Mixture & Alligation
Geometry
Simple Interest
Percentage
Compound Interest
Algebra
You can buy this book from here.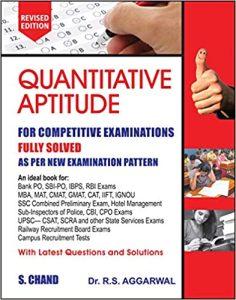 Highlights
Author: R.S. Agarwal
Publication Year: 2017
Publisher: S Chand Publishing
Since its introduction in 1989, Quantitative Aptitude has earned a special place of respect and recognition among applicants preparing for many competitive exams. With the shifting exam pattern, the book continues to reinvent itself a quarter-century later while keeping devoted to its basic philosophy of giving the best content with easy-to-understand answers.
The book is now more extensive than previous editions, with over 5000 questions. The chapters begin with a basic theory, which is then augmented by concepts and instances. There are also several practice questions from which to choose.
The book includes current examination trends as well as practice questions based on last year's examinations. It is a good alternative for pupils studying for banking examinations such as the SSC CHSL and other competitive exams.
You can buy this book from here.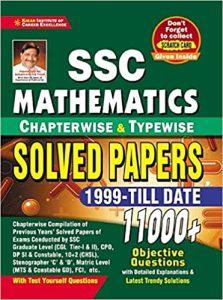 Highlights
Author: By Thinktank of Kiran Institute
Publication Year: 2021
Publisher: Kiran Institute
Kiran's SSC Maths is a book that contains questions on mathematics from almost every SSC exam that has taken place since 1999. The book contains formulas organized by topic, as well as questions and answers for each topic. The mock test at the end of each chapter will solidify your preparation and boost your confidence.
The book contains over 10,000 questions and is a must-have for anyone studying for SSC CHSL, Railways, UPSC, RBI, and other government exams. This book reflects the most recent exam trends enabling an aspirant to prepare along with the pattern of the exam.
You can buy this book from here.
English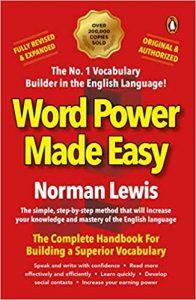 Highlights
Author: Norman Lewis
Publication Year: 2015
Publisher: Penguin Books
Word Power Made Easy has been a popular book since its original release in 1949. Even people with a decent understanding of the English language regard it as a reliable book that has gone through several editions. Millions of aspirants have benefited from and improved their language abilities with the help of this book. For aspirants wanting to enhance their English language and proper word usage, this is a must-have book or anyone trying to expand their vocabulary will find it highly useful.
This best-selling book will help you understand and enhance your English swiftly. You may acquire the best language skills from an expert – how to use words correctly and how to improve your personality. This book is filled with straightforward step-by-step instructions, easy-to-understand tools, and recommendations for speedy learning patterns. A wide database of terms will aid both novice and advanced readers in expressing themselves. Word Power Made Simple accomplishes far more than simply teaching you new words.
You can buy this book from here.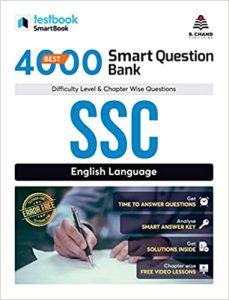 Highlights
Author: Testbook
Publication Year: 2021
Publisher: S Chand and Company Ltd.
This SSC English SmartBook is a comprehensive question bank that covers Matric, Intermediate, and Graduation level problems. Testbook and the S.Chand group collaborated to create a library of 4000 questions carefully picked from a pool of 1 lakh questions by Data Science Technology. All the questions are arranged in a chapter-by-chapter format and divided into difficulty levels.
This is the upcoming generation SmartBook, a technology-assisted learning effort that includes several patterns of questions for SSC exams. This SmartBook aids you in analyzing the performance of other candidates by providing a summary of the percentage of applicants who attempted the question vs those who did not.
You can buy this book from here.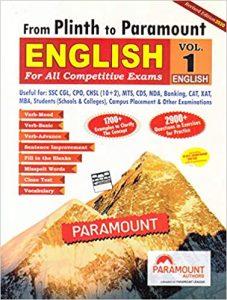 Highlights
Author: Neetu Singh
Publication Year: 2019
Publisher: Paramount Coaching Center
Plinth to Paramount, by Neetu Singh, is an excellent book for beginners and intermediate students who want to improve their English skills. Every topic in the book is explained with numerous examples. For any SSC aspirant, this is a good book with a lot of content. Each topic's content is very simple to comprehend.
The practice questions are set up in an easy-to-difficult order so that each correct answer boosts your confidence. For aspirants preparing for SSC CHSL, Railways, and other government examinations, this is a must-have book.
You can buy this book from here.
General Intelligence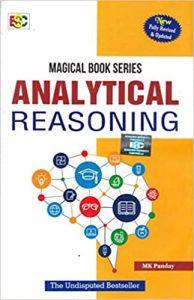 Highlights
Author: M.K. Pandey
Publication Year: 2020
Publisher: Generic
Analytical Reasoning by MK Pandey is a fantastic resource for anyone studying for competitive exams like the SSC, Banking, Bank PO, Railway, SBI, Clerk, IBPS, CAT MBA, or any other. For a range of competitive exams, this book reflects the most recent exam trends. It is well-known among applicants studying for numerous exams because all the questions are explained clearly.
Logic-based reasoning and rule-based reasoning are the two sections of the book. Exams like GMAT, FMS, GRE, LLB Entrance, Bank PO, SSc CHSL, and other competitive exams benefit from this book. This book has certain features like an updated question bank, easy-to-understand reasoning solutions, and a mock test set at the end of the chapters which makes it one of the best for analytical reasoning.
You can buy this book from here.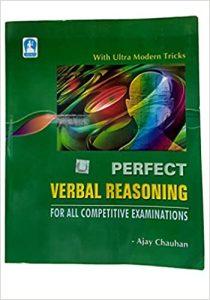 Highlights
Author: Ajay Chauhan
Publication Year: 2018
Publisher: Lucent Lucents
Perfect Verbal Reasoning by Ajay Chouhan is a complete book on Verbal Reasoning that explains all types of difficult and complex issues straightforwardly and concisely. It's about being able to understand and reason with concepts expressed in words and figures.
Every chapter offers concept-based definitions and examples, making even the most challenging problems simple to comprehend and solve. Furthermore, this book has the most recent competitive exam patterns.
Besides, a reasoning paper is required for many popular competitive tests like- Bank PO, MBA, CAT, LIC AAO, XAT, MAT, GIC AAO, SSC, Hotel management, Railways, and even campus interviews. The subject of this textbook is tailored to meet the needs of SSC CHSL candidates.
You can buy this book from here.
General Awareness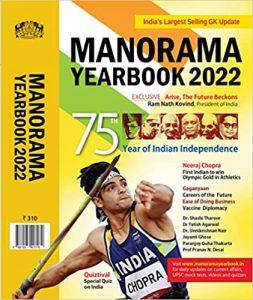 Highlights
Author: Mammen Mathew
Publication Year: 2022
Publisher: Malayala Manorama
The Malayala Manorama Group initially produced the Manorama Yearbook in 1959, and it is an annual knowledge encyclopedia. English, Hindi, Malayalam, Tamil, and Bengali are all available in the Manorama Yearbook. The primary goal of the Yearbook was to bridge the information gap that existed in society. This Yearbook has proven to be an important resource for students, providing different points of view on general knowledge and current events.
The Annual-book has influenced lakhs of people's lives and professions across India by providing competition and supporting them in exams such as the SSC CHSL, Civil Services, UPSC, and defense. The Manorama Yearbook's online edition will augment the print edition by providing daily news updates, original stories, expert opinions, quizzes, and more.
You can buy this book from here.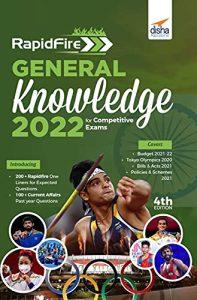 Highlights
Author: Disha Experts
Publication Year: 2021
Publisher: Disha experts
The 4th Edition of Disha's Rapid General Knowledge 2022 for Competitive Exams has been completely revised and updated, and it is the smartest approach to brush up on your general knowledge for competitive exams. Exam-Specific Updates on Budget 2022/ Exam Updates/ Banking/ Railways/ Agriculture/ Environment/ Scientific & Technological Developments (Space, Defence, Nuclear, etc.)/ Govt. Policies/ Sports and more have been added to the new version.
Another unique aspect of this new edition is the inclusion of Past Current Affairs Questions which is essential for SSC exams like CHSL.
You can buy this book from here.
Descriptive Test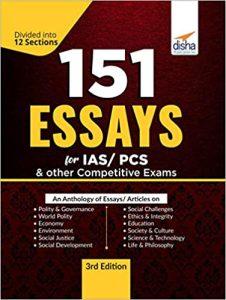 Highlights
Author: Disha Experts
Publication Year: 2020
Publisher: Disha Publication
More than 160 essays on politics, education, environment, contemporary, science, social, economic, technology, sports personalities, proverbial idiomatic, and other topics are included in 151 Essays, a comprehensive guide to help students learn the art of essay writing.
The book starts by recognizing the role of honing the craft of essay writing, which requires in-depth knowledge of the topic, mental discipline, analytical skills for concluding, a large vocabulary for expressing thoughts, grammatical accuracy, and coherence of thoughts and ideas for contextual writing. The book is divided into two sections. The first prepares you to comprehend the principles of essay writing and how to write an effective and fascinating essay. The second section contains practice topics from previous year's papers and mock tests.
You can buy this book from here.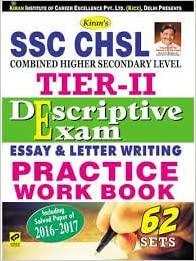 Highlights
Author: Kiran Prakashan Experts
Publication Year: 2017
Publisher: Kiran Prakashan
The Kiran Prakashan Essay and Letter practice book is a must-have book if you are looking to clear the tier 2 round of the SSC CHSL. The topics in this practice book are filled with the previously asked topics for essays and letter writing.
The book focuses on the all-around writing skill development of the aspirants. The 62 sets of practice workbooks contain topics from the previous year's SSC CHSL papers and new topics.
You can buy this book from here.
Conclusion
Every year, competitive examinations in India, particularly for government positions, surprise aspirants. SSC exams are distinguished by a balance of the unknown and the traditional type of questions.
Practicing past question papers constantly is the surest route forward. Aspirants for the SSC CHSL should also practice previous years' questions. This list of the books mentioned above will guide you well in performing well in the examination.
These were the best SSC CHSL preparation books. In case of any query, do let us know in the comment section below.
Good luck!
FAQs
Q.1 When is the SSC CHSL 2022?
Ans. The exam was scheduled to be held from May 24th – June 10th, 2022.
Q.2 Is SSC CHSL a permanent job?
Ans. Yes, all the posts provide permanent job security.
Q.3 Is SSC CHSL a difficult exam?
Ans. This exam is not difficult. However, you must focus on your speed and calculative skills.
Q.4 Is there a negative marking in SSC CHSL?
Ans. Yes, 0.50 marks are deducted for each incorrect attempt.
People are also reading: