SSC CHSL
SSC CHSL Syllabus 2022: Download SSC CHSL Syllabus in PDF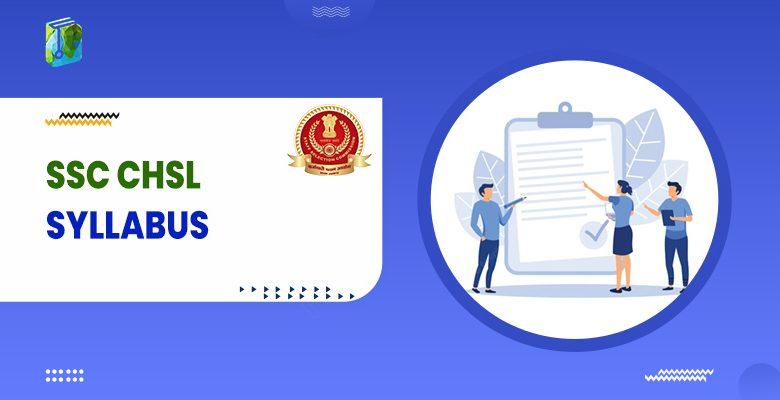 SSC CHSL Syllabus has been well designed by the SSC. With proper strategy practice – one could easily crack the exam with flying colors. It comprises 3 Tiers:
Tier I (objective test),

Tier-II (descriptive test), and

Tier-III (skill/typing test).
For a detailed SSC CHSL Syllabus according to its exam pattern, read ahead.   
SSC CHSL Syllabus 2021-22
SSC CHSL Tier-I Exam Pattern
| | | |
| --- | --- | --- |
| SSC CHSL Tier-I Subjects | SSC CHSL Tier-I Questions | SSC CHSL Tier-I Marks |
| English Language | 25 | 50 |
| General Intelligence | 25 | 50 |
| Quantitative Aptitude | 25 | 50 |
| General Awareness | 25 | 50 |
| Total | 100 | 200 |
SSC CHSL Tier-II Exam Pattern
Sections
Word Limit
Marks

Essay

200-250

100

Letter/Application

150-200
SSC CHSL Tier-III Exam Pattern
| | |
| --- | --- |
| Tier-III Posts | Tests |
| Data Entry Operator (DEO) | Skill Test |
| Lower Divisional Clerk (LDC)/Junior Secretariat Assistant (JSA)/Postal Assistant (PA)/Sorting Assistant (SA) | Typing Test |
Tier-Wise SSC CHSL Syllabus
Go through the complete tier-wise SSC CHSL syllabus below:
SSC CHSL Tier-I Syllabus
General Intelligence
| | |
| --- | --- |
| Topic | Sub-topic |
| Analogy | Questions on Semantic Analogy, Symbolic operations, Symbolic/Number Analogy, Trends, and Figural Analogy |
| Number/Alphanumeric Series | Questions on Semantic Series, Number Series, and Figural Series. |
| Syllogism | The conclusion is based on 2 or 3 given statements. It can be easily solved by using a Venn diagram. |
| Direction/Ranking | direction sense questions asked |
| Non-Verbal Reasoning | Questions related to Paper Cutting, Cubes and Dice, Grouping of Images, and Figure Matrix |
| Miscellaneous | Odd One Out, Coding, and decoding, Embedded figures, Critical Thinking, Problem Solving, Emotional Intelligence, Word Building, etc.    |
General Awareness
| | | | | |
| --- | --- | --- | --- | --- |
| Culture, Indian History | Geography (Indian + World) | Environment | Economy | Polity |
| Science Biology | Chemistry | Physics, Space Science | Computer, Mobile, and Technology | – |
Quantitative Aptitude
Topic
Sub-topic

Number System

Computation of Whole Number, Decimal and Fractions, Relationship between numbers.

Fundamental Arithmetical Operations

Percentages, Ratio and Proportion, Square roots, Averages, Interest (Simple and Compound), Profit and Loss, Discount, Partnership Business, Mixture and Alligation, Time and distance, Time and work.

Algebra

Basic algebraic identities of School Algebra and Elementary surds (simple problems) and Graphs of Linear Equations.

Geometry

Familiarity with elementary geometric figures and facts: Triangle and its various kinds of centers, Congruence and similarity of triangles, Circle and its chords, tangents, angles subtended by chords of a circle, common tangents to two or more circles.

Mensuration

Triangle, Quadrilaterals, Regular Polygons, Circle, Right Prism, Right Circular Cone, Right Circular Cylinder, Sphere, Hemispheres, Rectangular Parallelepiped, Regular Right Pyramid with triangular or square Base.

Trigonometry

Trigonometry, Trigonometric ratios, Complementary angles, Height and distances (simple problems only) Standard Identities like sin²

????

+ Cos²

????

=1 etc.

Statistical Charts

Use of Tables and Graphs: Histogram, Frequency polygon, Bar-diagram, Pie-chart.
English Language
| | |
| --- | --- |
| Topic | Sub-topic |
| English Language | Topics are Spot the Error, fill in the Blanks, Shuffling of Sentence parts, Shuffling of Sentences in a passage, Cloze Passage |
| Vocabulary | Questions will be on topics like Synonyms/ Homonyms, Antonyms, Spellings/ Detecting misspelled words, Idioms & Phrases, and One-word substitution |
| Grammar | Questions will be on Improvement of Sentences, Active/ Passive Voice of Verbs, Conversion into Direct/ Indirect narration |
| Reading Comprehension | A simple and scoring section with 3 to 5 questions will be asked. |
SSC CHSL Syllabus 2021-22: Tier II
Essays Topics
Tip: Essay topics are generally from current affairs. Therefore, candidates must make sure to stay updated. You can download a news app, refer to books such as Pratiyogita Darpan or Arihant, or can read newspapers on a daily basis. 
Latest Government schemes 

Climate Change/ Pollution/ COVID

Women's Safety and Empowerment

Ukraine Russia War

Unemployment

Current events and happenings
Important topics for Letter/ Application Writing
Regarding noise pollution in your locality – Write a complaint letter.

Write a job application letter to the company for the post of manager/ assistant/ clerk etc.

Write a letter complaining about the everyday trouble of having traffic near your locality.

Present your views in the form of a letter about the effect of digitalization on the youth of today.
SSC CHSL Syllabus 2021-22: Tier III/ Skill Test
Tier III for those who qualify for Tier I and Tier II.

For Data Entry Operator (DEO), there is a Typing Test.

To qualify for this test, a candidate needs to adhere to the prescribed speed on the computer.

Secondly, there is a typing test for Postal Assistant/Sorting Assistant, LDC, and Court Clerk posts in which there is a requirement of 35 words per minute for typing English, and for Hindi typing speed of 30 words per minute is mandatory.

For the post-DEO, a 15 minutes skill test will be conducted. On a computer, it requires 8000 key depressions per hour. Skill test for the post of DEO in C&AG office – requires 15000 key depressions per hour.
Conclusion
The candidates are advised to stay updated regarding the syllabus for SSC CHSL 2021-22. It is essential to understand the syllabus before beginning the preparation. We advise you to keep a printout of the syllabus on your study table. It will help you to keep a track of the topics to cover.
We hope that the information in this article helps to solve your queries.
Good luck!
People are also reading: