How to
How to Become a Leader? | Learn Leadership Skills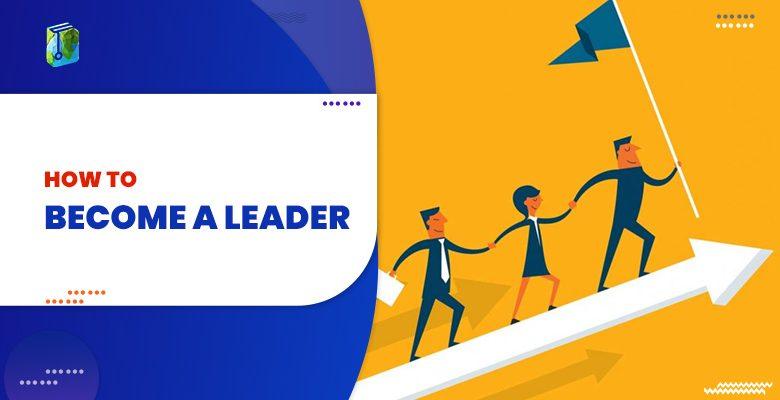 When I hear the term leader, great personalities flash across my mind. Steve Jobs, Bill Gates, Tim Cook, Jeff Bezos, and so many more! They are business leaders who have encouraged many people to achieve their dreams. Effective leadership is what made these leaders stand out.
To become a great leader, you don't have to be a manager or a Chief Executive Officer (CEO). Instead, you need essential leadership skills. You need passion and a solid will to motivate people around you to achieve their goals.
Dana Brownlee, the founder of Professional Matters, says,
"A great leader is one who makes those around them better."
She further says,
To test a person as a great leader, consider the people around them. Are they growing? Are they motivated toward achieving goals? Can they become a better leader?
Would you like to work under a rude, snobbish, and selfish boss? Obviously, no! We all love working under a leader who considers us and our happiness and inspires and motivates us.
If you enjoy motivating others at your workplace, consider becoming a leader. In this article, I will help you know how to become a leader. But, let us first understand leadership and its importance.
So, let us get started!
What is Leadership?
Every great personality who has shaped a specific domain has a unique definition of leadership. I will explain the term most simply.
It is the art of influencing people to make efforts toward achieving their goals. Also, it is about motivating people, helping them develop skills, and becoming the best versions of themselves.
In business, leadership is about bringing a team under one umbrella, making them focused on the goal, and taking risks and actionable decisions.
Why is Leadership Important?
It plays a very crucial role in a company's success. Despite an organization having various skilled professionals, effective leadership is the only way to harness the effort of every individual to achieve pre-defined goals.
Leaders help organizations articulate a vision. They guide employees, help them develop skills, and motivate them to achieve that vision. Furthermore, they make quick and informed decisions while considering all possible risks. So, great leaders are risk-takers and excellent decision-makers.
What Makes a Good Leader?
Some certain qualities or characteristics define a person as a good leader. They are as follows:
Accountable for every task taking place in an organization.
Courageous to make unpopular decisions.
Effective and positive communicator.
Actively listening to team members.
Focused on goals.
Truthful with the team and workflow.
Problem-solving, time management, and analytics skills.
Efficiently delegating tasks to the appropriate team members.
Respectful towards others in a team and company.
How to Become a Leader?
It is not innate to be a leader, and everyone has a unique way of becoming one. You need to develop skills and learn from experiences.
Let us discuss some essential tips that will help you kickstart your journey of becoming a leader.
1. Initiate from Within
Initially, start managing yourself. Explore your strengths and weaknesses and know yourself in-depth. Learn your areas of improvement and start working on them.
Further, find motivation within yourself. Get inspired by the well-known leaders of your domain. Read their stories of success and failure. Get to know about their approaches to leadership and understand them thoroughly.
Next, conduct a self-audit to understand how well you perform, how you communicate with others, how you listen to them, and where you can contribute the greatest. Figure out whether you can work with large groups or small ones.
After the self-audit, you can consult your co-worker or mentor to know about yourself. Ask them the following questions:
What are my strengths and weaknesses?
What am I the best at?
Which quality makes you count on me, and which makes you not?
Get answers from others at your workplace. These answers help you develop your leadership style.
2. Keep a Positive Attitude
The way you deal with unfavorable circumstances reflects your quality of leadership. So, always deal with a problem with a positive attitude. A positive attitude brings good vibes, confidence, and hope for a brighter future.
A well-known writer of The Measure of a Leader, Robert Mann, suggests focusing on the positives in any problem. His research says that when you find happiness in a complicated situation, you feel strong enough to deal with it and find a straightforward solution to resolve it.
You are responsible for maintaining a healthy and positive environment as a leader. Show your excitement and confidence at the workplace. It helps team members be more productive and engrossed in their work.
3. Connect With Team Members
Trust and understanding between you and your team develop when you connect frequently.
A famous leadership writer and consultant, Terry "Starbucker" St. Marie, says,
"Being an effective leader requires positivity, empathy, purpose, humility, compassion, and love. These traits help a leader develop true connections with team members."
Further, she explains that sharing a personal and genuine connection with team members develops a sense of trust, which is required to build a solid and healthy company culture. With that culture in place, your team can achieve a successful business.
As a leader, ensure to know every member's strengths, weaknesses, interests, hobbies, and preferences. It helps you gain insights into their life goals and motivations.
4. Encourage Personal and Professional Growth
You must be concerned about your team members' personal and professional growth.
Keri Ohlrich, the CEO of HR consulting company Abbracci Group, says,
"Leaders should set aside the budget for the professional development of their employees."
With a wide range of virtual learning opportunities, employees should learn new things and hone their existing ones. She says empowering employees to learn various skills and incorporate them into work can take your company to the next level.
John Rampton, the founder and CEO of Calendar, says,
"Leadership is about inspiring, motivating, and empowering employees to take on new challenges and give their best."
When you have faith in your team members and assign new challenges, it gives them a boost and confidence. Encourage freedom and creativity among team members.
5. Teach Employees Rather than Ordering
When you give orders to your employees to do things in an order you want, they are not likely to show their engagement. It makes them feel like you are controlling them.
The best action is to coach your employees to recognize the opportunities and push them to seize them. Instead of giving them orders, encourage growth so that new leaders might emerge.
6. Set Clear Goals and Expectations
Setting employee goals and expectations is critical to the company's success and employee growth. Ensure to involve your employees while setting goals. This results in improved engagement.
Further, explain the objectives and visions of your company. Tell employees how their goals and skills fit in achieving those objectives and visions.
7. Appreciate Your Employees
Communicate with team members openly and honestly. Transparency and honesty are the sources of trust. When you are honest and transparent, they follow the same.
While communicating, ensure to be a good listener. This demonstrates your interest in listening to every team member's issues and problems and solving them. Frequent communication helps you know about your team members.
A little gesture of appreciation can do wonders for your team members. They feel like they are helpful to the company. They work hard when they get appreciation and recognition.
8. Open Up to New Ideas
Change is inevitable. Instead of sticking to the status quo just for consistency, embrace innovations and changes. Open up to new ideas and alternative approaches.
Everyone has a different perspective on a specific problem or situation. Encourage your employees to come up with their views and ideas. When you do this, employees feel confident enough to bring new ideas and innovations to the table that may lead to the company's growth and success.
9. Ask for feedback your Leadership
Now, it is time to gauge the effectiveness of your leadership. Self-assessment may be challenging to analyze your leadership style. But coworkers, mentors, and even your team members can help you do so.
Discuss your leadership style with friends and peers and get their perspectives or feedback. However, the team you lead can provide more insights. They know what is working and what is not.
So, it is better to take feedback from your team members and work on the areas that need improvement.
Be a Great Leader!
Being a great leader takes time and effort. It is a step-by-step process consisting of ups and downs, learnings, and experiences. Developing leadership skills, perseverance, dedication, strategic planning, and solid compassion make you stand out.
Always stay open to innovations, listen actively to team members, and respect their opinions, ethics, and values. Keep them motivated and inspired and help them evolve into their better versions.
People are also reading:
Frequently Asked Questions
1. What qualities make a good leader?
A good leader has integrity, honesty, courage, respect, empathy, self-awareness, vision, gratitude, authenticity, creativity, patience, and tenacity.
2. Are leaders born or developed?
Though rare people have innate leadership qualities, most leaders are taught and self-made. A recent study suggests that leadership is 30% genetic and 70% learned. So, most people learn how to be a leader at work.
3. Who cannot be a leader?
You cannot be a leader when you don't care about the people you lead, don't think about their goals and expectations, and emphasize self-growth.
4. What should I not do as a leader?
As a leader, ensure you don't avoid your responsibilities and choices, break commitments, say no to anything, and pass the blame to someone else if something goes wrong.
5. Who is a true leader?
A true leader has a clear vision, takes the team with them through thick and thin, stands for them, helps them develop skills, inspires and motivates them, and turns them into their best versions.