Full Form
MBBS Full Form | What is the Full Form of MBBS
MBBS - Bachelor of Medicine and Bachelor of Surgery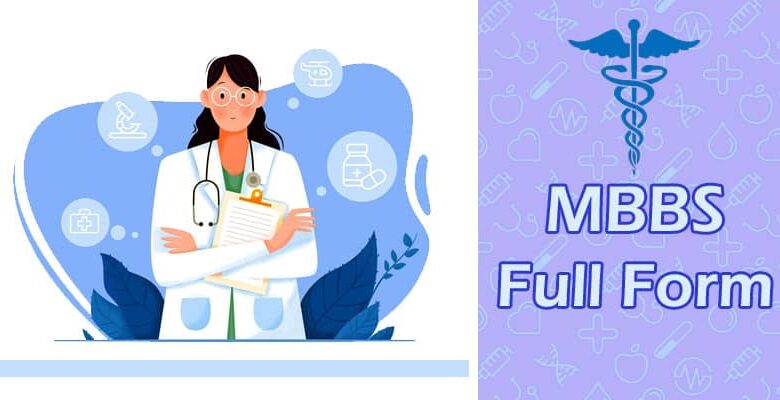 MBBS is the abbreviated form of Bachelor of Medicine and Bachelor of Surgery. The short form of MBBS is coined from the Latin language Medicinae Baccalaureus Baccalaureus Chirurgiae.
Introduction
MBBS is an undergraduate degree course involving the study of medicines and surgery. The MBBS degree involves two separate degrees — Bachelor of Medicine and Bachelor of Surgery — under a single domain. MBBS is one of the tough career options for students. After completing this course successfully, a student holds the right to carry the title 'Doctor' with their name. Therefore, they may also be regarded as physicians. Their job demands treating the illness of patients with honesty, humility, empathy, compassion, and dedication.
The MBBS course is conducted at various government and private medical colleges and universities across India. However, the institutes must be accredited by the Medical Council of India to offer medical courses that are recognized in India.
MBBS Eligibility Criteria
The student must have completed a higher secondary (10+2) course with Physics, Chemistry, and Biology. They should score a minimum of 50% in these subjects.
MBBS Selection process
If the student matches the eligibility criteria, they need to appear in and qualify the National Eligibility Cum Entrance Test (NEET), a national-level qualifying examination that is conducted by NTA (National Testing Agency).
Without a NEET certificate, candidates will not be able to continue with their medical career in India. Even students completing their MBBS from foreign medical universities must have a NEET certificate to practice medical profession in India.
For both private and public institutions, the admission into an MBBS course depends on the aspirants score in NEET. This standardized test is used for medical course admissions as the number of applicants is high in comparison to the number of seats available.
Earlier, state-level or university-level examinations were conducted for admissions in MBBS courses. But these examinations were banned by the Supreme Court in the year 2016.
Duration of MBBS course
The course requires 5 years of academic education plus one year of mandatory internship.
MBBS Course Structure
The complete MBBS course has been divided into nine semesters, which constitutes studying subjects like biochemistry, anatomy, physiology, microbiology, pathology, forensic medicine, including pharmacology and toxicology. At the same time, the students obtain hands-on training in the wards and out-patient departments, where they interact with real patients for five years.
During the internship, an intern is made to learn overall practical medical treatment in rotation across various fields.
MBBS Course fee
The tuition fee varies depending on the medical institute that he or she get admission in on the basis of his rank in the NEET exam. The student may get into a government college or private college. The student also has the option of going abroad.
MBBS Career after the Degree
The student has to write NEET (PG), and according to the marks and rank allocated, they can choose an area of specialization.
Some of the reputed institutes offering the course are:
AIIMS (All India Institute of Medical Sciences)
Institute of Medical Sciences, Varanasi.
Christian Medical College, Vellore
Kasturba Medical College, Manipal,
Jawaharlal Institute of Post-graduate Medical Education and Research, Puducherry
St. Johns Medical College, Bangalore
Conclusion
If you are a science student with Biology as one of the subjects, and aspiring to step into the world of medical science, then MBBS is your stepping stone. After completing your MBBS, you will get hold of an MBBS certificate and become a practicing medical professional. If you have any doubt or query regarding MBBS, do write to us through the comments section below. We will try to resolve your doubt or query at the earliest.
We do not just have an article on the full form of MBBS, but many more articles. Do check them out!
Wish you all the best!