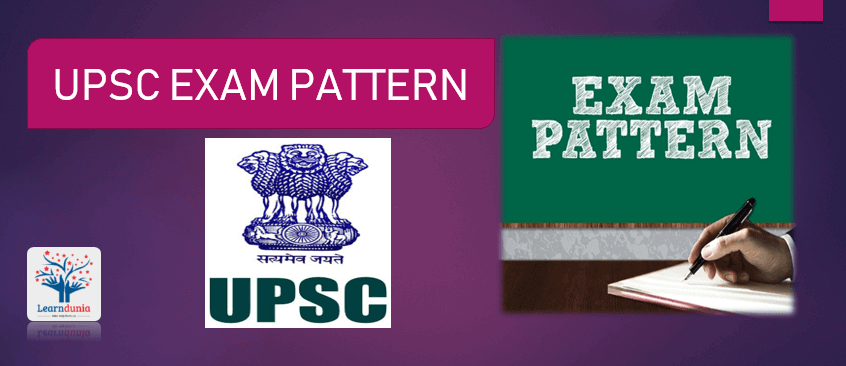 UPSC Exam Pattern: Civil Services Examination (CSE) is one of the toughest  examinations in India, for example, Indian Administrative Service (IAS), Indian Police Service (IPS), Indian Foreign Service (IFS), Special Class Railway Apprentice (SCRA),  These exams are led in three stages; Preliminary Exam (two objective papers), Mains Exam (nine papers of essay type) and Interview. The Preliminary Exam is qualifying in nature.
Civil Services Exam 2018 Exam Pattern
Civil Services Exam 2018 will be held in three stages:
Preliminary Examination.
 Main Examination.
Personality Test/Interview Round. 
1: Preliminary Examination: The Preliminary Examination of Union Public Service Commission for Civil Services  is also popularly called CSAT or Civil Services Aptitude Test. 
The UPSC Civil Services exam 2018 (Prelims stage) shall comprise of 2 objective type papers:
General Studies Paper – I(Used for merit rank)
200 Marks
2 Hrs
General Studies Paper – II (CSAT)
(Qualifying in Nature; needs 33% marks)
200 Marks
2 Hrs
The General Studies Paper – II (CSAT) is for qualifying purpose and candidates need to score minimum 33 percent in this paper to qualify for the next stage of the exam.
There is 1/3rd negative marking for each incorrect answer in the Prelims.
The candidates have to mandatorily appear for both the Prelims papers to be evaluated. The Prelims marks are not used for Final Score calculation.
2: Mains Exam: The UPSC Civil Services Exam 2018 (Main) consists of nine papers out of which two are qualifying in nature and rest are counted for ranking.
Paper
Subject
Marks
Paper A
Compulsory Indian Language (Qualifying)
300
Paper B
English (Qualifying)
300
Paper I
Essay
250
Paper II
General Studies I (Indian Heritage and Culture, History, and Geography of the World and Society)
250
Paper III
General Studies II (Governance, Constitution, Polity, Social Justice and International relations)
250
Paper-IV
General Studies III (Technology, Economic Development, Bio-diversity, Environment, Security and Disaster Management)
250
Paper V
General Studies-IV(Ethics, Integrity, and Aptitude)
250
Paper VI
Optional Paper-I
250
Paper VII
Optional Paper-II
(Candidate can choose Literature as an Optional and need not be a graduate in that language)
250
Total 
1750
All the Mains papers have a duration of 3 hours each.
The marks obtained in Paper I to VII will be used in determining the final rank along with the interview.
Papers I-VII can be taken in either ENGLISH or HINDI.
3: Interview: The competitors who clear the Civil Services Exam 2018 (Main) with the chose cut-off imprints might meet all requirements for the following and last phase of the procedure which is the Personality Test. This is an interview round with the UPSC Board Members. Total marks for this round is 275.
We wish you all the best for your Bright Future.
Best Wishes!!!!!!!!!
Team