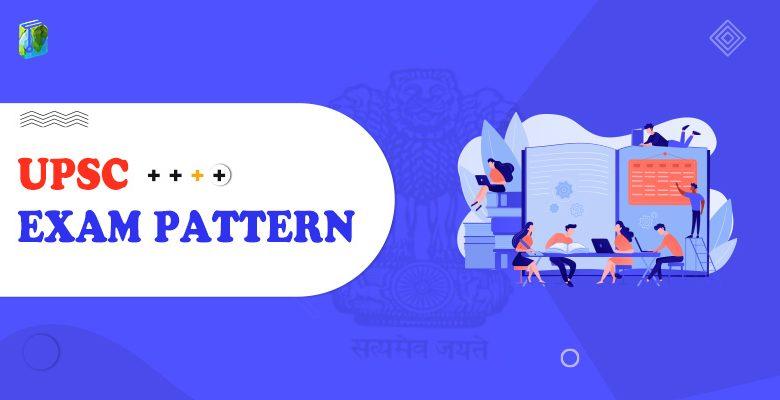 Civil Services Examination (CSE) is one of the toughest examinations in India, for example, Indian Administrative Service (IAS), Indian Police Service (IPS), Indian Foreign Service (IFS), Special Class Railway Apprentice (SCRA). This exam takes place in three stages: Preliminary Exam (two objective papers), Mains Exam (nine papers of essay type), and Interview. The Preliminary Exam is qualifying in nature.
Here is the complete UPSC Exam Pattern 2022.
UPSC Exam Pattern 2022
Here in this section, we have explained the exam pattern for UPSC exam 2022 in detail:
Preliminary Examination.
Main Examination.
Personality Test/Interview Round. 
UPSC Preliminary Examination 2022
The Preliminary Examination of Union Public Service Commission for Civil Services is also popularly called CSAT or Civil Services Aptitude Test. The UPSC Civil Service Prelims 2022 will contain 2 objective type papers:
General Studies Paper – I(Used for merit rank)
200 Marks
2 Hrs
General Studies Paper-II (CSAT)
(Qualifying in Nature; needs 33% marks)
200 Marks
2 Hrs
The General Studies Paper-II (CSAT) is for qualifying purposes. Candidates need to score a minimum of 33 percent to qualify for the next stage of the exam.
There is 1/3rd negative marking for each incorrect answer in the Prelims.
The candidates have to appear for both the Prelims papers to be evaluated mandatorily. The Prelims marks are not used for Final Score calculation.
UPSC Mains Exam 2022
The UPSC Mains 2022 consists of nine papers, out of which two are qualifying in nature, and the rest are counted for final ranking.
Paper
Subject
Marks
Paper A
Compulsory Indian Language (Qualifying)
300
Paper B
English (Qualifying)
300
Paper I
Essay
250
Paper II
General Studies I (Indian Heritage and Culture, History, and Geography of the World and Society)
250
Paper III
General Studies II (Governance, Constitution, Polity, Social Justice and International relations)
250
Paper-IV
General Studies III (Technology, Economic Development, Bio-diversity, Environment, Security and Disaster Management)
250
Paper V
General Studies-IV(Ethics, Integrity, and Aptitude)
250
Paper VI
Optional Paper-I
250
Paper VII
Optional Paper-II
(Candidate can choose Literature as an Optional and need not be a graduate in that language)
250
Total 
1750
All the Mains papers have a duration of 3 hours each.
The marks obtained in Paper I to VII will determine the final rank and the interview.
Papers I-VII can be taken in either ENGLISH or HINDI.
UPSC Interview 2022
The competitors who clear the Civil Service Mains exam with the chosen cut-off imprints might meet all requirements for the following and last phase of the procedure: the Personality Test or Interview. This is an interview round with the UPSC Board Members. The total mark for this round is 275.
Candidates who are selected after the UPSC Mains Exam can appear for the Personality Test/Interview round. Here, the candidates are interviewed by a highly qualified and experienced panel. This board has the candidate's DAF (Detail Application Form).
The interview round analyses the candidate's social traits and interest in current affairs. The primary focus of the board is to understand the personality, knowledge, and confidence of the candidate for a career in public service.
Candidates can give interviews in their preferred language as the authorities make arrangements for the respective translators.
UPSC Exam Important Dates 2022
UPSC had released the official notification for UPSC Exam in February and the exam is scheduled to be held on June 5th, 2022. Take a look at the important dates for UPSC 2022 as per the official notification:
| Event | Date |
| --- | --- |
| Release of Notification | February 2nd, 2022 |
| Start date of UPSC Online Registration | February 2nd, 2022 |
| Deadline to Apply For UPSC CSE 2022 | February 22nd, 2022 |
| UPSC CSE Prelims Exam 2022 | June 5th, 2022 |
| UPSC CSE Prelims Result Date | July 2022 (Tentative) |
| UPSC CSE Mains Exam 2022 | September 16th, 2022 |
UPSC Exam Eligibility Criteria 2022
You need to qualify the below-mentioned criteria to apply for the UPSC Civil Services Examination 2022. Take a look:
| | |
| --- | --- |
| Age Limit | 21 to 32 years |
| Age relaxation | As per category |
| Educational qualification for UPSC Civil Services | Graduation from any recognized university |
| Nationality | Indian |
Conclusion
The Civil Service Exam is one of the toughest exams to get into government jobs. The exam takes place in three stages: Prelims, Mains, and Interview. You need to know the exam pattern and the marking scheme gain a better understanding of the nature of this exam.
Moreover, you must got through the complete syllabus of the exam as well. Never neglect taking the mock tests for analyzing your preparations.
Here in this post, we explained the UPSC Exam Pattern 2022 in detail. We hope that the information helped you in the best way possible.
All the best for your exam 🙂