Books
10 Best Artificial Intelligence Books for Beginners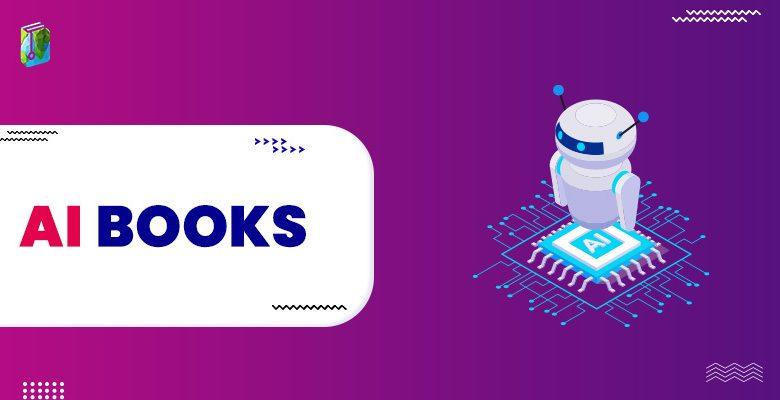 Artificial Intelligence, along with Data Science and Data Analytics, has been dubbed the hottest career option for 2022 and beyond. The prospect of a lucrative career is attracting a lot of exciting new talents to these fields. The scarcity of talent in AI is also one of the primary reasons for the transition of programmers to this field.
If you are excited by the buzz around AI, you should complement your learning process with a great AI book. Trust us, it is an excellent way to zoom ahead on your learning curve.
Read on, as we have compiled a list of the top ten books on AI for different levels.
What is Artificial Intelligence?
Artificial Intelligence or AI is a wide-ranging computer science branch. It focuses mainly on building smart machines that can perform tasks that require human intelligence. The four types of AI include Theory of Mind, Self-Awareness, Limited memory, and reactive machines.
Some of the most popular examples of AI are smart assistants like Siri and Alexa, self-driving cars, email spam filters, and recommendations provided by Netflix. With the increase in popularity, AI is now used in healthcare, retail, manufacturing, banking, etc.
Best Artificial Intelligence Books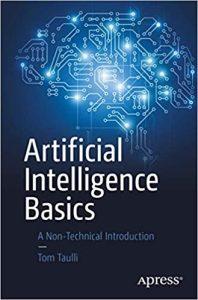 Description: As the name suggests, this is a non-technical introduction to Artificial Intelligence. It breaks down a highly complex topic into simple words for quicker and stickier learning. If you want to have a general understanding of AI, this book will exceed your expectations. Also, you will find it perfect if you are an executive or decision-maker involved in AI.
The author breaks down industry jargon into simple terms. He also provides the background to understand the history of AI. Once you've read the book thoroughly, terms like machine learning, deep learning, and natural language processing will begin to make sense to you.
Our Verdict:
Artificial Intelligence Basics is an excellent informational book that will give you a broad idea of the various aspects of AI, including applications.
Originally Published- 2019
Author- Tom Taulli
You can buy this book here.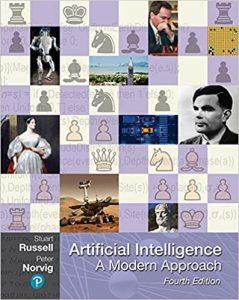 Description: It's probably the most recommended book on AI. It will be a valuable reference throughout your AI Learning journey. Think of it as a comprehensive read on the topic, with the book running well over 1100 pages in print.
The foundational principles of AI are explained in detail. However, this doesn't mean modern topics like machine learning are not discussed in detail. It is recommended to buy the 4th edition of the book as it has new materials covering the events of the past decade in the field of AI.
Our Verdict:
The latest edition also has dedicated chapters on deep learning, probabilistic programming, multi-agent architectures, natural language processing, computer vision, and robotics. It is not an easy book by any means. But if you are serious about learning AI, this is a must-buy. After all, it is among the books about AI.
Originally Published- 2020
Author- Stuart Russell, Peter Norvig
You can buy this book here.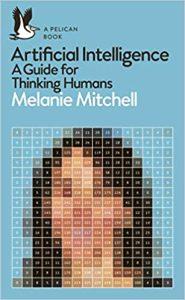 Description: Are you curious about how AI works, when it fails, its shortcomings, and what the future holds for it? In that case, "A Guide for Thinking Humans" is for you. The author uses a storytelling approach to explain the various aspects of artificial intelligence. That makes it an exciting read and one of the best books to learn to code.
Although not a technical book in the true sense, it aims to teach the layman about the subject and not make you an expert on it. It gives a general background and history of the subject, and the technical aspects are explained in a way that makes sense to even non-experts.
Our Verdict:
The author is an expert on the subject and has done an excellent job of explaining the technical jargon. The book even provides references if you want to read further.
Originally Published- 2020
Author- Melanie Mitchell
You can buy this book here.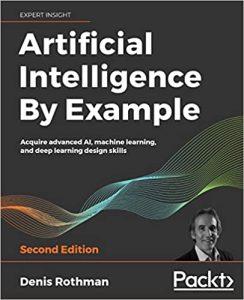 Description: This book teaches AI with the help of thoughtful, practical examples. You can count on this book to provide both the math and logic behind an algorithm. So, it's great to learn the algorithm and understand how it works behind the scenes.
Although the book covers a lot of topics, it doesn't explain some of them in-depth. The chapters on Q-learning, CNNs, chatbots, blockchain, IoT, neuromorphic computing, and quantum computing could have been a little more elaborate.
However, the author has tried to compensate for that by providing a dedicated section at the end of each chapter for further reading.
Our Verdict:
To make the most out of this book, some background in Python and statistical knowledge are essential.
Originally Published- 2020
Author- Denis Rothman
You can buy this book here.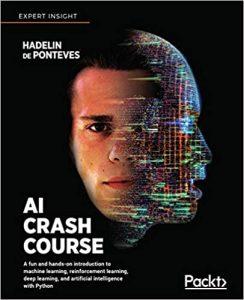 Description: Hadelin De Ponteves, the author, has used years of experience to create this quick read on AI. It's perfect for someone new to the field who wants to ramp up quickly. Even for someone with no background in Python, enough context is given to allow for the successful implementation of the hands-on projects.
Hadelin starts from scratch to show the real-world uses of AI. From self-driving cars to advertising and energy savings, the various benefits of AI are discussed in detail. The author has managed to cover some broad topics. Analytical problem solving with the help of references is the USP of this artificial intelligence book.
Our Verdict:
The examples in the book are complex, but still well-explained, nonetheless.
Originally Published- 2019
Author- Hadelin De Ponteves
You can buy this book here.
Description: It is hailed as one of the best AI books because it is a non-technical take on artificial intelligence. It provides an overview of the technology, misconceptions related to it, and some history as well. From self-driving cars to drones, the real-world applications of AI are discussed in elaboration.
This is a must-read for anyone associated with the management aspect of AI with no technical background on the subject. The lucid and straightforward manner of explanation makes this book a joy to read, even if you are a complete novice.
Our Verdict:
While the book won't help you develop AI applications, it is a realistic approach to the subject meant for anyone trying to understand it.
Originally Published- 2018
Author- John Paul Mueller, Luca Massaron
You can buy this book here.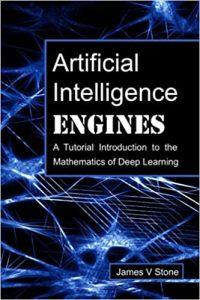 Description: This book is a quick guide to the in-depth mathematics of deep learning. In a conversational tone, the author explains the pseudocode implementations, machine learning systems, and cutting-edge architecture in detail.
The author uses a historical perspective on many of the topics, which helps in following the issues in incremental steps. With just over 200 pages, this book can act as a quick guide to the mathematics aspect of AI.
This book fills the gap left behind by most AI books as they tackle complex mathematical models without ever bothering to explain the basics that would help understand the algorithms.
Our Verdict:
If you are a newbie who has a basic understanding of linear algebra and calculus and wants to understand the mathematical aspect of deep learning, then this book is undoubtedly for you.
Originally Published- 2019
Author- James V Stone
You can buy this book here.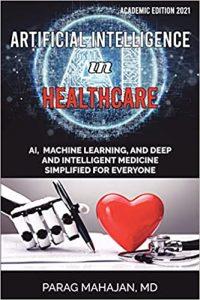 Description: As the name says it all, the book is all about the use of AI in the health sector and how it is being used to transform the lives of millions. Even before the pandemic hit us, the use of AI in the healthcare sector was growing at a rapid pace. Due to the forced use of telemedicine, COVID expedited the process.
The author does a great job of explaining the current status of AI in the sector and the prospect of the technology. The author also weighs the benefits, risks, and ethics without taking any sides. The role of startups and corporations is also discussed, which gives an idea of what the industry has in store for the future.
Our Verdict:
It is an exciting read where the terminologies are simplified to make even laypeople understand the book's underlying concept. That makes it one of the leading AI books out there.
Originally Published- 2021
Author- Dr Parag Suresh Mahajan
You can buy this book here.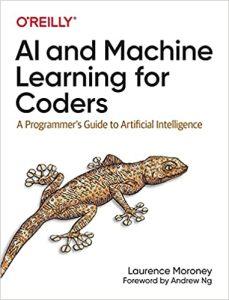 Description: Let's assume, you want a code-first approach to AI so that you can start coding as soon as possible. That's where "AI and Machine Learning for Coders" kicks in. By Lawrence Mooney, the book can help you make a successful transition from being a programmer to an AI specialist.
The book has an excellent introduction to Tensorflow and how it can be used to solve various problems like natural language processing, time series forecasting, and computer vision. You can rely on the book for a detailed description of how neural networks work. Even without any detailed description of maths, the book has done a great job of explaining convolutions and max pooling. The book ends with a fascinating discussion on Google's AI principles, bias, and interpretability.
Our Verdict:
It is highly recommended to go to the author's YouTube channel and work on all the exercises and examples. This would provide you with the necessary headstart going into the book. Plus, you'll be able to extract more from this book.
Originally Published- 2020
Author- Lawrence Mooney
You can buy this book here.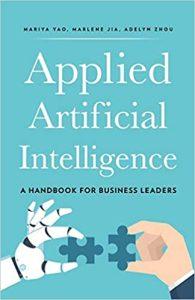 Description: If you are a business leader wondering how you can leverage the use of AI in your business, this book is for you. It provides a fantastic framework to transform your business into an AI-centered operation. The book has examples of companies that have already successfully achieved the same.
The prime objective of this artificial intelligence book is to teach business leaders how to use Artificial Intelligence and Machine Learning to drive concrete decisions. You can also expect a realistic view of AI from the book.
Our Verdict:
This book is a perfect choice for anyone who wants to know how AI is shaping the business landscape. It helps you make informed decisions on incorporating several aspects of AI into your business.
Originally Published- 2018
Author- Mariya Yao, Adelyn Zhou, Marlene Jia
You can buy this book here.
Conclusion
So, that was our list of the best AI books out there. Some of the entries are for business owners and some for the complete layperson curious about AI. Nonetheless, they are some of the best books on AI. What do you think of this list? Did we miss any of your favorite books? Do let us know in the comments.
FAQs
1.
Who invented Artificial Intelligence?
John McCarthy, a professor emeritus of computer science at Stanford coined the term "artificial intelligence" and went on to define the field for more than five decades.
2. What language is used in most of the AI?
Lisp is one of the oldest languages used for AI development. It was developed in the 1960s and has always been an adaptable and smart language.
3. Is AI difficult to learn?
Learning AI is not an easy task, especially if you are not a programmer. However, it is important to learn a little about AI.
4. How much time does it take to learn AI?
Although learning AI is not a one-time thing, it takes about 5-6 months to understand the concepts like data science, TensorFlow frameworks, Artificial Neural Networks, NLP, and more.
People are also reading: