Full Form
B-Tech Full Form | What is the Full Form of B-Tech?
B-Tech: Bachelor of Technology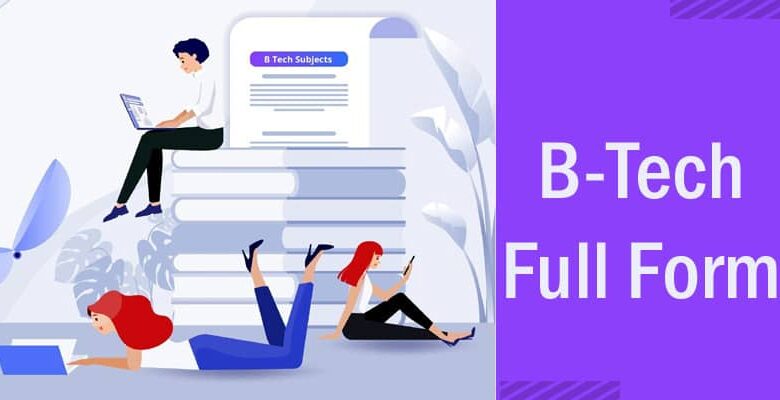 B-Tech Full Form: B-Tech is an undergraduate academic program that certifies a student with a degree in engineering after the completion of the course. The full form of B. Tech is 'Bachelor of Technology'. It is the most sought-after undergraduate course in India. The holder of the B. Tech degree is designated as 'engineer'. If someone has specialized in computer science, he/she will be addressed as a 'Software engineer', those specialized in mechanics will be referred to as 'Mechanical engineer'.
B-Tech Full Form
Bachelor of Technology (full form of B. Tech) is also known as Bachelor of Engineering (B.E). There is not much difference in the courses except B. Tech involves more practical applications of the theory learned in the syllabus and B.E emphasizes theoretical knowledge. However, both degree holds the same value for the employer. The only difference is rank in the institute from where the course has been pursued.
Tech is a skill-based educational course that requires a student to be practical, problem solver and decision-maker, cooperative in teamwork, imaginative, and open to learning new things.
Eligibility
A student needs to pass in 10 + 2 with a minimum aggregate score of 50% in subjects such as Physics, Mathematics, Chemistry, and English from a recognized institute.
Admission process-
Candidates are required to clear national level entrance tests like NATA, JEE, VITEEE, MHTCET, BITSAT, etc. Various states conduct state-wise entrance exams.
Fee
 Course fee ranges from Rs 2 lakhs – Rs 15 lakhs depending on the institutes.
Duration
There are two types of Engineering Programme:
3-year BE/B.Tech after Diploma in Engineering 

4-year BE/B.Tech after Class 12.
Course Structure
The four-year course is divided into eight semesters. An engineering degree can be offered in various disciplines such as-
Aerospace, Agriculture, Automobiles, Computer Science, Chemical, Civil, Biomedical, Electronics, Electrical, Telecommunication, etc.
Basic subjects covered in the course are Computer programming, Engineering Physics, Engineering Chemistry, Mathematics, Environmental Studies, and elective subjects based on the chosen specialization paper.
Salary
 Starting salary of an engineering graduate is around Rs 30000 – Rs 50000 per month.
Scope
 An engineer may prefer to either join a job or he can pursue higher studies for a master's degree. Job is available for an engineering candidate in many Public Sector Units as well as Private Sectors. Every company deals with some or other aspects of technology, which demands the presence of an engineer to run the technical functions smoothly.  Hence there is a huge demand for engineers. An engineer may opt for setting up a startup.
Some of the famous Institutes in India offering B.Tech/B.E are- 
Indian Institute of Technology (IIT)

National Institute of Technology (NIT)

Jadavpur University (Kolkata)

Vellore Institute of Technology (VIT)

Birla Institute of Technology and Science (BITS Pilani), etc
People Also Reading: